Is Your Sugar Intake Causing Premature Aging? Here's What You Need To Know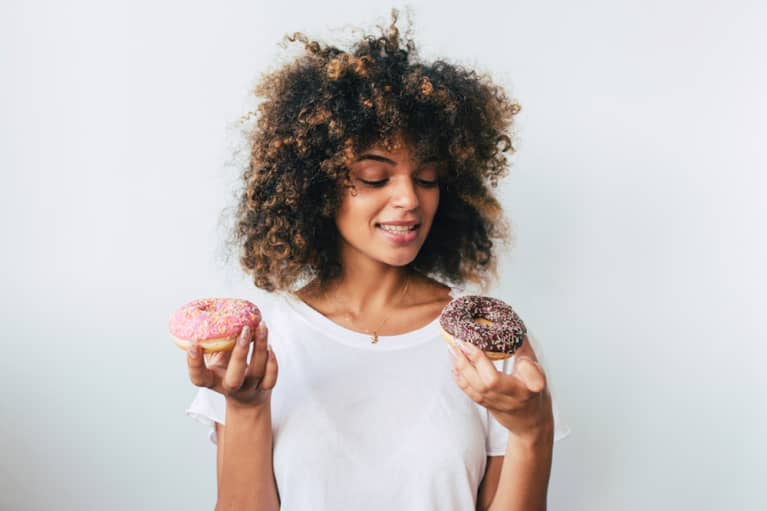 Our editors have independently chosen the products listed on this page. If you purchase something mentioned in this article, we may
earn a small commission
.
January 25, 2017 — 19:43 PM
The more we learn about sugar, just how much of it is hiding in our food, and how it affects our body and brain—the more we realize how important it is to take responsibility of our own health. The latest? A new study shows that fruit flies on a high-sugar diet for just three weeks lived shorter lives than those on a normal diet. Insane, right? Naturally, this left us wondering about what it means for humankind.
Is binging on sugar (ever) safe?
This new research, published in the journal Cell, compared the lifespans of fruit flies fed a diet of 40 percent sucrose to those on a diet of just 5 percent. The results showed that even if the flies remained on the high-sugar diet for just three weeks and then returned to a normal 5 percent sugar diet, they experienced a 7 percent decrease in lifespan. Apparently, the sugar overload affected certain genes, leading to accelerated aging.
If this is making you sad and ironically, long for a sweet treat—we feel you. But first, let's hear from Jacob Teitelbaum, M.D., one of our health experts and author of The Complete Guide to Beating Sugar Addiction. According to Dr. T, it's okay to occasionally binge on sugar and even pamper your sweet tooth. The key is moderation and making sure you don't fall victim to all the added sugar hiding in the standard american diet (abbreviated "SAD"). Another thing to note is that fruit flies have famously short lifespans to begin with, so the diet the maintained by the flies in the experiment for three weeks is equivalent to a human eating nothing but cake for almost 20 years. This seems pretty extreme to us.
How to be more mindful with your sugar intake.
So watch out for salad dressings, protein bars, yogurt, dried fruit and other foods that you think are healthy but might contain high levels of sugar. Dr. T also recommends ditching the soda and fruit juices and eating more chocolate! When it comes to dessert go for quality—not quantity or frequency.
It's nice to know that we can continue to indulge occasionally and responsibly—phew!