After being diagnosed with breast cancer in her 30s, Vapour Beauty co-founder and botanical expert Krysia Boinis sought action: "I researched from diverse sources, from mainstream medical journals to New Age websites. I was on a mission to educate and heal myself. I began to think of food and personal care as more than simply nourishment and hygiene. Everything I ingested or slathered on my skin became medicine. I sought out foods, herbs, salts, and waters to heal, detoxify, and balance my body. I learned what chemicals and compounds support health and which poison the body."

From using passive solar and wind power in the brand's USDA organic certified lab, Vapour's "no-waste" stick-filling system minimizes landfill waste too. "We use no toxins whatsoever…no carcinogens, endocrine disrupters, xenoestrogens, toxic chemicals, parabens, phthalates, nanoparticles, petrochemicals, preservatives, GMO, dyes, FD&C pigments fragrance, sulfates, glycols, irradiated or animal-tested ingredients." An avid DIY-er (like most of the mbg office) Boinis caught the bug from her mother. "My mom had one rule: Use anything in the kitchen except what's under the sink. Anything that was edible was fair game, and a powerful idea was planted: Food is what you eat and what you put on your skin."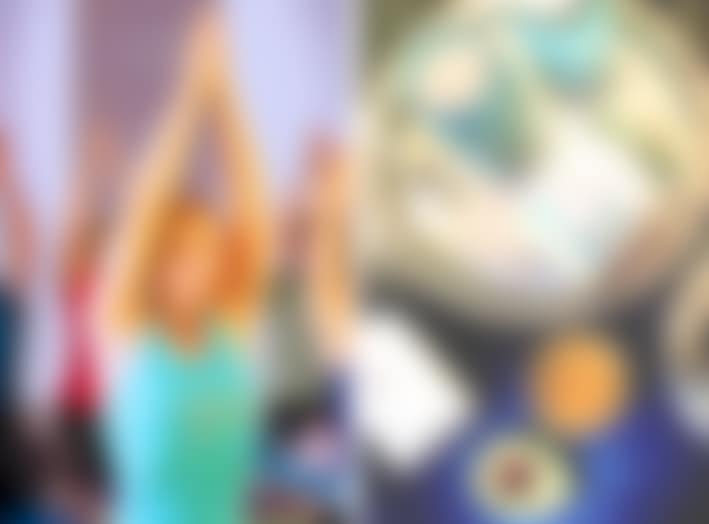 A.M. Ritual
Each morning brings the opportunity to co-create a new day. I say "co-create" because each day is created with the intentions, attitudes, and actions we bring, as well as the pre-existing situations that we are presented with. It has taken a measure of discipline to create a schedule that allows morning time to be self-care time. I find that if I allow time at the start of each day to nurture mind, body, and spirit I can bring my best, most productive, clear, focused, and creative self to Vapour and to whatever else the day brings.
Upon rising each morning, I consciously set an intention for "pure clarity" for the day. To establish this intention I drink a glass of pure water with lemon juice or ginger (depending on the season). Drinking water, especially warm water, first thing in the morning can help flush the digestive system and rehydrate the body. Then I walk out to the aviary through the vegetable garden to feed the chickens. This daily ritual allows me a few precious minutes to be alone with the Earth energy and the plants and animals, away from technology and the call of the modern world. I breathe deeply, taking in the cool Taos mountain air and ground into the Earth energy. The Earth's field has a frequency of ~7.8 Hz, also known as the Schumann Resonance. This natural rhythm is also found in the human body and brain. It is inherent to functioning at our most efficient, sustainable, and coherent state and enhances our mental, emotional, and physical well-being.
Nourish

A nourishing smoothie is the next essential on the morning agenda. I blend together, water, coconut water, a vegetable-sourced protein powder, 1 tablespoon Nutiva Coconut Manna, 1 tablespoon chia seeds, 1 tablespoon local bee pollen (to ward off seasonal allergies), 1 tablespoon The Beauty Chef GLOW Inner Beauty Powder (fermented superfoods and probiotics for gut and skin health), a handful frozen berries, ½ a banana, ½ an avocado and its pit. Yes, avocado pit! These are surprisingly easy to blend and are packed with more antioxidants than avocado flesh, most vegetables, and healing teas. Avocado pits are loaded with more soluble fiber than oatmeal, and they aid in reducing inflammation in the gastrointestinal tract as well as joint discomfort.
Move
Each morning I alternate Vinyāsa yoga one day with circuit training/weight lifting the next. I have been consistent with this routine for about a decade. I committed to this program during a multiyear bout with cancer. It keeps me strong, flexible, balanced, and keeps those positive endorphins flowing!
Cleanse & Beautify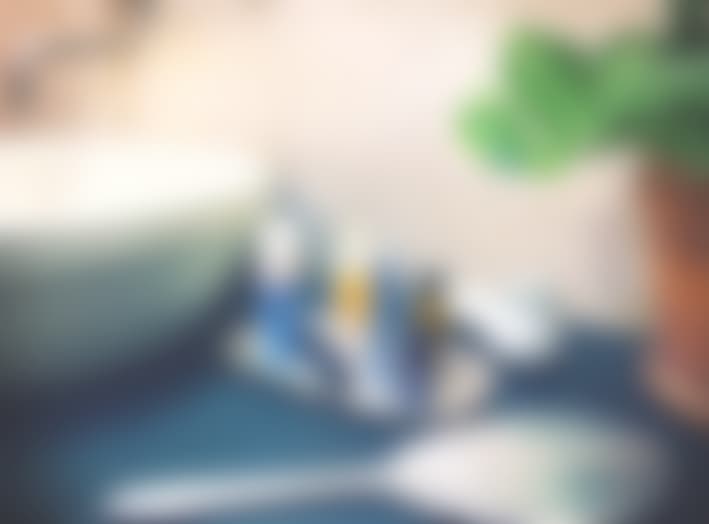 Exfoliation is the first step to fresh and radiant skin. I exfoliate my face about every other day alternating physical exfoliation (Clarisonic) with chemical exfoliation (using natural hydroxyl acids from fruits like papaya). This time of year I exfoliate my body with my own DIY pumpkin scrub. Then in the palm of my hand I mix a small amount of L-ascorbic acid powder (vitamin C) with a few drops of floral water (right now it's calendula water from flowers from my garden) and massage it into my skin. Applied topically, vitamin C promotes collagen formation and diminishes the effects of free radicals, helping to maintain firm and youthful skin. Vitamin C degrades quickly when mixed with other ingredients, so I prefer to use it straight and mix it on the spot. A capsule of L-ascorbic acid nutritional supplement is a great source of straight vitamin C.
I apply Vapour Essence Restorative Treatment to deeply moisturize, nourish, and feed my skin with 17 of my favorite organic plant oils and algae extracts. This next step is the bridge between skin care and cosmetics: I apply Vapour Stratus Skin-Perfecting Primer, which further moisturizes and feeds my skin while also providing optical skin smoothing and illumination. Last, I apply Vapour Atmosphere Foundation to even everything out and finish with Vapour Halo Illuminator on brow bone and cheekbones.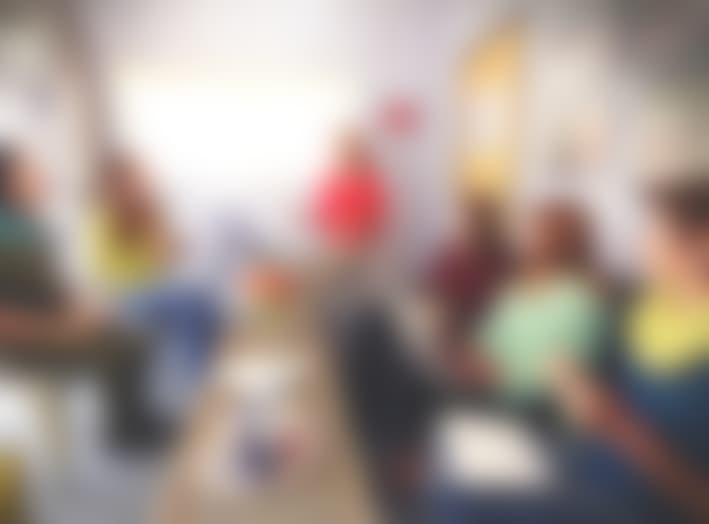 Time to Focus: Off to work
Emails, Instagram, conference calls, marketing meetings, photo shoots, design meetings, etc. About once a week I splurge on a midday cup of locally roasted coffee with the Vapour team. We enjoy Seven Stones Roasters, which is artisan roasted in small batches with love and attention you can feel.
P.M. Ritual
Some days are longer than others, but I strive to get home while the sky is still blue. It's back to the sanctuary of the garden and aviary to collect eggs and clear the energies of the day. After expending creative energy all day at Vapour I sit in the garden and just look at the sky. The Taos sky is truly magical; the quality of the light here is inspiring, even intoxicating. I find that staring out at the blue sky beyond the clouds and weather clears all the mental activity of the day. It brings a quiet, expansive, clear, open state of being. I have been sky gazing for over 20 years in Taos and just recently learned that it is a formal Tibetan practice from the meditation tradition of Dzogchen, which aims to cultivate resting the mind in a natural state free from conceptual elaborations.
My last beauty ritual of the day is my most treasured beauty secret. I perform this simple ritual every evening when I remove my makeup with Vapour Clarity Organic Cleansing Oil. Lymphatic facial massage will noticeably change the appearance of your complexion. It improves skin's appearance from the inside out by helping stimulate fibroblasts to release collagen and restore skin elasticity, tone, and texture. Lymphatic facial massage removes toxins, increases oxygen and nutrient to flow to the skin, and reduces inflammation and puffiness.
How-To
The key is to open the lymph pathways that drain fluid from the face before massaging the face. To begin gently stroke downward from in front of your ears, down neck to collarbone several times.
Begin stroking gently from the center of your forehead at the hairline outward to temples and down in front of your ears. Then stroke down your neck to the collarbone.
Continue the same series of motions out and down from center of forehead, center of eyebrows, bridge of nose, tip of nose, above lips, and finally your chin and jawline.
Finally, lying in bed with a lavender-scented eye pillow draped across my face, I focus on all that I am thankful for. I make a practice of including one new item to my gratitude list each day. Zzz.