How To Cook & Shop Sustainably From A Celebrity Chef
Former mbg Deputy Editor
By Elizabeth Inglese
Former mbg Deputy Editor
Elizabeth Inglese is a writer living in San Fransisco, California. She earned her bachelor's in english literature and cultures from Brown University and her master's in writing from The University of Southern California. She's the former Deputy Editor of mbg, and has also worked for Vogue, Architectural Digest, Bon Appetit, and Good Magazine covering food, health, and culture.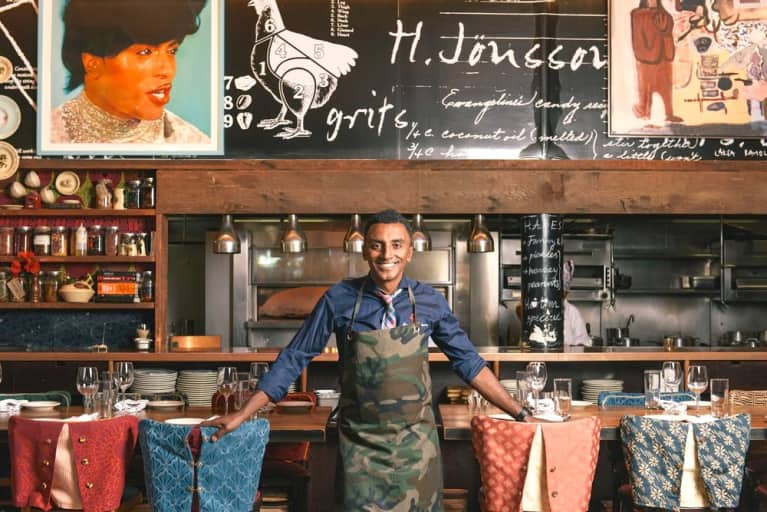 When chef Marcus Samuelsson started cooking, the delicious ingredient was the best ingredient. No questions asked. But today, in an age of conscious consumerism and everyday environmentalism, selecting the food we eat, from produce to dairy to meat, is an exercise in activism. "As a chef, I can get to delicious, but what's right is really important." The owner of seven restaurants including the acclaimed Red Rooster in Harlem, Samuelsson is also the youngest chef to receive a 3-star review from the New York Times and a recipient of the James Beard "Best Chef" award—which is all to say, he knows food and the ethics surrounding it.
Ethopian-born and Sweden-raised, Samuelsson spent his childhood summers catching crayfish and lobsters with his father and pickling fresh vegetables with his grandmother. Even now between his hosting gigs on Food Network and the demands of international expansion, he still plays a hands-on role in sourcing his restaurants' supplies. " Before it lands on my menu there are numerous questions I need answered," Samuelsson explained. "I want to know, where does it come from? How did it get here? How did the purveyor treat it?" Serving a meal made from responsibly grown or raised ingredients is part of being a great chef these days. "To be a good restaurant today is much more holistic, 360, than it once was." A meal is only great when its components are sustainable.
What can the home cook learn from Samuelsson's approach? "Actually a consumer at home with their family can do the same thing we do," says the chef. "You can ask your local restaurants are you using a local purveyor? You can ask your favorite store, your farmer's market, where did you get this? How did you grow this?" Informing ourselves and supporting local and sustainable businesses is a way we can strengthen ethical practices. "With the beauty of the internet you can ask more questions, even while you're watching T.V. As a consumer you have the power of being informed."
Embolden yourself to speak up the next time you dine out or grocery shop, then exercise your purchasing power for good.