The Unlikely Way Nature Can Help You Find Your Tribe & Yourself
mbg Contributor
By Cyrena Lee
mbg Contributor
Cyrena Lee is a freelance writer based in NYC and Taipei. She has a degree in Anthropology from Barnard College.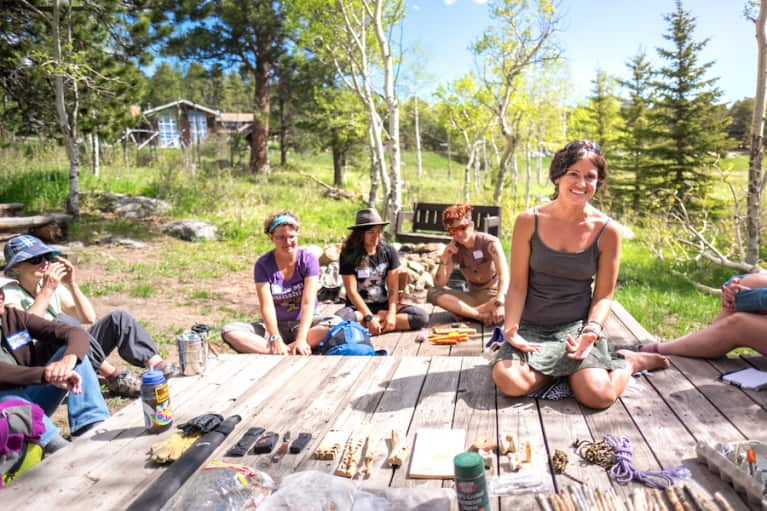 Imagine standing in an open field, surrounded by the serenity of mountains in the near distance. You're standing in a circle of about 80 women who have all gathered to come together to better themselves in pursuit of their passions. There is a matriarch, an older woman, a maternal figure that exudes strength and wisdom. She is softly beating a drum as each person in the circle sets their personal intention, and you can feel the feminine energy of mutual support in the air.
Welcome to the Women's Wilderness Summit Sisters. Last summer, I attended this annual gathering in Colorado that "serves to build community and inspire participants to be their boldest, best, selves and create lives of meaning and fulfillment." For one weekend, a group of women congregate, connect, and attend workshops on a range of topics from nature awareness skills, holistic healing, spirituality, exploration, yoga, and more—all of which are led by other women.
The experience showed me the power of women's gatherings that are completely immersed in the natural world, separated from the rest of society. Here are a few reasons I think every woman should consider attending one for herself, especially in this highly tense time.
1. You will walk away inspired by feminine power.
If you have ever been in an all-female learning or working environment before, you know how incredibly nurturing they can be. Being in a setting where there are no men by default removes some of the pressures women may feel to act a certain way. You can be more comfortable expressing yourself authentically without having to worry about being regarded with a male gaze or expectation. Any sense of "cattiness" or female competition is removed and you are free to express what it means to be a woman without any judgment. You can be free to be strong or you can be free to be weak and vulnerable, which at times can take immense strength. When paired with yoga, meditation, and somatic breathing practices, the environment allows you to truly connect to your body and harness your feminine energy.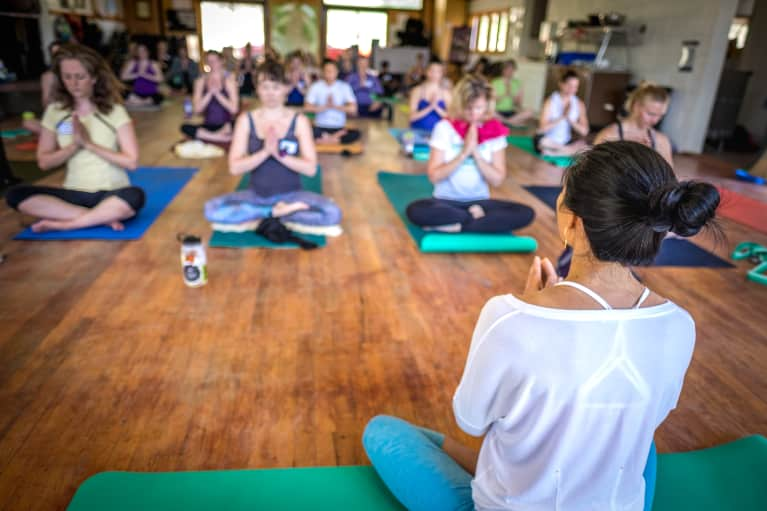 2. It will reinforce your sense of calm and flow.
One morning, the other attendees and I were eating breakfast and had lost track of time due to a really engaging speaker. Thus, the schedule of workshops and classes had to be shuffled around. As Suza Bedient, the aforementioned matriarch and program director was telling the group about the adjustments, one attendee raised her hand and asked who would manage the time. There was a short pause, and then a burst of laughter followed when it was clear that the environment created was ours and ours alone.
It was totally OK if we didn't stick to a rigid schedule—a refreshing change from the daily grind of most jobs. That moment reinforced the idea that there is no one correct way to do something. It is more important to flow and be flexible in order to learn and grow rather than adhere to a schedule just because it is already set.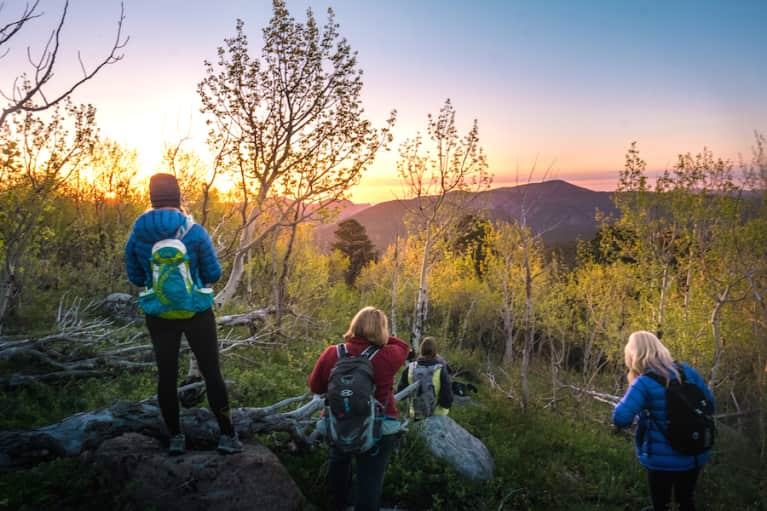 3. You will connect with Mother Earth.
Each morning of the gathering, there was an optional sunrise hike. The early risers gathered in the twilight before sunrise, and we walked up the side of a mountain in peaceful silence to greet the sun. As we hiked back down, our group leader instructed us to roll into the rest of the day holding this beautiful grounding energy of nature.
One of my favorite workshops of the weekend was called "Healing in Nature," where we learned how to use nature as a guide to see into ourselves and look for answers. We were instructed to simply stare at a certain area in a field, ponder a question or dilemma we had, and then think about how what we saw related back to us. The exercise led the group to some highly emotional breakthroughs, and there was an overwhelming show of support and love.
So often nature is ignored at the expense of progress, production, and man-made objects. Discovering the healing, feminine energy of earth is one incredibly powerful way to break free from that addictive pull of consumption.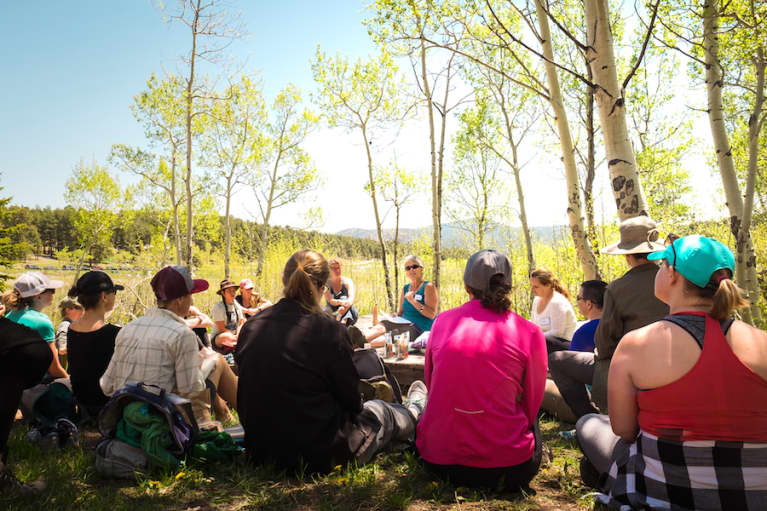 4. You will free your feminine energy.
There are not enough women in the world in leadership positions. To see an organization that is entirely run by women gather influential women to lead workshops that empower other women to follow their dreams is incredibly inspiring. And it's even more encouraging to see these women supporting each other so wholeheartedly.
Perhaps this is why the "old boys' club" has survived for so long: There is magic in brotherhood and sisterhood. Modern society may have divided us all into traditional partnerships, marriages, and nuclear families that compete with community. But to truly connect with a group of women is empowering and freeing, especially in a world where feminine energy may be suppressed or dominated.
If the recent Women's March proved anything, we need the collective power of women now more than ever. We need more softness, more flexibility, more compassion, and more human connection. Every woman should find her tribe and find her rightful place in a sisterhood. Doing so will free the feminine energy needed to heal herself—and the world.