What Mountain Biking Through The World Has Taught Me About Abundant Living
As a professional mountain biker, I've been fortunate enough to race through more than 20 countries. The great thing about multiday races is they allow you to pass remote parts of a region that most tourists never experience. I've ridden through ramshackle villages where people have never seen a white person, let alone a girl on a mountain bike.
Though at times it's left me feeling guilty about being a well-off Westerner, visiting less developed countries like Haiti, Nepal, Mongolia, Morocco, and Sri Lanka has changed my perspective. The children in these place, in particular, have taught me so much about the true meaning of a prosperous life.
Most of them own very few personal belongings, and yet they are enthusiastic and full of light and curiosity. They appear to be unburdened by their poverty because they simply don't know the difference. I'd be riding through a town of 200 people through the Sahara Desert and without fail, kids would line the streets with their little hands raised to give me a high-five or run next to me. Other kids would be busy playing with sticks nearby, singing and laughing and enjoying themselves with less.
Compared to our Western society where kids spend an average of 28 hours per week watching TV, there are some great lessons we can take away from the simplicity of kids in developing countries. The beckoning question is "what does it mean to be fulfilled?"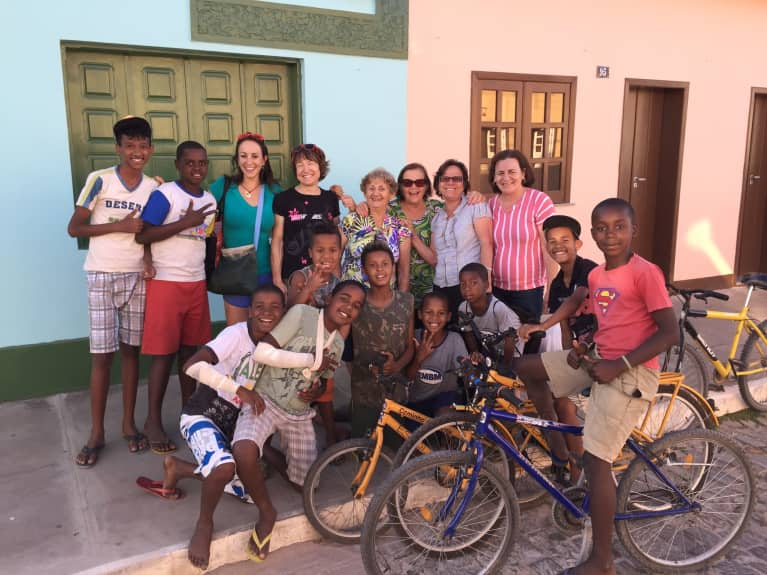 There's only a certain level of things we "need" to make us happier. Namely, a roof over our head, safety, health, food, water, and...good Wi-Fi (just kidding)! Living above the poverty line definitely removes basic stresses of staying alive and fed, but how much money do we actually need?
A study published in the Journal of Positive Psychology shows that the increase in happiness of people making $25k a year to $55k a year was only 9 percent; hardly a large amount and not indicative of the linear relationship researchers expected. This demonstrates that many of the extra things we buy with our incomes bring us negligible amounts of happiness. Some of my favorite days as a kid were spent rolling around in the grass with my brother and digging holes in the ground while my toys were collecting dust inside.
These kids aren't afraid of strangers coming through their town. They run to you with open arms wanting to learn about you, and without any obvious snap judgments. It's common for people to feel intimidated or afraid of people who seem different from them, but the world is a more fun and tolerant place when we approach someone different from us with curiosity and acceptance.
Social connections give our lives purpose and fulfillment. When I go through some of the small villages, I see people working together or sitting around in groups talking to one another. Kids play around with each other. Personal connection is something we strive for in a world where our devices and social media accounts are constantly vying for our attention. Additionally, feeling connected to your community keeps you healthier and more mobile as you age. A study by Yvonne Michael, an epidemiologist from the Drexel University School of Public Health found that seniors living in areas with stronger social connections had much high physical mobility scores and better overall health.