What You Should Eat According To The Stars: Your February Astrological Food Forecast
Contributing Food Editor
By Liz Moody
Contributing Food Editor
Liz Moody is a food editor, recipe developer and green smoothie enthusiast. She received her creative writing and psychology degree from The University of California, Berkeley. Moody is the author of two cookbooks: Healthier Together and Glow Pops and the host of the Healthier Together podcast.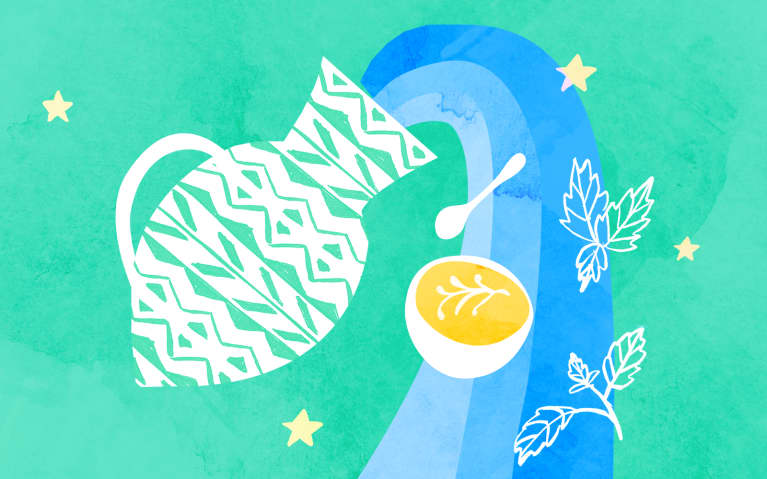 Welcome to your monthly food forecast, where we've partnered with the inimitable AstroTwins to find out exactly what will make you feel as amazing as possible, based on the stars. "As the Sun travels through each month-long astrological cycle, it emphasizes a different energy for every zodiac sign," says Ophira, one of the Twins. "Some months are more decadent, while others are more about discipline. Eating with these solar cycles can help you avoid falling into a culinary rut, or beating yourself up when you crave something creamy when a couple weeks ago you were fine with blander options." Be sure to check back in March for all new food picks!
Your sun is in the first house, which is all about adventure. This month, you'll want to get into new food trends—maybe experiment with adding adaptogens to your morning latte or slipping some seaweed into your bone broth. While people of this sign tend to be into lighter fare, this is a good month to go for things that feel more substantial and heavy. You want to feel grounded, rooted, and secure.
Recipe to try: This 'shroom shake will make your feel earthy, grounded, and adventurous, all in one.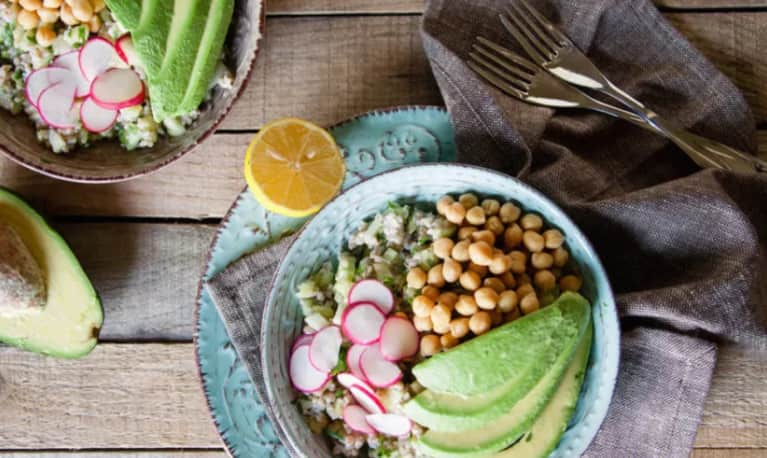 Pisces are the rulers of the 12th house! This month, you'll want to let your imagination really flow. This is not the time to go on a rigid eating plan, since you're feeling more creative and loose and won't want to weigh yourself down with the details. Go for food on the artsier side—look for beautiful colors, textures, or foods you can eat with your hands.
Recipe to try: This plant-based power bowl will let your creativity really shine. Master the basic formula and you can spend the rest of the month playing around with ingredients to your heart's content!
As an Aries, you're definitely an individual, and this applies to your food life as well. You eat what you want to eat, when you want to eat it. This, however, is your month to branch out. Get suggestions from friends or websites you love and expand your palate. Try new restaurants and new recipes. Beyond what you're eating, expand who you're eating with. Cook with friends, and have conversations outside of your comfort zone. Just be sure to talk about things that make you feel good; as an Aries, you can be prone to anger, and you want to consume to nourish you, from the food to the conversation.
Recipe to try: Host a healthy brunch with these five totally unexpected recipes—including a shakshuka that will have all of your friends talking.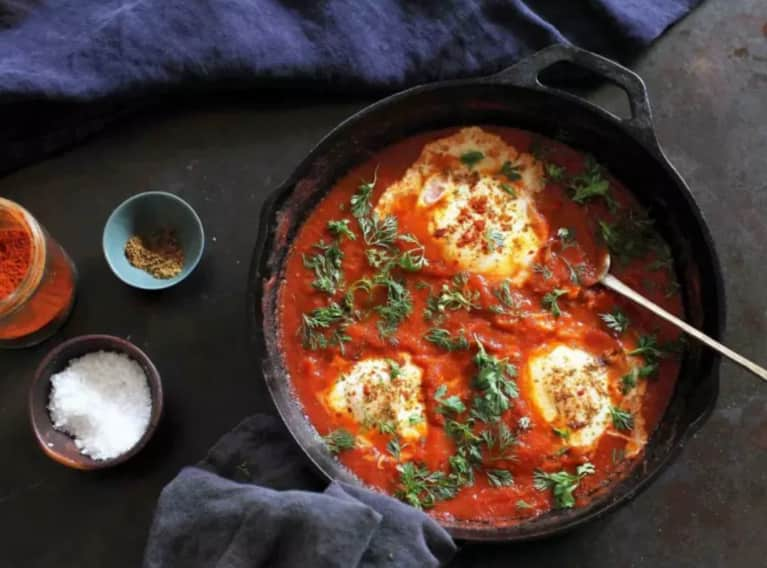 While Tauruses do like a certain amount of structure, you're also very decadent. Indulge your planning side by embracing meal prep, and make sure that every meal you eat is well-balanced (no mono-meals or lazy cereal dinners this month!). Stay away from family-style dinners this month, as you want to make sure everything is proportioned perfectly. Stash a bag of almonds in your purse so you never have to improvise and grab something unhealthy when you're on the go.
Recipe to try: This sweet potato, cauliflower, and chard-based meal-prep plan lets you cook once and have healthy meals on hand for the rest of the week.
As a Gemini, you have a childlike side that sometimes shows up in your eating habits. While you're one of the most sophisticated conversationalists around, you might accompany that witty verbiage with some macaroni and cheese or M&Ms. On the other hand, Geminis can often be extremely healthy eaters, with regimented rules about the types of food they deem "good enough" to consume. Either way, this is a great month to expand. Branch away from your norm, either by trying things that are less bland and more daring than normal or things that feel a bit more decadent—hot chocolate, almond flour cake, delicious cultured butter on sprouted toast.
Recipe to try: This cauliflower "toast" is spiced with dukkah, an Egyptian spice blend that will brighten your palate, while the poached egg on top adds a gorgeous richness.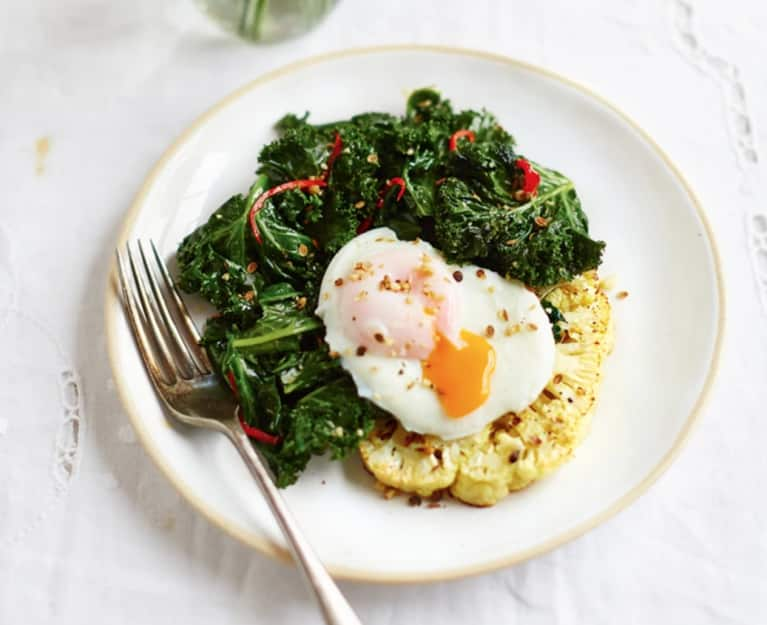 This is a great month to add a ritual to your eating experience instead of simply wolfing down everything on your plate. As a Cancer, you're used to looking for meaning in everything, and this is your permission slip to fully indulge that. Connect food to experiences. Eat something that reminds you of childhood. Light a candle and take a moment to reflect on how the food tastes and what memories and emotions its raises. This is a great month to look for textural and rich food as well.
Recipe to try: This chocolate bark is basically a grown-up Hershey bar. Savor it bite by bite and reflect on when you first ate chocolate, and some special moments sweets have come into play in your life.
As a Leo, you tend to like to take things over, with an "I'll do it myself!" attitude that permeates every element of your life, including your food. This month, try to practice the fine arts of cooperation and collaboration. Let someone else make you a meal (without micromanaging every move!). If you're always the giver, try receiving for once. Flavorwise, this month is all about fusion, balancing two contrasting flavors into something harmonious (think sweet and salty, sour and spicy, or even mixing two cultures, like Indian-inspired tacos).
Recipe to try: This Moroccan-spiced sweet potato soup will hit the spot. Let a friend make it for you (or with you, but let her take the lead!) and then sit back and enjoy together.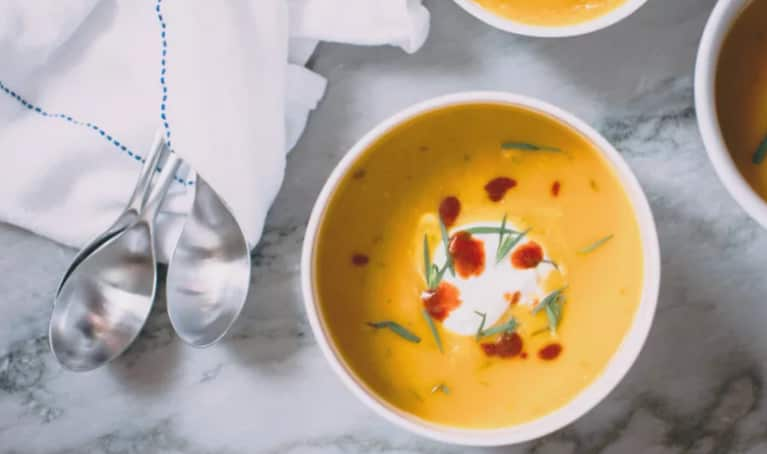 Virgos rule the sixth house, so you'll really be in the zone this month. You tend to be a health-conscious sign, and you love to count and quantify everything. This is a great month to fully indulge that side of your personality. Geek out on science-based nutrition articles, and try some new recipes, enjoying the process of following the instructions and measuring out all of the ingredients. This is also a great month to find out where your food comes from—try talking to your local farmer at the market, or even joining a CSA.
Recipe to try: Baking is notoriously scientific, but this grain-free chocolate ganache tart is easy enough to be fun and exacting enough to indulge your scientific side.
As a Libra, you tend toward romance but enjoy a modern version of it. This month, the sun is in your fifth house, which is all about drama and passion. It's a great month to let yourself go a little bit! Don't try to hold back in terms of your food choices—indulge yourself in rich, decadent treats. If you're in a relationship, prioritize having a super-sexy Valentine's Day, and if you're not, try to be indulgent that day anyways, cooking up a scrumptious brunch with a group of friends. One caveat: Because you can get out of balance easily, make sure to have some greens every time you have chocolate, or a salad with that mouth-watering plate of tacos.
Recipe to try: This aphrodisiac hot chocolate will tickle your taste buds and get you fired up for an amazing night, whether it's with yourself or a partner.
Scorpios tend to me more private, but this month, with the sun in the home part of your chart, it's a great time to really open your space to other people and focus on deepening your relationships. Invite people over for dinner, or go to lunch with your coworkers and open up about your out-of-office life a bit more. You can also strengthen your bonds through making food, maybe trying out an old family recipe (and updating it to make it a little healthier!).
Recipe to try: This hygge-inspired dinner party makes hosting super cozy, stress-free, and not intimidating at all.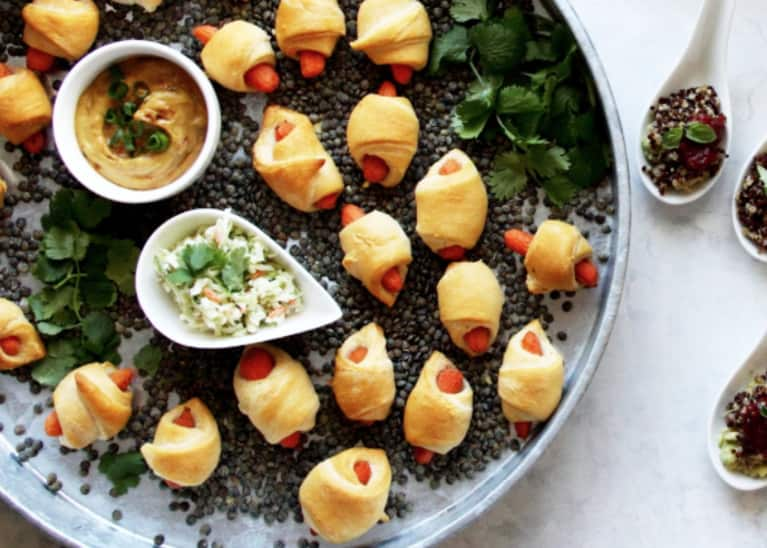 Sagittariuses are very communal, and this month is a particularly great time to gather with your friends—but with an emphasis on local. This means checking out a new spot in your neighborhood, or doing a staycation where you sample healthy treats from around your city. Buying super-local food will make your body feel especially good, as will taking ideas from your favorite restaurants and recreating.
Recipe to try: These carrot pigs-in-a-blanket and strawberry jalapeño quinoa bites are the perfect nosh for having your friends over to watch the Oscars or Super Bowl.
You already follow a Capricorn-esque less-is-more attitude, which can result in a taste for more simple foods. This is the month to let yourself have something a little richer and spend a bit more money indulging in luxury. Think beautiful green juices, checking out new restaurants, treating yourself to that orange blossom yogurt you're obsessed with. It's a good month to stock up on high-quality, expensive ingredients as well, so take a look at your spice and oil cabinet and see what you need (and remember: good-quality spices make everything taste amazing and often contain many more health benefits, so it's worth the spend!).
Recipe to try: Use all those spices and exotic ingredients to make these Ayurvedic celery root pancakes.