What It Actually Feels Like To Sell All Of Your Possessions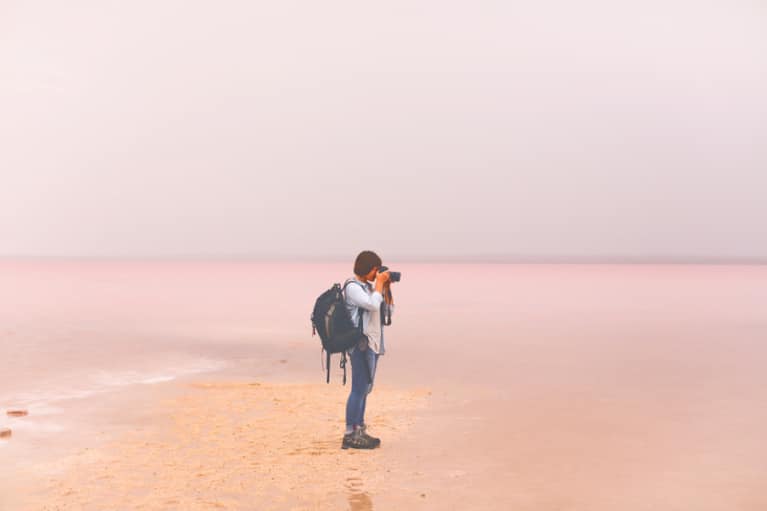 Eighteen months ago, I was living life by the script most of us are taught. Go to university, get a reputable career, buy a house, settle down, get married, have kids...you know how it goes.
And on the surface, I had it all: a six-figure salary in venture capital, my own London flat, a great social life. I was continuously busy, notoriously difficult to pin down, and my schedule was typically booked up at least a month in advance. Underneath it all, though, there was a niggling feeling that something wasn't right.
My life lacked purpose, and every day was the same. Wake up, commute, work, go to the gym, maybe go on a Tinder date, commute, go to bed. I had grown sick of this routine, and I didn't want to look back in 30 years riddled with regret. With that, I took the ultimate risk. I handed in my notice to move to Uganda, East Africa, where I'd work to run a charity and co-found my own business.
By the time it was all over, I was left with a suitcase of clothes, a couple of boxes, and some furniture. Ninety-five percent of my belongings were gone.
When it came to packing up all my belongings for the move, I decided it was a better idea to sell everything rather than leave it in storage indefinitely. By the time it was all over, I was left with a suitcase of clothes, a couple of boxes, and some furniture. Ninety-five percent of my belongings were gone.
This was the first time I'd taken a dip into minimalism, and up until that point, I'll admit that I was a serial consumer. Rows and rows of LK Bennett and Russell & Bromley shoes lined up alongside pairs and pairs of Nike trainers in my closet. My wardrobe was so full that it couldn't even fit all my Whistles tops and Zara jeans, half of which I'd never even worn. I remember going shopping for a coat one day and coming back with three. And this consumption wasn't just limited to clothing. Dishes, linen, cookware...who needs 10 pans when they live alone in a one-bedroom London flat?!
Now, I look back on this period of my life in total and utter excess. I recognize that I'd bought into the idea that buying more stuff would not only make me happier, but it would validate my success. I was clearly too worried about what the world thought of me.
The unforeseen impact of simplicity on my life has been a true blessing. Here are some simple lessons on consumption I've stumbled upon since selling nearly all of my possessions and adopting a minimalist mentality:
1. The more you have, the more you want.
It's a self-perpetuating cycle. Enough is never enough. You'll always want more. Conversely, the less you have the less you want.
2. Fewer possessions means fewer choices.
Today, we are presented with more choices than ever—what food to buy, clothes to wear, and TV to watch. Uganda has shown me that such choice is not necessarily a good thing. Having three shirts to choose from rather than 30 makes mornings a hell of a lot easier.
I used to be hesitant to throw away any possessions, thinking, Oh, maybe I'll need that one day. Now, I know that it's easy to forget about what's gone and focus on what's left.
4. Cleansing happens from the inside out.
When I first moved, I expected to feel some sort of remorse and longing for my old life. In fact, I felt quite the opposite. The move was more cleansing than any full-body massage or hot yoga session. Now, my focus is on experiences rather than things, and I know without a shadow of a doubt that less really is more.