The Intersection of Business & Mindfulness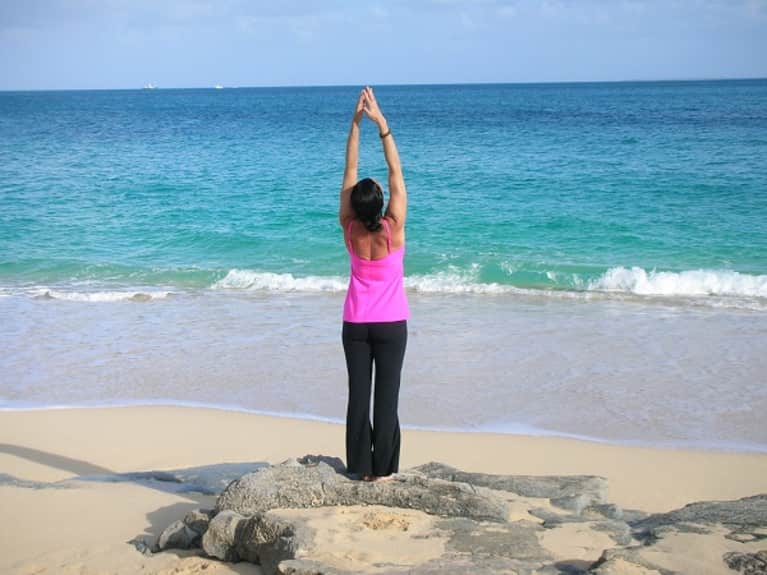 Before I was practicing yoga, I worked in the corporate world. Hardly thinking about mindfulness, it was all I could do to find time to eat a decent meal. Working at breakneck speed didn't leave much time for reflection, healthy eating or finding time for meaningful exercise. I didn't think about how my actions impacted others outside of the obvious ways; didn't think of what my values were and how I could express them in the context of my professional work and didn't have any idea what kind of stress management techniques I could employ to manage my frustrations.
Along the way, I found yoga, or should I say yoga found me. There are countless stories of how people were introduced to the practice, each one filled with stories of personal challenge, physical challenge and emotional growth. My story has a familiar bent to it, and as I got more involved in practicing, then diving into teaching, I started to feel more and more like a fraud. How could I be teaching and practicing yoga and then going to work in a "day job" where I felt the essentials of mindfulness were not always fully embraced by those around me?
In my 25 years of corporate experience, I've worked in a handful of companies, large and small. I've had exposure to small, entrepreneurial companies as well as large corporations. I've taught both full time and part time, while working in a corporate setting. While my commitment is now fully on the development of my own yoga business, I am forever grateful for the corporate experiences I had. I also realized, shortly after I started teaching yoga back in 2002, that I had a real opportunity to put yoga in action by trying to bring some of the key principals to work in the occupational setting.
The business world has dramatically changed in the past several years and with the ever-changing economy, the challenge facing many businesses is how to stay afloat, let alone how to provide a workplace that supports mindfulness and health. This is not a slam on business; it's just the reality. So now more than ever, it's left to the individual to identify ways to decrease stress and stay healthy, while also staying focused and productive. So, how can we do this?
If you practice yoga, you know that there are many opportunities to experience the essentials of yoga off the mat. Just the mere physical feeling of a standing forward bend on your back, legs and neck or the immediate relaxation that you can access through closing your eyes and taking a few deep breaths helps us connect to the power of our yoga practice. But what if you don't know anything about yoga? Or, what if you do, but you find that as soon as you step into your workplace, you're just a bundle of reaction? Let's see if we can identify some things we can do:
Deep breathing breaks: Focused on connecting you to your body, it's the quickest, most portable way to slow down and stop impulsivity. Do it before you inhale your lunch, before sending that terse email, before marching into your boss's office to let him or her have it.
Use easy movements to stay connected to the body, stretched and relaxed: From standing, reach up to the ceiling and then bow forward. From seated, do deep breathing with a few neck rolls. From standing, interlace fingers behind you and bow forward. Whatever it is, simple movements connected to breath have the same affect as simple breathing breaks: they connect us to our bodies and less to the external stimuli that can create stress.
Create a workspace that is a reflection of what you love: My work area had seashells, plants, a racing bib, a picture of me and my dog doing yoga together. It had inspirational sayings from ads I loved and even a few yoga books.  People would often stop by my desk, flip through the book and exclaim, "I could never do that!" And there it was: A "teachable moment" for both of us; an opportunity for me to connect with my colleague in a way outside of our corporate mission. I loved those exchanges and found that they made my day more bearable. Make your work area a reflection of who you are and you'll feel more connected to what's important in your life.
"Today I will judge nothing that occurs": This wonderful premise from A Course in Miracles is also reflected in Deepak Chopra's The Seven Spiritual Laws of Success. Meant to take us out of our tendency to judge things as "right/wrong" or "good/bad," it's a statement that let's us off the hook to just move forward, doing our best, without getting caught up in things we can't control. When I was working in a setting where things were changing regularly in terms of my job responsibilities, my colleagues and the corporate structure, I found it allowed me to focus less on that which I couldn't control and focus more on that which I could: my attitude, my breathing and doing the best I could.
"How you do anything, is how you do everything:" Another one of my most favorite mindfulness sayings, this is one of my go-to mantras. To me, it highlights that we're not "workers," then " yogis," then "parents," then "teachers," for instance. We're ourselves all the time and everything we do is a reflection of what we stand for. The diligence, attention to detail and focus you have for your yoga practice or for your home, or for your yard should be the same foundation you bring to your job. The values you espouse, like doing your best or having compassion for yourself and others don't get shoved to the back burner just because you're at work. They're even more needed in that setting. Once we live and work this way, we can feel more integrated; regardless of what hat we're wearing.
Remember that change is the way: Buddhist theory points to the concept that things are always changing and our resistance to change is what creates stress. The more we can move to embrace this idea, the less stress we'll have. 
Work is another expression of who we are; as we move through the challenges of our jobs, our lives and our relationships, it's our connection to key principles of health and wellness that will give us longevity and peace.