5 Female-Friendly Biohacking Tools To Make You More Healthy, Successful & Productive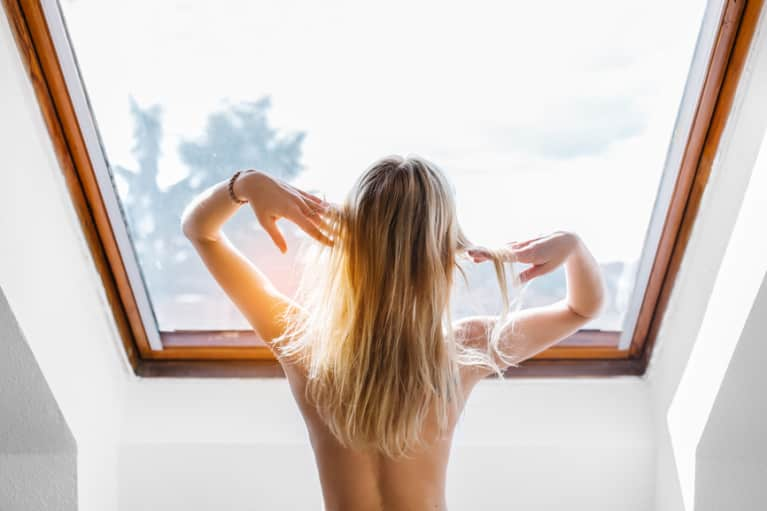 Our editors have independently chosen the products listed on this page. If you purchase something mentioned in this article, we may
earn a small commission
.
Biohacking can mean a few different things, depending on context. One definition references the DIY biology movement as a whole, making biology experiments and labs accessible to everyone thanks to technology. Another meaning is more personal: it's understanding your own body's vital, biological functions well enough to participate in them by manipulating your habits—namely what you eat, when you eat it, and how you exercise—for a specific, desired result. In real life, it manifests in four-hour work weeks, endless energy from Bulletproof coffee, and sharper brain function thanks to a ketogenic diet.
Biohacking is grassrootsy by nature: almost anyone can experiment with these tools and techniques as long as you're not risking your health. Tim Ferriss, a self-proclaimed human guinea pig, Dave Asprey, founder of Bulletproof coffee, and Gary Wolf, co-founder of the Quantified Self Movement are some prominent voices in the community.
Personalized biohacking tends to be male-dominated, with a few exceptions. The work of Liz Parish, CEO of BioViva, and Dr. Rhonda Patrick of FoundMyFitness, focuses on cellular aging, which in this context is applicable to all humankind. Ellen Jorgen is making biohacking experimentation and education more accessible to everyone with her non-profit, GenSpace. Interestingly enough, none of their approaches are personalized nor inherently feminine. Women in biohacking are taking a global approach and experimenting for the greater good.
And yet, women's biology is ripe for personalized "hacking," especially when it comes to our cycles. Did you know that there's a good time of the month to plan a big presentation at work, a date, or a tough workout based on your cycle? Hear me out: it's a pro, not a con: women have an entire hormonal system that men don't. It's about time we learn how to take advantage of it. These tools will help you hack your individual biology based on your vital signs, and that includes women's health too.
1. The functional medicine-inspired period tracker and hormone balancing app.
Alisa Vitti's latest release, MyFlo App, was born from her book WomanCode, one of the first modern texts to educate women about their cycles—specifically the effects of hormonal changes during all four phases of it—in a way that was accessible and actionable. Her new app brings the book to life, offering a cycle tracker that suggests foods, activities, workouts, and playtime activities to optimize your life based on your hormone levels. It also helps minimize period pain by suggesting little lifestyle tweaks. And don't worry, we checked: it won't ever take away your favorite dark chocolate.
WellBe is a wearable with one job, and one job only: to help you lower your stress levels. It takes time of day, location, and recurring events (like meetings and cals) into consideration to tell you about your stress levels and more importantly, your stress patterns. As in, maybe that weekly call with your boss really stresses you out. Don't be scared: WellBe syncs to your phone as well, which can send push notifications that tell you when you need to take a chill pill, so you can take that call and crush it.
3. The ovulation kit, whether you're trying to conceive or not.
KNOWHEN is an at-home saliva-based fertility test that syncs to an app to track your ovulation. Contrary to popular belief, it's not just for women who are looking to conceive (though it can help with that): tracking ovulation is an essential part of natural family planning, so if you're off birth control and trying to avoid pregnancy, consider using a tool like KnowWhen to understand your natural rhythms.
4. The "personal trainer" that determines workouts and meal plans tailored to your genetic code.
Fitness Genes, a DNA testing kit, takes your genetic information and synthesizes it to figure out the best personalized exercise and nutrition program based on your DNA. For example, some people who have the obesity gene can benefit from intermittent fasting. While this certainly isn't specific to women, it does take your personal labs into account for a more accurate read and customized recommendation, essentially eliminating the trial and error that typically comes with an elimination diet, or new fitness routines.
5. The hypnosis app to hack your mind.
HelloMind is a hypnosis app designed to help you break your most difficult mental patterns with result-driven hypnosis, whether it's emotional eating, stress, or self-esteem. Using up to date neuroscience, the program is designed to dialogue between your conscious and subconscious for next-level repatterining. One full treatment is ten sessions.
Of course, some of these are male-friendly too! We believe that personalized wellness is the way the future, and that includes learning more about your body and mind to feed it what it desires.