The Healing Crystal Latte You Need To Try (And Exactly How To Make It At Home)
Contributing Food Editor
By Liz Moody
Contributing Food Editor
Liz Moody is a food editor, recipe developer and green smoothie enthusiast. She received her creative writing and psychology degree from The University of California, Berkeley. Moody is the author of two cookbooks: Healthier Together and Glow Pops and the host of the Healthier Together podcast.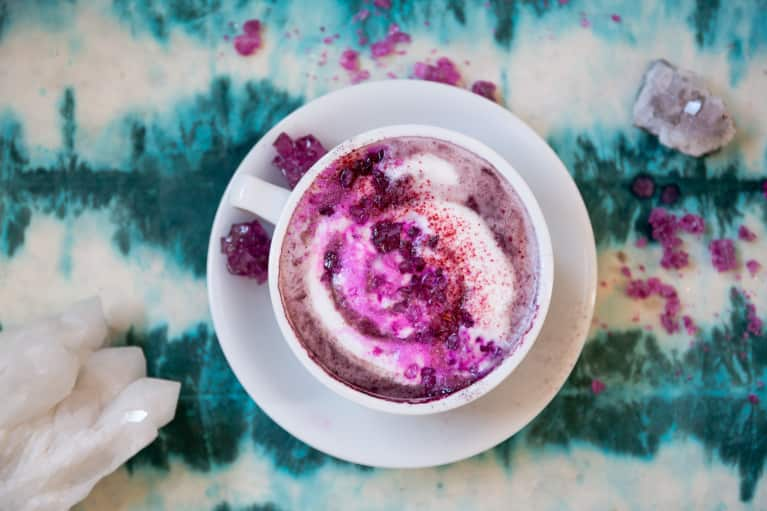 It looks innocuous from the outside, indistinguishable from the other gray-toned storefronts that line the streets of Williamsburg. And then you see the sign: "Fly High With Our Unicorn Latte!" Next to the words, there's a pink chalk drawing of a unicorn that looks magical and welcoming, like a My Little Pony for grown-ups. Ladies and gentleman, I've reached The End.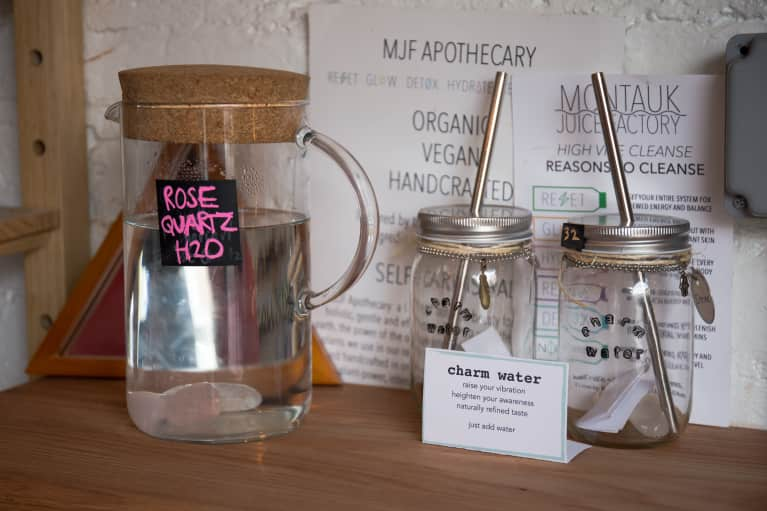 Home of the Unicorn Lattes that have taken over Instagram, The End is just your average neighborhood coffee shop, if your average neighborhood coffee shop has crystal-infused water sitting out in a pitcher and a menu of lattes filled with equal parts healing herbs and whimsy. "That's the point," says owner Madeleine Murphy. "We want people to come for the swirling colors and fun image opportunities and stay because, after they drink the lattes, they feel absolutely amazing. It's a way to bring a whole new audience to the wonderful world of wellness."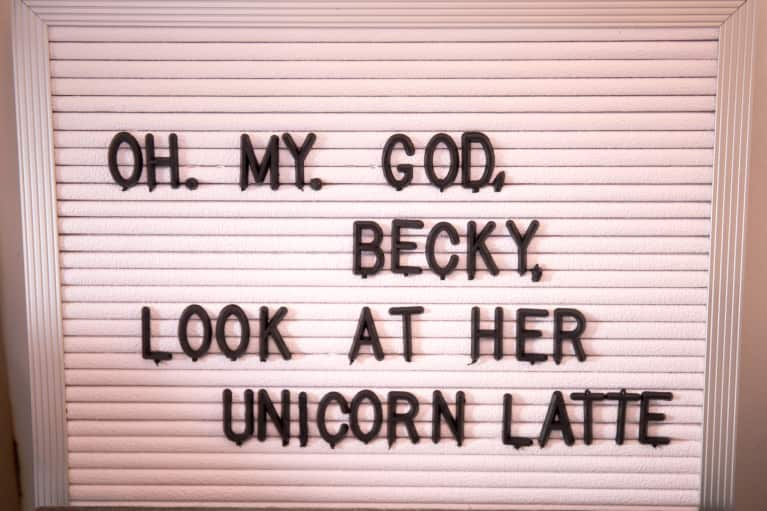 With ingredients like ashwagandha, CBD extract, mushrooms, collagen, maqui, and tocos swirled into drinks like the Magic Mushroom Latte, the Radiance Beauty Latte, and the Anxiety-Busting Hot Chocolate, there's a tonic for every ailment (and Instagram feed). We love the Unicorn Latte, a mix of juiced ginger and lemon, e3 live, and frothed almond milk topped with organic sprinkles and turmeric, but our favorite had to be the Amethyst Crystal Latte
"Amethyst is a remarkable stone of spirituality and contentment," says Madeleine. "This latte, infused with amethyst and rich purple-hued superfoods, stimulates the third eye and crown chakras and enhances cognitive perception. The antioxidant, anti-inflammatory and anti-carcinogen effects of maqui berry, coconut oil, and Mulberry tea bring healing to the physical body as well."
Want to try it? Here's a recipe to make the Amethyst Crystal Latte at home. If you'd prefer the detoxifying, calming powers of the Unicorn Latte, we asked Madeleine to share that, too! Consider your magical morning sorted.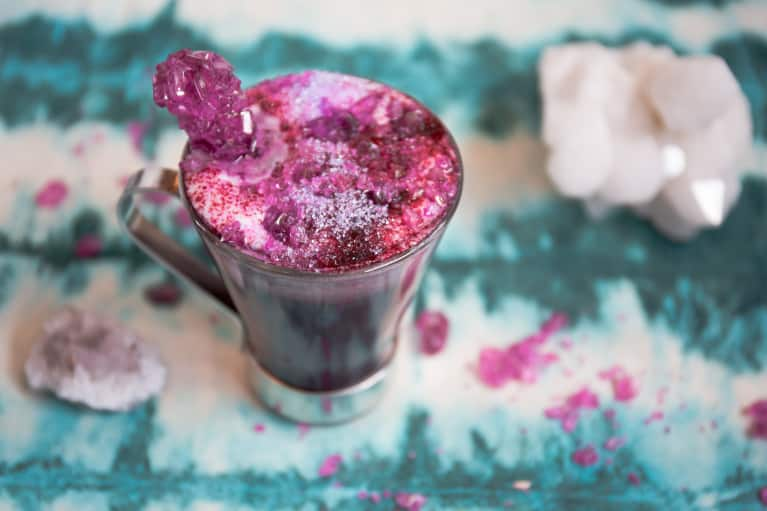 Purple Amethyst Tea Latte
1 tablespoon organic maqui berry powder
4 ounces water
1 teaspoon organic extra-virgin coconut oil
4 teaspoon tocos rice bran powder
1 teaspoon raw honey
1 cup boiling water***
2 tablespoons loose-leaf mulberry tea (great alternatives are goji berry or hibiscus tea)
1 to 2 medium-size tumbled purple amethyst crystals
1 cup hazelnut mylk (or nondairy mylk of your choice)
dried lavender buds and organic maqui berry powder for garnish
First, make the base. Whisk "base" ingredients into a small saucepan over medium heat. Cook until the powder dissolves, turn off heat, add the lavender buds, and steep for 5 minutes. Strain through a fine-mesh strainer, pushing on the petals to extract as much of the remaining flavor as possible. Stir in the raw honey and coconut oil.
Now, make the tea. Mix tea leaves and crystals into a glass bowl or jar. Set your intention over them and let sit for at least 1 hour.
Scoop out the crystal and set aside. Steep the tea leaves in boiling water for five minutes, then discard.
Mix the base with milk, and froth with a milk frother to your desired warmth and foam.
Fill your mug halfway with tea (4 ounces), and then add the steamed milk (4 ounces). Sprinkle with maqui berry powder and lavender buds. If you'd also like to add some "purple sparkly dust" for garnish, simply add a handful of dried lavender powder, maqui berry powder, a few drops of water, and organic raw sugar to a spice grinder, and pulse until they reach a fine powder. Use a fine-mesh strainer to give a light dusting of powder to top the latte.
** For extra crystalline goodness, you can infuse your water with polished amethyst and rose quartz up to 72 hours ahead of time before boiling. When infusing in water look for stones with Mohs of 5 or more so it doesn't slowly dissolve in the water. You can use this crystal energy-infused water in all sorts of tonics, smoothies, and concoctions!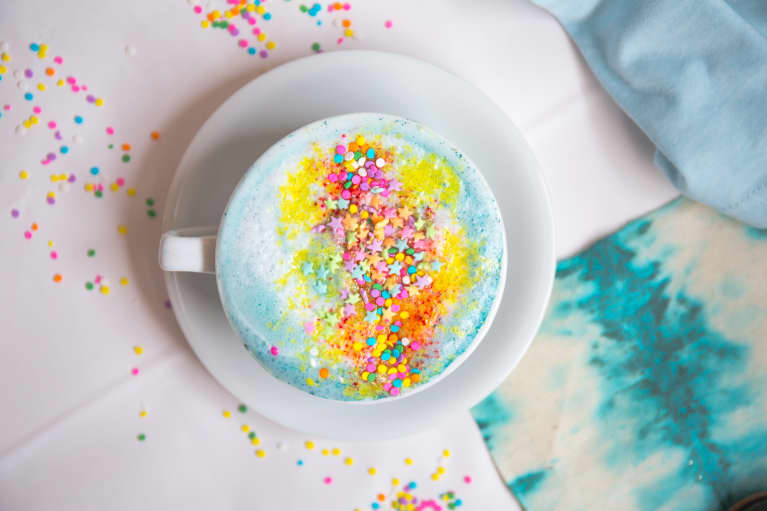 Says Madeleine, "This psychedelic looking drink is wonderful before a deep yoga session or meditation, served warm or chilled. Packed with phytonutrients like chlorophyll, carotenoids and polyunsaturated fatty acids, it sustains not only your body, but your brain as well."
Ingredients
1 cups raw cashews, soaked for 4 hours
3 cups filtered water
1 vanilla bean, insides scraped out2
2 oz of cold pressed ginger juice
2 oz lemon juice
1 tablespoon spirulina extract
1 tablespoon maca root
2 Medjool dates
Turmeric, spirulina powder, and organic sprinkles to garnish (optional)
Mix in a high-speed blender for one to two minutes until well combined and frothy.
Heat on a stove until desired drinking temperature, or serve chilled over ice. Garnish with turmeric, spirulina, or sprinkles, if desired.