7 Things You Need To Know Today (January 13)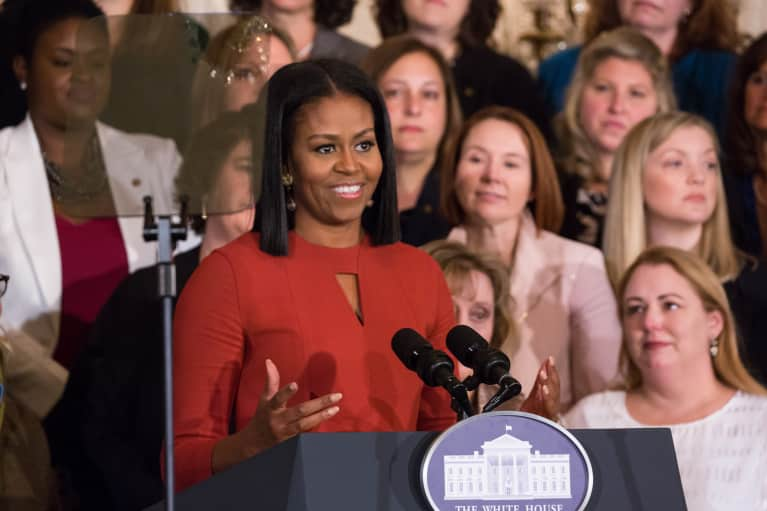 January 13, 2017 — 10:39 AM
1. Michelle Obama's final late-night appearance as first lady brought on all the feelings.
While appearing on Late Night With Jimmy Fallon this week, people listed the many ways Michelle Obama had changed their lives for the better. Our favorite among them? A dad whose daughter now enthusiastically eats kale. (The Daily Beast)
2. You're more likely to overeat dessert if someone else serves it to you, according to science.
One group of people in a study sat down to a table full of pre-portioned sweets, while another had to serve themselves from a bowl. People ate the pre-portioned sweets but not from the bowl, suggesting that being served takes away some of the guilt associated with indulging in some sweetness. Brings a whole new meaning to having your cake and eating it, too, doesn't it? (Science of Us)
3. Saving your workouts for the weekend has its pros and cons.
A new study published in the Journal of the American Medical Association (JAMA) says that people who pack their recommended amount of weekly exercise into their Saturday and Sunday schedule have the same decreased risk of death as those who exercise regularly. However, this study does not examine well-being and the many other ways that regular exercise can improve health status. (CNN)
4. Lexi Felix, the founder of Digital Detox, has passed away.
Lexi Felix, who formerly worked 70-hour weeks at a start-up, had an awakening in 2013 after a health scare and co-founded Digital Detox. The company aimed to bring balance to people's lives by disconnecting them from their smartphones and connecting them in real life. It sponsored retreats and camps with yoga, meditation, and healthy diets to make this happen. When Lexi learned in February that he had a brain tumor, he wrote a powerful letter that encouraged his followers to "tell people you love them." He will be missed. (NYT)
5. Conservatives are taking aim at Obamacare.
On Thursday morning, Republican senators voted nearly unanimously to approve a budget that could signal the death of Obamacare. The new budget resolution will next go to the House, where it is expected to be approved. (New York Magazine)
6. Nike makes the case for dance as sport, not art, and we want to get down.
The mega sports brand has enlisted singer FKA Twigs (known for her eclectic, genre-bending music) for a campaign to promote its new Zonal Strength Tights. FKA Twigs' costars in the video are all athletes, including track and field star English Gardner and Olympic fencer Miles Chamley-Watson. Nike's statement on the FKA Twigs campaign says it "sheds light on the power of modern movement and defines sport as an important channel of expression...modern movement is about exploring any genre of sport without boundaries." Another excuse to live in our leggings. (Racked)
7. Does alcohol trigger hunger-signaling neurons? Drunk mice say so.
Studies on booze-drinking mice showed a surprising link between alcohol and hunger. While previously thought to be triggered by the inhibition-lowering properties of liquor, this new study suggests that—in mice, at least—booze triggers hunger-signaling neurons previously only known to be triggered in starvation mode. Whether the same is true for humans is as yet uncertain. (ars technica)