How To Invite Financial Abundance Into Your Life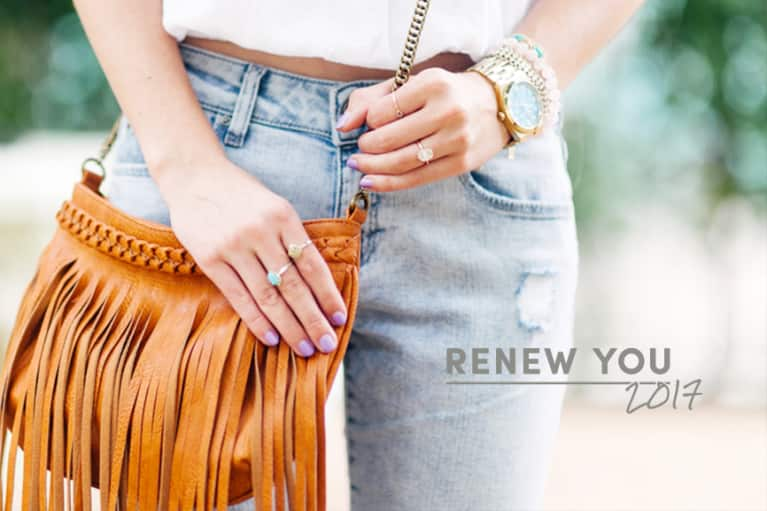 Manifest the year of your dreams by going inward. Renew You 2017 is a month of mindfulness during which we'll share content that guides you to create a deeply rooted intention for the new year. We'll help you navigate inevitable obstacles with the latest science on habits, motivation, ritual, and more and equip you with tried-and-true techniques to outsmart even the toughest inner critic.
You may be holistic with your body, mind, and well-being, but are you holistic with your money? Holistic living is not just a healthy lifestyle trend: it can be applied to your bank account as well. There is a very clear message emerging today—we are outgrowing the money-chasing hustle. We are hungry for a more meaningful and connected relationship with ourselves, and our money.
A new era of wealth creation is emerging, and it's holistic! This new approach is one rooted in community, meaning, and simplicity, leaving no space for ego-centered competition and inauthenticity. At its core, the holistic wealth practice is built on authenticity, kindness, mindfulness, and wellbeing. The most important starting place for generating wealth holistically is simple: trust in yourself and your greatest gifts.
Your holistic wealth practice is deepened by intuitively flowing more in your life and shedding fear-based action and intentions. When I came to my own realization that I was chasing money out of fear of not having enough, my world transformed forever. In the now, authenticity and wellbeing are your greatest money magnets.
Here are my 10 favorite and most cherished strategies that supported my holistic wealth makeover in my own life.
1. Make a vow to yourself.
Your holistic wealth practice begins with a commitment. Make a vow to yourself this year that connects with your soul. Vow to live in alignment with your most sacred values. For example, mine are freedom, integrity, family and health. We become disconnected when what we do daily isn't aligned with our heart-of-heart values. Make a commitment to live out each day in greater alignment and truth.
2. Create a daily clearing ritual.
Commit to shed and let go of what is no longer serving you. Get comfortable with clearing on a daily basis. Donate, gift, and circulate that which has served you well but is no longer required. Your most precious assets are free. In letting go of things that take up time and space, you create room for self-care, better well-being, and harmonious time management. Create space for the most vibrant health and wealth of your life. Clear more space in your schedule, learn to say no and set healthy boundaries for yourself this year. Make space for all that is true for you.
3. Commit to being financially fit.
You have to believe it before you see it. To become financially fit, we must change our thought patterns and beliefs to be financially fit. All starts in the mind before it shows up in physical form. Once you start believing you can create the life you want, align your habits and language with this reality and watch it unfold. Practice simple wealth habits daily such as respecting every dollar you earn, not hemorrhaging money on clutter and junk, keeping your wallet pristine, talking to your money, asking for more money, and saving more than you spend.
4. Set 3 dreamy holistic wealth intentions for 2017.
I used to be an obsessive list maker and goal setter, but my soul got sucked dry. I became obsessed to the point of emotional disconnection. If I didn't complete a task or a goal, I would beat myself up with binge eating and sugar overloads. I finally realized that my philosophy was completely misaligned with happiness and joy. I gave up list making and overhauled my goal setting practice. I created a very simple DREAM goal system that keeps goal setting simple, connected and life-transforming. For 2017, consider creating 3 powerful, soulful, and creative goals that will rock your world. Make these goals simple, measurable and consider having an income goal among the three.
Between 50 and 70 million adults in America have a sleep disorder. One of the major causes of the growing number of people reporting sleep disorders is stress. If money is one of the biggest, if not the biggest cause of stress, let's commit to a practice of healthier and wealthier sleep. Start your sleeping wealthy practice by being in the driver's seat of your money. Keep your days orderly, organized and light, so your nights can be spent sleeping soundly. Automate your savings, commit to saving more, and manage your money with excellence. Pay your bills on time, organize your receipts and commit to saving even an extra $20 per week, today! Knowing your numbers now, (such as your net worth and credit score) will set you up for seriously prosperity momentum moving forward. Remember not to judge yourself or be unkind to yourself when calculating your numbers. Know the numbers, but don't judge the numbers. Do the math, know the math, and then move forward with confidence and purpose.
6. Get a wealth trainer (or two).
Trainers are not just for the gym. You don't necessarily need to hire an expensive financial advisor today. Start by studying wealth this year. Your wealth trainer could be in the form of a book, audio/video program, or someone you admire who is where you intend to be. Learn as much as you can this year about financial health and money mindfulness. Consider starting to put together your wealth team this year. I started with an accountant and a bookkeeper and then grew it from there by adding a lawyer, financial advisor, and insurance specialist.
7. Practice money mindfulness.
When we embark on the great dash for money, it leads to living a life of busy being busy... and often broke. Make money mindfulness a daily practice in your life. Use tools like meditation and movement (such as yoga and dance) to move scarcity energy and thinking out of the mind and body. As weird as it sounds, it will make a huge difference in how you feel every day if you make regular effort to move out energy that is not aligned with grace, love, and abundance.
For example, I just bought a treadmill specifically for this purpose. If I have some waste energy in the body, I can hop on my treadmill and quickly run off the residual waste. A yoga class or an outdoor run is my ideal but in a blizzard, a quick sprint on the treadmill will do. Visualize yourself into wealth as well! Visualizing yourself exactly where you intend to be is truly how I got myself here. Once your holistic wealth destination is crystal clear in your mind, move it to a vision board. Visually focusing on your desired destination daily will create money momentum. Another great practice for money mindfulness is a mantra. Mantras such 'I am worthy of great wealth' and 'I vibe on the wavelength of wealth' are two of my personal favorites.
When we don't manage our cash well, we end up using credit to pay our expenses. Before we know it, we started considering our credit to be cash and everything gets messy. As important as reducing debt is, we often neglect to put the same energy into creating more cash flow. For 2017, commit to cashing in on your gifts and your genius. Tell yourself that you are so worthy of wealth and that you have all the creative energy you need to transform your financial reality. Commit to an actual amount on paper that you will generate (above your current monthly income or salary). Think outside of the box and get busy manifesting more money. You have all the skills and all the resources you need to make it happen. Find a partner to do this with and hold each other accountable, gracefully!
9. The secret is simplicity. We need it more than we think.
Multitasking may appear to be a better philosophy but comes at a great cost. We lose ground, connection, and peace. What do we gain in the multitasking madness? Tension, chaos, and waste. When you commit to the discipline of simple, your world and your money will transform. You will spend less, fear less, save more and connect to the world around you. Perhaps it's finally your time to make meditation as much of a priority as brushing your teeth. I know this time has come for me.
10. Authenticity and wellbeing are your greatest tickets to wealth.
We are naturally drawn to people who beam brightly with radiance and well-being. Not only do we want to be around them, we want to work with them (and hire them!). Radiant well-being is the new business card. I have made it a practice to energetically 'feel out' the leader in the room. When I attend a conference or meeting, I can instantly identify a tribe builder. They have a special light and energy about them. They've made it a habit to let their authenticity and well-being be their ticket. They don't need business cards as they magnetically attract business and clients everywhere they go. This practice will help you create that for yourself! By valuing and loving ourselves more, we become much better at setting boundaries, valuing our time and asking for help from others and asking for money.
Make small changes in your own life towards simplicity, mindfulness, and well-being. Your body and your bank account will thank you. Simple changes implemented with commitment and consistency lead to true transformation. I have tested this holistic wealth plan over the past 10 years and I can say with absolute certainty that letting go this year (of all that no longer serves you) will do more for your money than anything you can learn. Let go of your money fears and trust with every cell of your body that you are so worthy of wealth and that great wealth is making its way to you this very moment.