New Study Shows A Protein-Pacing + IF Combo Promotes Detox & Weight Loss
mbg Health Contributor
By Gretchen Lidicker, M.S.
mbg Health Contributor
Gretchen Lidicker earned her master's degree in physiology with a focus on alternative medicine from Georgetown University. She is the author of "CBD Oil Everyday Secrets" and "Magnesium Everyday Secrets."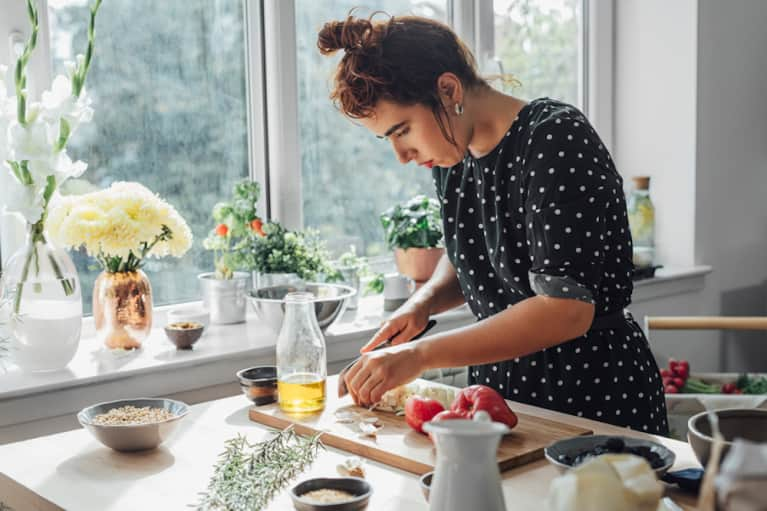 There's an exciting new way to eat, and it will do way more than just help you lose weight. New research shows that following a balanced, high-protein diet that includes intermittent fasting can help you decrease oxidative damage, detox from stored toxins, and protect your heart.
Let us introduce you to protein-pacing.
Exercise scientists from Skidmore College conducted this year-long study that tested the effects of a balanced, protein-pacing caloric restriction (P-CR) diet. Basically, protein-pacing involves eating four to six meals a day, at least 20 grams of protein each. This intervention also incorporated intermittent fasting (and calorie restriction), so one day each week the participants fasted by consuming no more than 450 calories that day.
They compared this intervention to a control group who followed a heart healthy diet plan provided by the National Cholesterol Education Program's guidelines. This group ate a diet of about 35 percent fat and 55 percent carbohydrates. Both groups consumed the same number of calories—about 1,900 per day.
This diet does way more than just help you lose weight.
While both groups lost weight, at 52 weeks the P-CR diet was significantly outperforming the other diet in terms of maintaining weight loss, reducing artery stiffness, and releasing toxins.
You may be wondering why these researchers thought to measure toxins in the blood? Well, it's long been a concern that weight loss can cause an unhealthy release of toxins in the body. This happens because environmental pollutants and other toxins are stored in fat, and when that fat breaks down during weight loss, the toxins are released into the bloodstream where they can cause oxidative stress, which has been linked to everything from hormonal imbalances to cancer and infertility.
Here's why it works for everyone.
This study showed that a P-CR diet did not lead to an increase in toxins or oxidative damage. In fact, it actually aided in the release of toxins and an increase in antioxidant levels, which protects cells from damage. Therefore, it's an option to be explored even by both men and women who are not overweight, but are looking for a healthy way to prevent disease and stay fit.
A low-carb way of life is definitely trending, and combined with intermittent fasting—another interesting new way to hack our own metabolisms—this diet seems to support the body particularly well, in a few different ways.