Why Embracing Head-To-Toe Color Is The Mood Lift You Need Right Now
Our editors have independently chosen the products listed on this page. If you purchase something mentioned in this article, we may
earn a small commission
.
Imagine yourself actually walking down the sidewalk/going on a date/picking up a turmeric nut milk latte dressed entirely—from your scarf to your sneakers—in vibrant flame red…does it make you feel challenged? Triggered even? This is not a look for the faint-hearted. While we are familiar and comfortable with dressing head to toe in neutrals, dialing it up to bolder and brighter hues will need temerity. Yet taking the plunge and wearing something vivid might just be the emotional panacea you've been looking for.
Color Therapy Expert Constance Hart says there's so much more to color than meets the eye. "Colors influence our emotions, moods, and also how other people respond to us. You can consciously choose which colors to wear, based on how you want to feel and what you want to receive from the hue or a feeling you want to project/convey to others."
Wearing color feels good, it's a positive mood activator.
Take the inescapable color of the season, yellow: Psychologists say that it's is the happiest color in the spectrum. In yoga this color relates to our manipura chakra, the energy center which resides at our solar plexus. Manipura is associated with our sense of personal power but also with good feeling and humor. Wearing yellow (which helps to bring manipura into balance) can really lift your mood—something that can very helpful at the tail end of a long winter. Blue is associated with the fifth chakra, vishuddhi. Located at the throat, this energy center relates to right speech and positive self-expression. When we balance this chakra we feel that our true voices speak out and are heard.
According to Vedic astrology we can also improve our emotional balance by dressing in specific colors on certain days of the week. It is believed that when you do this you honor the Deity that rules over that day thereby unlocking the qualities of their spirit. With that in mind don red on a Tuesday, the day ruled by the planet Mars and the goddess Durga—it invokes the quality of courage and is suggested as a suitable day on which to resolve longstanding difficulties. Wear green (this season's shade is a bright fern) on Wednesday. This day is ruled over by Vishnu, the sustainer G-d, who offers the quality of diplomacy. Sunday, the day of Surya, the Sun G-d, is honored by wearing pink (another shade of the season so anything goes from bubble gum to magenta). This day is perfect for entertaining friends and family, for making and growing your relationships.
So how do you go about practically styling up this top-to-toe feel-good look?
Diving headfirst into a trend and buying up every piece is not a conscious way to shop. In the interest of being a mindful consumer and building a lean, sustainable and cost-effective wardrobe the first step in creating your top to toe color look is to turn to your existing clothes. Take time to pour through pieces you already own, especially the lesser worn ones. You know that bright pink sweater that you fell in love with, bought, never wear, but can't bear to part with? Or those blue pants that have never felt "quite right"? Well now's the time to make them relevant.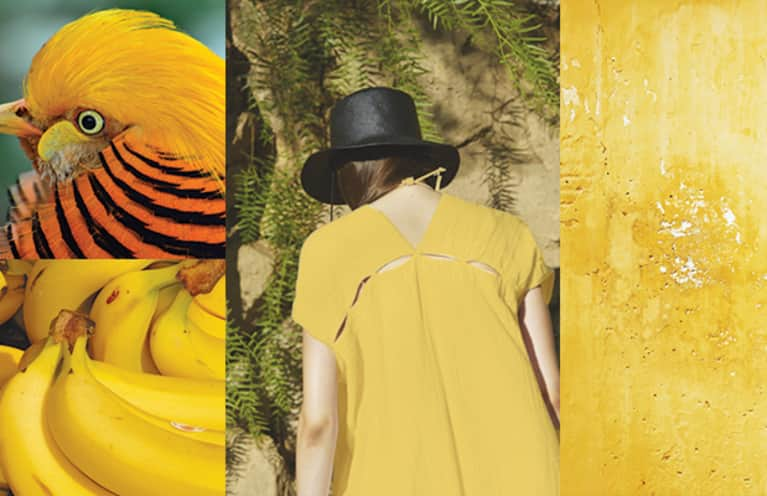 Atelier Delphine's ethos is the polar opposite to fast fashion—designer Yuka Izutsu crafts her pieces to transcend trends and offer sanctuary from our busy lives. Her golden poppy dress complete with hidden pockets (who doesn't love a dress with pockets?) is liquid sunshine. Pair it with these amazing vibrant slides from fellow female owned, slow fashion proponent Brother Vellies.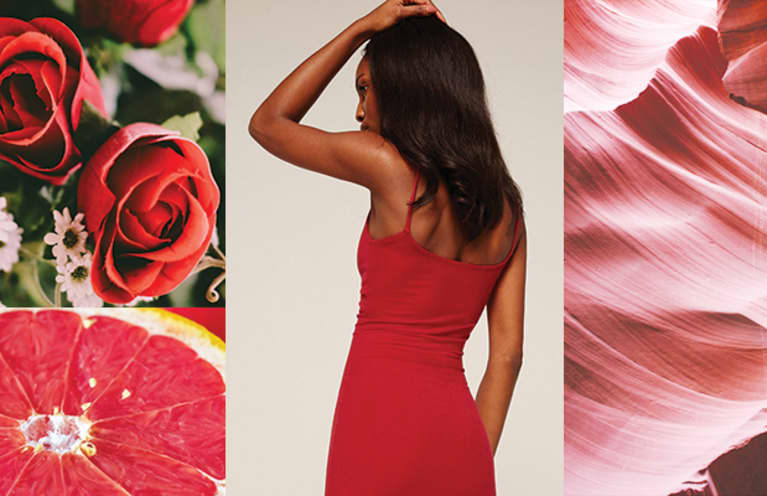 We love a spaghetti strap slip dress and this one from sustainable fashion mavericks, Reformation is perfect. On chilly days, layer it up over a slim fitting top just like this Amour Vert tee, style with a pair of chunky heeled boots (these vegan ones by Arden Wohl x Crie de Coeur are perfect) and you have a look that comes straight out of the late '90s supermodel handbook. When the weather starts to warm you can ditch the top and simply wear the dress with these divine red cut out oxfords from vegan brand Insecta.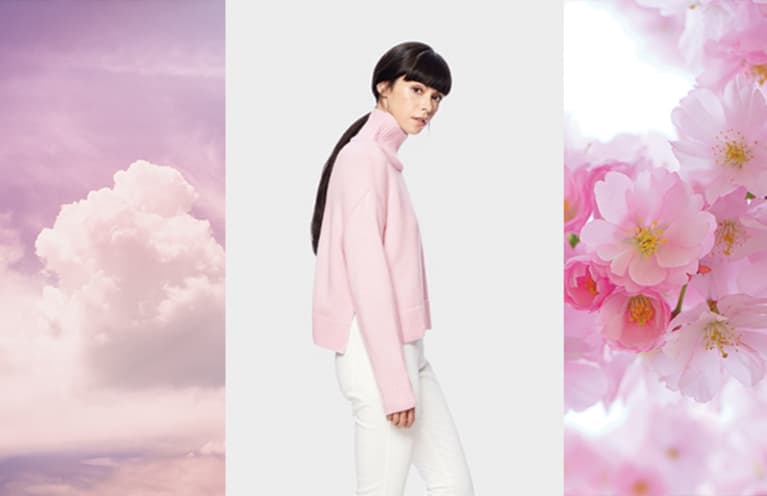 When it comes to pink, bring it on! Mix those shades, go as saccharine sweet as you dare. Team this cotton candies pink knit from Siizu (Siizu aim to be not only sustainable and organic but also affordable) with these slim fitting trousers (currently on sale) by Apiece Apart. Or how about just a straight up reclaimed vintage Asos Green Room cotton candies dress? Are you ready for an investment purchase (expensive but with you for life)? Then how about these stunning Rafa boots, handmade to order in Los Angeles in vegan suede.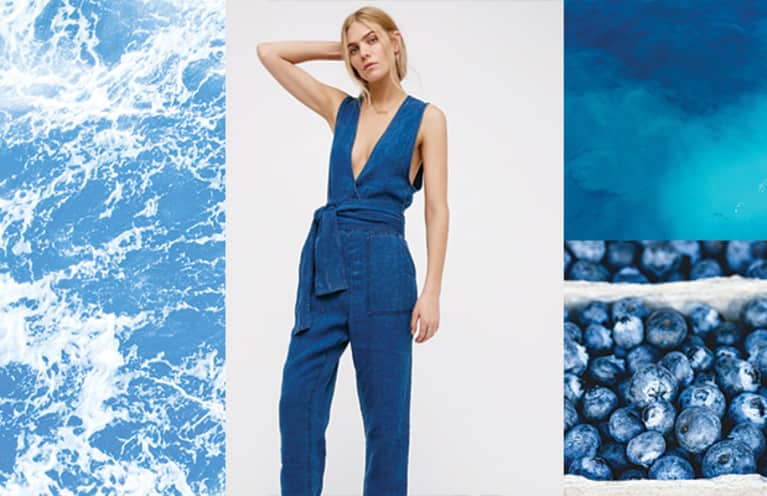 Ranked B+ for ethical conduct by PETA, Free People is a great brand to turn to for an array of colorful items. This indigo blue one piece is not only cute but versatile enough to get good mileage out of it. On chilly days we'd wear it with their marjorelle blue layering turtle neck, a biker style jacket—this waxed cotton one by Vaute or faux suede by Misguided (at the world's largest vegan store—Unicorn Goods) and these sneakers by progressive Vancouver based brand People Footwear. Come summer you can pare it back to basics with made in LA clogs from Charlotte Stone and a natty silk bandanna like this artisan made one from A Peace Treaty.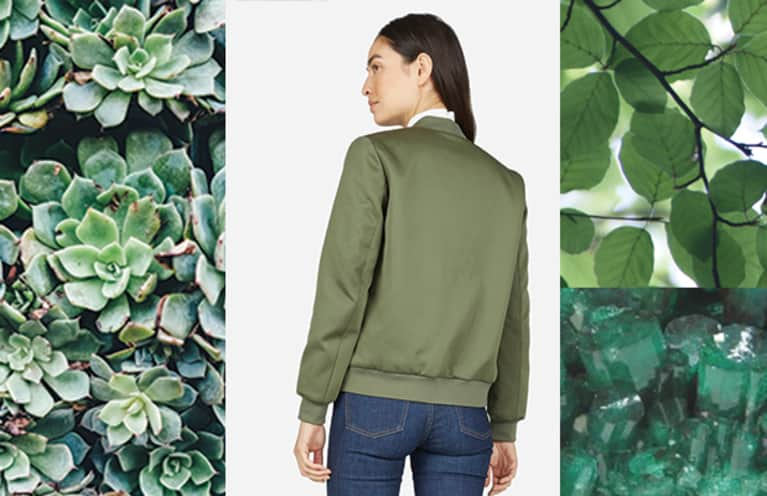 Coming from a brand that offers radical transparency of its production process, this Everlane statement bomber is the piece to build a '50s boyish look around. Wray is a NY based label whose clothes are made in a small fair trade factory in Delhi, their floral Danny sweatshirt and cropped wide Eclipse pants are spot on. Pair with these retro style vegan sneaks from Saucony.
The beauty of color being the strength of this trend is that the pieces you wear can be more simple—they don't have to speak for themselves—they are a statement of color. Which also means that when the trend passes (as trends are want to do) that your looks breaks down and slots easily back into your wardrobe as useful separates for many more seasons.