Matt Damon On How Fatherhood Drives Him To Fight For Water Access
Former mbg Deputy Editor
By Elizabeth Inglese
Former mbg Deputy Editor
Elizabeth Inglese is a writer living in San Fransisco, California. She earned her bachelor's in english literature and cultures from Brown University and her master's in writing from The University of Southern California. She's the former Deputy Editor of mbg, and has also worked for Vogue, Architectural Digest, Bon Appetit, and Good Magazine covering food, health, and culture.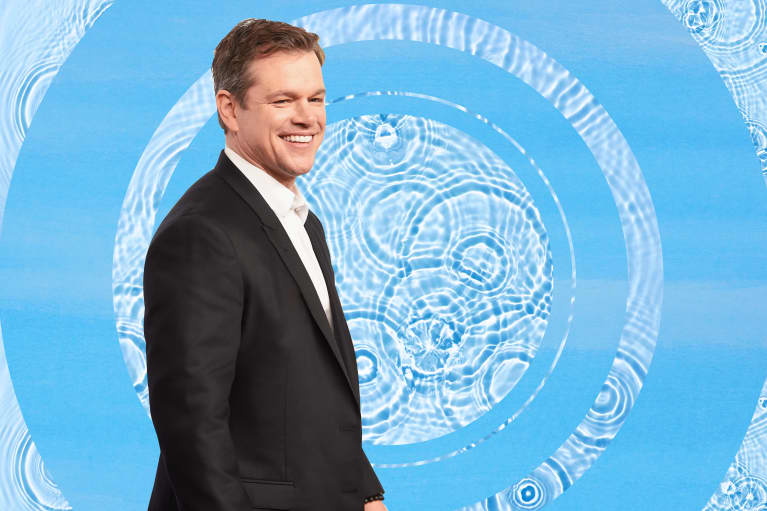 When you hear that Matt Damon is partnering with a beer company on a campaign called Buy a Lady a Drink, you might expect the objective to be some version of a good night out. It's much more than that. "A decade ago I started to explore issues of extreme poverty. Water and sanitation underpin it all," the Oscar-winning actor explained over dinner during this year's Sundance Festival. He's working with Belgian beer brand Stella Artois and Water.org to help bring clean drinking water to 3.5 million people by 2020.
It's an issue that's personal for him. "I've traveled all around the world interacting with these little girls and as a father of four girls, it's deeply affecting," said Damon, whose daughters Isabella (10), Gia (8), Stella (6), and stepdaughter Alexia (19) were on his mind as he recalled his journeys to Africa and South America. "I remember being in Ethiopia and watching these villagers get water out of a hand-dug well, and these children were filling up these plastic bottles to take to school, and when they pulled it out, it literally looked like chocolate milk," said Damon. "You want to slap it out of their hands because you know they are going to get sick. But the reality is that if they don't drink the water that day, they are going to die."

Lack of access to clean water affects an estimated 663 million worldwide. "We solved this problem in the west 100 years ago, so to clear that first hurdle of just explaining that this is an issue has been a challenge for us," said Damon, who's made it his mission to share the stories of those affected. The Buy a Lady a Drink campaign funnels money into sustainable drinking innovation via sales of chalices designed by artists in Brazil, Uganda, Cambodia and other countries affected, and by sales of Stella Artois worldwide. "These are real human beings, and it's impossible not to see the faces of your own children in the faces of these children."
Why is water a women's issue? In the countries Water.org serves, the duty of collecting water falls on women and girls, who often walk miles daily to gather the what they'll need for drinking, bathing, cooking, and cleaning. Even when they pay exorbitant prices, the water they purchase is still at risk of containing contaminants that can sicken or kill their families. The all-consuming task of collecting water makes it impossible for many women and girls to gain an education or earn money.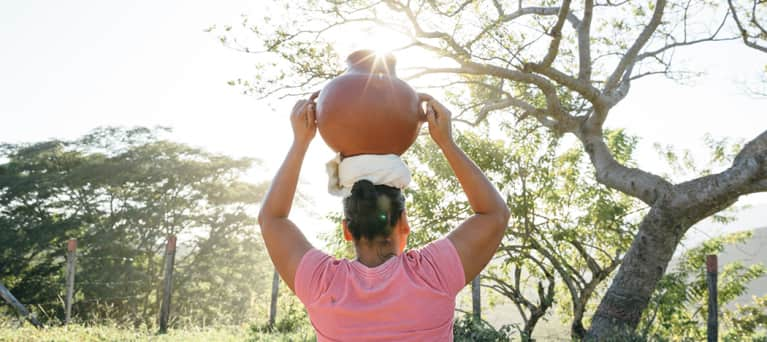 An unspoken consequence of the water crisis in the developing world is its impact on sanitation. Worldwide, fewer than one in three people has access to a toilet. Without the ability to relieve themselves in privacy, women regularly restrain themselves until nightfall, a practice that puts them at risk for infections and a host of other diseases. Venturing to secluded areas in the night also makes them vulnerable to attacks. The safety and dignity granted by simple access to a toilet has far-reaching implications, medically and culturally.
Gary White has been working in water rights for decades. In 1990 he founded WaterPartners which in 2009 merged with Matt Damon's H2O Africa Foundation to create Water.org. "We're trying to create an on-ramp for people so that they can take action," White told mbg. The foundation makes microloans available to women in developing countries, who organize shared access to a well and toilets with their communities. Since introducing these opportunities, White has seen an increase in girls' school attendance and rising levels of literacy rates. Better hygiene has led to decreases in child and maternal mortality. And women's roles in society are evolving as they gain knowledge and skills that give them greater individual autonomy. "People want to engage in this in a way that can draw other people in and not just ourselves." Said White. "It's easy to make a donation. Just go to Water.org. That's important, but we wanted to give people another onramp. Now you can buy a round of drinks for your friends and know that you just bought water for people for a year."