Manifestation Practice Not Getting Results? This Is The Secret To Creating The Life You Want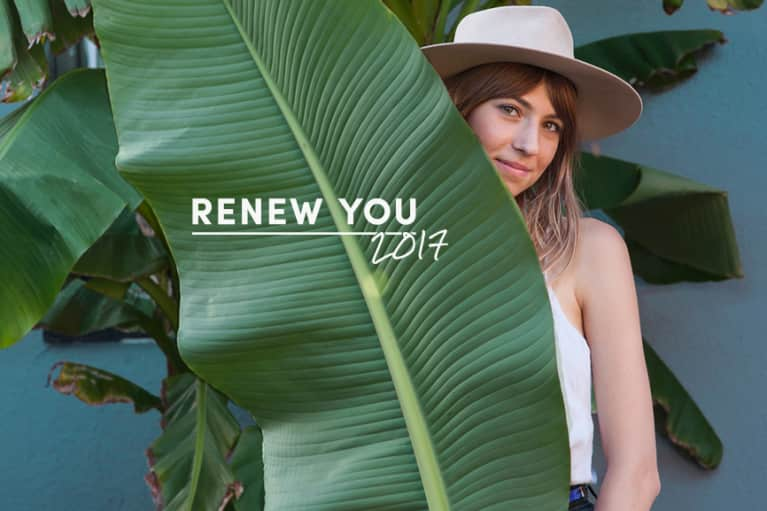 Manifest the year of your dreams by going inward. Renew You 2017 is a month of mindfulness during which we'll share content that guides you to create a deeply rooted intention for the new year. We'll help you navigate inevitable obstacles with the latest science on habits, motivation, ritual, and more and equip you with tried-and-true techniques to outsmart even the toughest inner critic.
Every year we set intentions, or resolutions, around becoming a better version of our self. A happier, healthier, wealthier, more fulfilled us.
We dream big, then cut images that represent those dreams out of glossy magazines and glue them to our vision board with high hopes. But too often those dreams never manifest. Why?
One reason our intentions and resolutions fall through is that even though we have a new dream, we are still stuck in an old way of being. Our thoughts and habits don't change to support the creation of the life we want.
Letting go of what no longer serves you is truly the first step in a total life makeover.
So before you set those intentions, create the affirmation, build your vision board, look around you. What do you see in your environment that is not supporting a future in which you have, do, or become what you dream of?
What thoughts, habits, or patterns are you engaged in that block you from manifesting your dreams?
Every year, before I set my New Year's intentions, I have a ritual of looking back at the past year and taking note of what didn't go the way I intended, asking myself these questions:
1. If I had a health goal, I look at what actions or habits prevented me from achieving it.
Was I in the drive-thru more than the gym? What's in my refrigerator? When's the last time I unrolled my yoga mat?
2. In my relationships, I look at who I spent most of my time with and how I felt afterward.
Are my relationships supportive and fulfilling? Do I need more like-minded friends? Do I need more room on my calendar for date nights?
3. With my financial goals, I look at whether or not my credit card statements reflect that I spent my money on what mattered most.
Or did I blow it on things I didn't want or need? Did I save as much as I wanted to? Why not?
4. Do my clothes and home décor represent the life I want?
Or am I wearing and living in the clothes and environment of the "old me"? Does my environment and wardrobe make it harder for me to have, do, and be what I want?
Then, I immediately get rid of anything that is obviously not supporting my new life vision. And I start to think about what I need to do to change the things that are going to take more time, like my thoughts and habits.
What thoughts are getting in your way? (Yes, you can declutter your mind, too.)
The best way that I have found to stop a negative thought cycle and clean out all of the chaotic thoughts that are keeping you stuck in those lower vibrations that are not manifesting the life you want is to meditate!
And, there's no time like the present to start or restart your meditation practice. If you're new, start with just two to three minutes a day of "watching" your breath. Notice when you're breathing in and when you're breathing out. Download a meditation app or an audio-guided meditation. A quick internet search will turn up endless free meditations.
When you're engaged in the one-pointed focus of watching your breath or following the steps of a guided meditation, your mind is occupied with that action and will slowly train itself to focus and not engage in chaotic, fearful thoughts. When your mind is clear, you can begin to insert new thoughts, affirmations, and mantras, which will help you call your manifestations into your life more quickly and easily.
This process of letting go of what no longer serves you is truly the first step in a total life makeover.
So, take it one step at a time. You can dig as deeply as you're ready to. Maybe you're only ready to clean out your closet or refrigerator, but the toxic relationships will be harder to let go of. Or perhaps transitioning out of the job you don't love will take a few weeks or months or even years to safely release.
Remember to be gentle with yourself, to be responsible with this process, and to set yourself up for success.
After you've done this major physical and energetic space-clearing, you'll have a beautiful, open space that you can slowly begin to fill with all of the things you need to support you in your new life and new way of being.
Be careful of what you put into this space—including the space inside your mind and heart.
When you act (and dress, and decorate, and speak) as if what you desire is already real, it helps you cultivate the emotion of it. You begin to feel the joy and abundance of already living the life you want.
And since I believe the universe responds to that vibrational cue, it will return to you experiences that mirror it.
Meaning when you feel good, the universe sends to you more reasons to feel good. When you feel healthy, the universe supports your health. When you feel loved, the universe will send you more love. When you feel wealthy, the universe sends you more money. When you feel joy, the universe sends you more experiences that will make you feel joyful.
This is how you manifest your dreams. Happy space-clearing and happy manifesting!