What A Pregnant Nutritionist Eats In A Day
Our editors have independently chosen the products listed on this page. If you purchase something mentioned in this article, we may
earn a small commission
.
As a stay-at-home mother of a rambunctious toddler, my meals tend to be quick and simple—using leftovers as much as possible! Don't get me wrong, I take advantage of the local health food store's takeaway when days get crazy, but for the most part, I put sincere thought into my meals.
Feeding my family and growing baby boy healthy, whole, natural foods is very important to me for our health and happiness. My love for nutrition and nourishing others led me to start my own blog Love and Garnish as well as cook at various prenatal yoga retreats I host.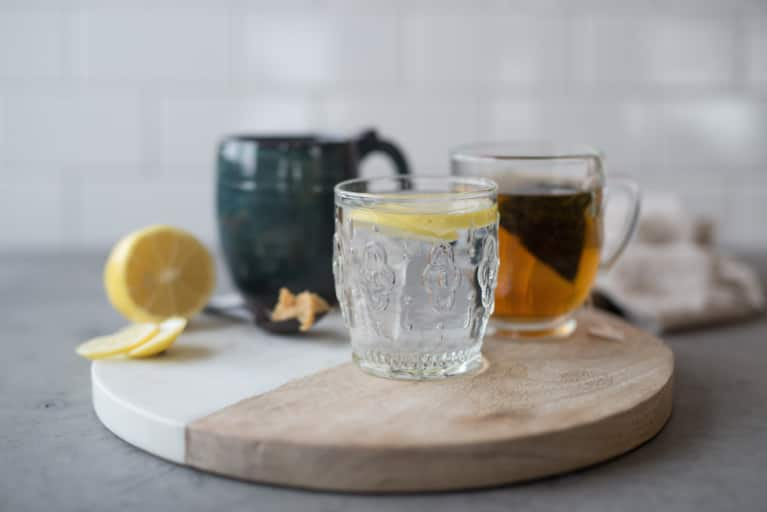 I love lots of nourishing liquids upon waking, as they're easy on the digestion first thing in the morning. Pure water with either fresh lemon or liquid chlorophyll, steaming hot bone broth with some white miso, and a revitalizing mint tea. I typically have either tea or broth as it gets to be a lot of liquids!
In Ayurvedic medicine, they believe warm liquids aid digestion, battle fatigue, and enhance the radiance of the skin, to name a few. As a Vata type in cold weather, my body appreciates warm liquids and food.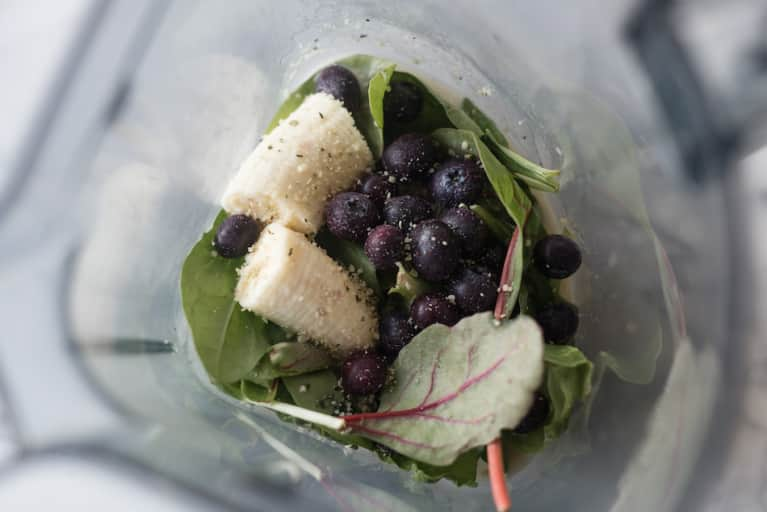 I like to start my son, Knox, and myself off with a green smoothie, as I like to incorporate greens into every meal, if possible. And yes, my toddler loves these! Greens are rich in most vitamins and minerals but also folate, which is very important for a growing baby and their spinal cord development.
I pack the blender with various greens, blueberries, banana, a fat to sustain us through the morning like walnut butter, chia seeds, or flax to aid in digestion, clean the colon, and keep things running smoothly, as well as a liquid like almond milk, green juice, or coconut milk. Vegan protein powder or Genuine Health's Fermented Whole Body Nutrition with Greens are my go-to's.
Knox typically has a bit more than this for breakfast, and sometimes I may help him finish his scrambled eggs and greens.
Another breakfast favorite if I'm really hungry or don't have a workout right away is a piece of seed and nut toast with hummus, vegan kale pesto, sautéed greens, fermented carrots, and a poached egg. (Poached hard, of course, for pregnancy.)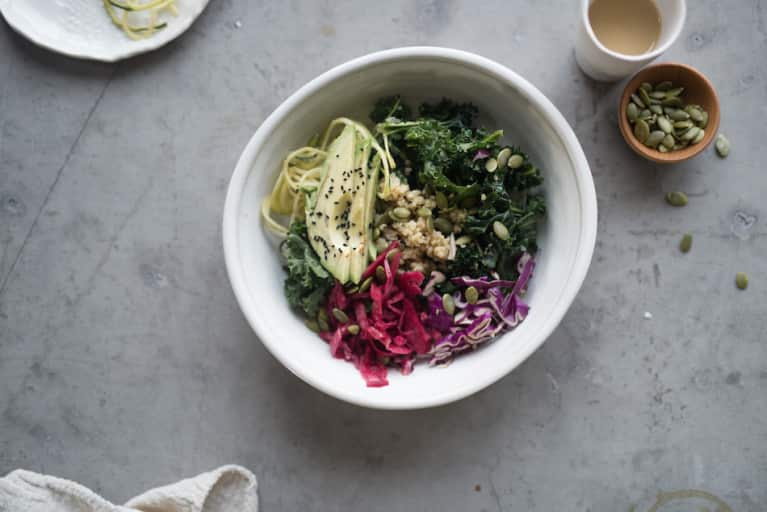 I typically go for a workout between breakfast and lunch so lunch tends to be something that replenishes my carb stores as I'm famished!
I combine any grains I have in the fridge (like brown rice or quinoa) to help restore my glucose levels with complex carbs that won't spike my blood sugar.
I mix these with steamed or sautéed veg, fermented veg, and a homemade dressing. My favorite is something with tahini, sesame oil, tamari, garlic, apple cider vinegar, as well as a healthy fat like hemp seed oil. Sprinkle with some seeds and/or nuts and it's the perfect meal! Another favorite, especially in the winter, is leftover soup from dinner the night before.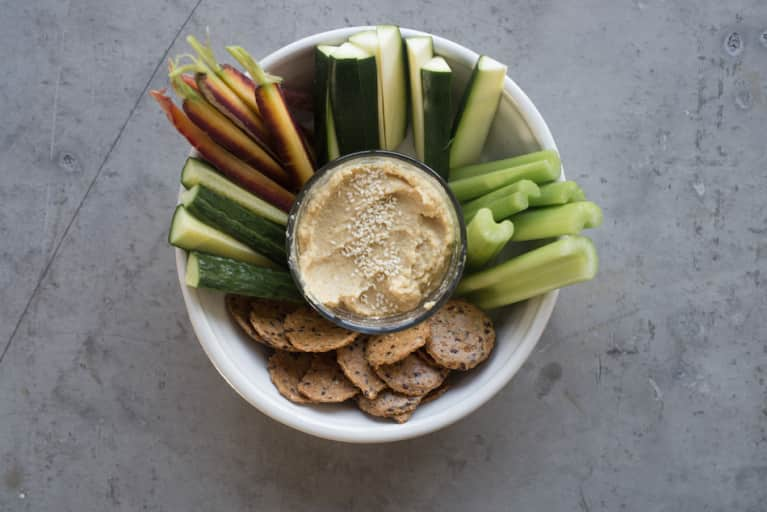 In the afternoon Knox and I are usually out and about so I bring something easy like hummus and veg, a smoothie (if I didn't have one for breakfast), an apple with nut butter, tuna salad with avocado (instead of mayo), and crackers, etc. My friends always joke that I'm the "hummus girl"—they always have it in the fridge when I come visit!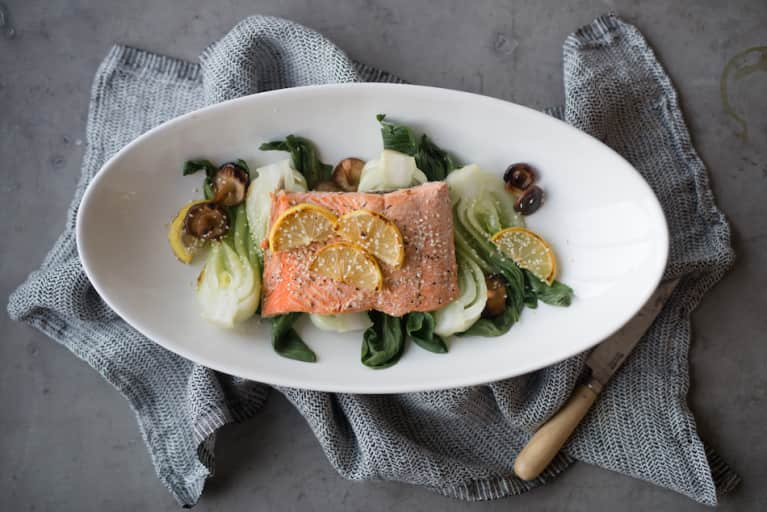 Our absolute favorite family meal is wild lemon-baked salmon with sesame ginger bok choy and shiitake mushrooms. Salmon is loaded with omega-3s, which are anti-inflammatory, aid brain health, and also help the development of a growing baby's brain and nervous system. It is important to source wild vs. farm salmon.
My husband goes fishing off the coast of BC every year and stocks our freezer with fresh wild salmon. The difference between wild and farmed is tremendous: more omega-3s, fewer calories (farmed has three times more saturated fat, more calcium, more iron, more zinc...the benefits are endless. Plus, who knows what they put in the water at the farm to make the fish bigger!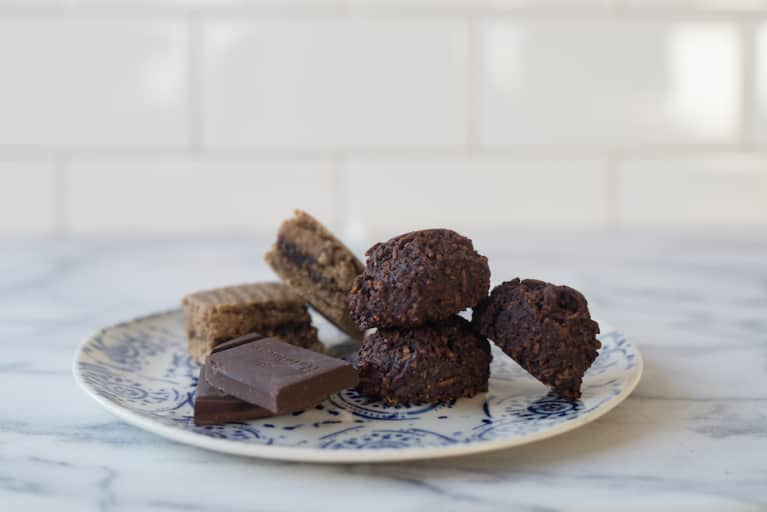 Just like with my first pregnancy, I am craving sweets like no one's business. I try to choose the healthiest options out there like "Basic Roots" raw and vegan cacao goji berry macaroons, dark chocolate (watch the caffeine while pregnant!), and rooibos tea and berry ice pops that I found at our health food store. Oh, I'll admit, sometimes I have a couple of these. I figure if I'm not having wine anymore, a few healthy treats won't hurt!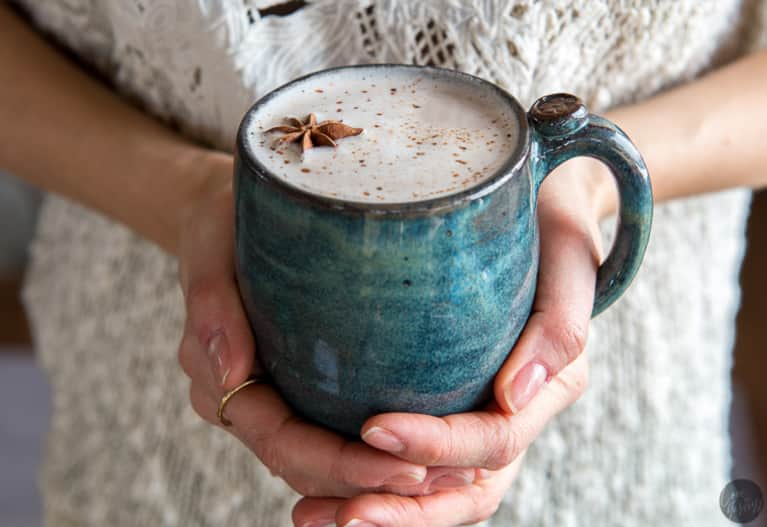 Another favorite nighttime treat, preferably right before bed, is a traditional nourishing Ayurvedic prenatal drink: steamed coconut and almond milk, dates, and cardamom. It helps build Sattvic and Ojas-building properties in the body and for the baby. Ojas govern immunity and vitality, while Sattva represents balance, clarity, and higher awareness. I got this idea from the book Yoga Mama, Yoga Baby—I highly recommend it!