I'm Finally Balanced After Having An Eating Disorder. Here's What I Eat In A Day
Creator of Lee From America
By Lee Tilghman
Creator of Lee From America
Lee Tilghman is a blogger and founder of Lee From America. Currently based in Los Angeles, she has her B.A. in creative writing from St. Joseph's University.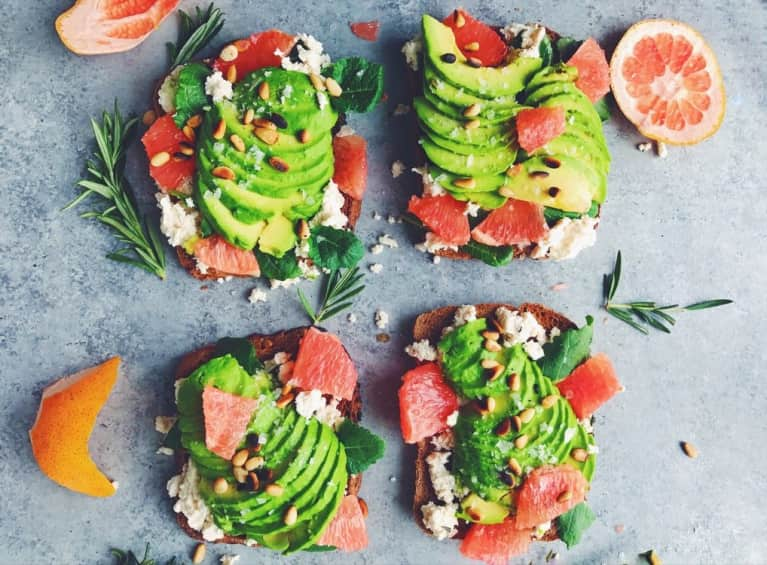 I'm Lee, and I am a recipe developer and food blogger originally from the East Coast, currently living in Los Angeles. For as long as I can remember, I have always been obsessed with food. I'm so grateful I was able to turn my passion for health, wellness, and food into a career. Even though every day holds something new for me, a typical day of eating looks like this:
6:30 a.m.: Pre-Workout Energy Bar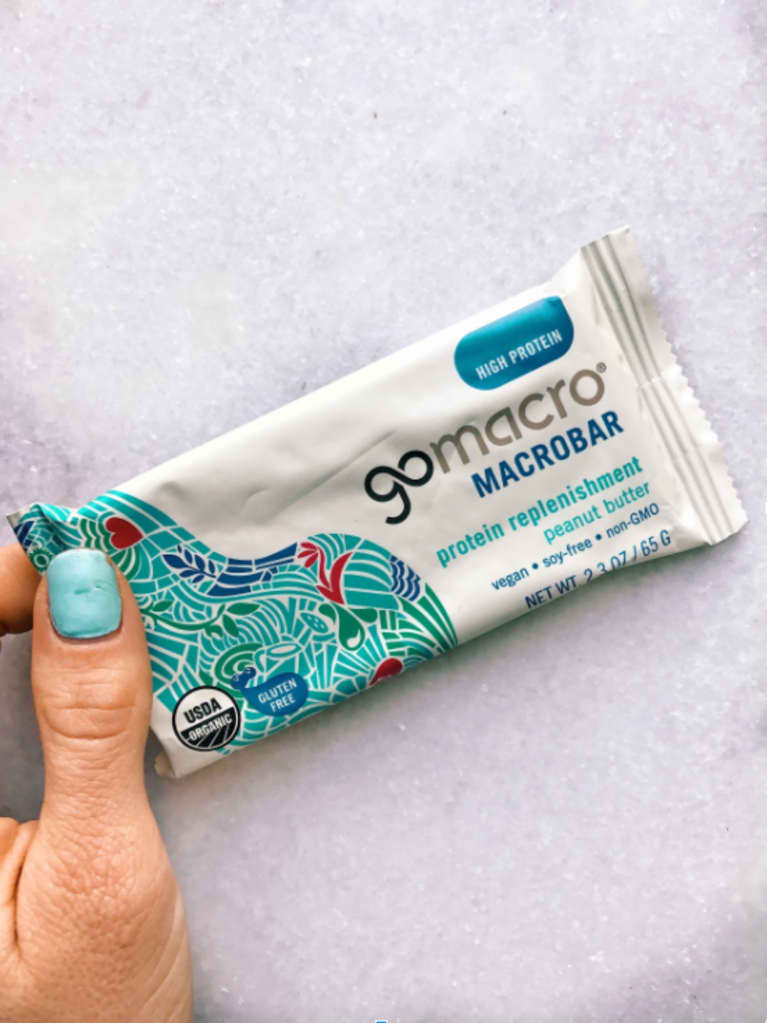 My days typically start early with a workout. Today, I took the precision running class at Equinox. I find that if I don't work out in the morning, I'll start coming up with excuses to get out of it.
Before I work out, I like to eat a small snack. My go-to snacks are either a piece of Simple Kneads gluten-free toast with peanut butter and some fruit or half a GoMacro bar. Both of these are easy on my stomach, not leaving me too full to work out, and are a healthy combination of fats and carbohydrates to help fuel my workout. Today, I had a Go Macro Peanut Butter bar. I'm a self-diagnosed PB addict.
9 a.m.: Toast With Avocado, Egg, Almond Butter, and Blueberries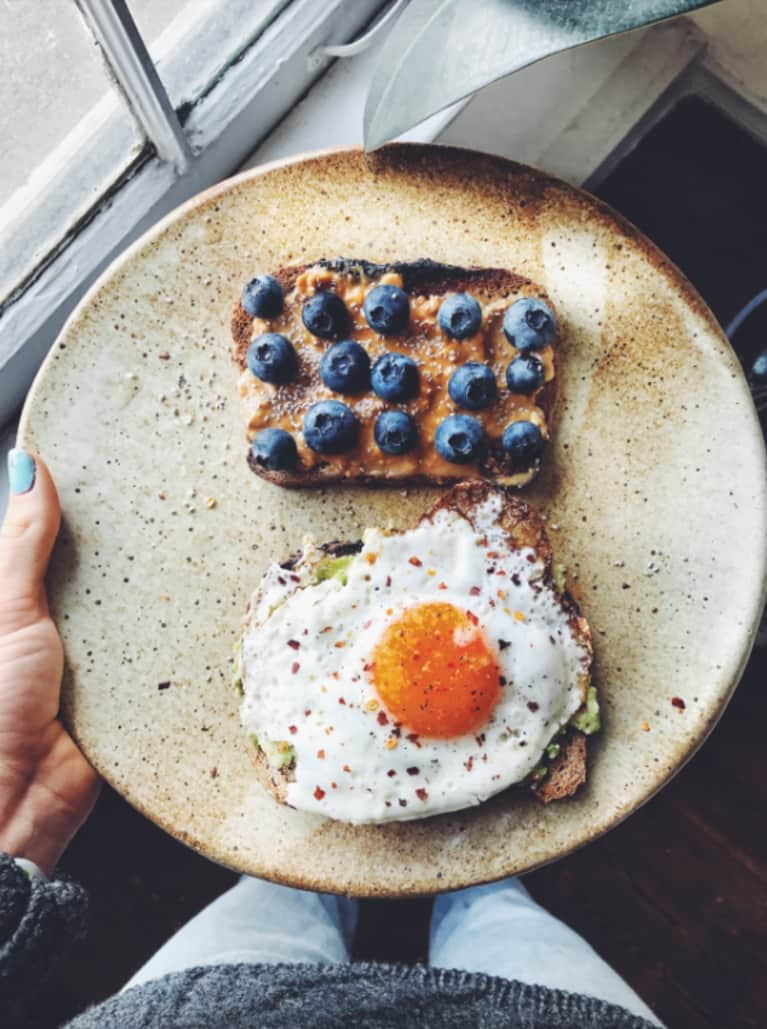 I came back from my workout super hungry. After a workout I know I need to replenish the used carbohydrates by eating a bowl of oatmeal or more toast. My favorite toast combinations are avocado toast with a fried egg or crunchy peanut butter with blueberries. Now, it's time to work. But not without a little tea first! I have a big day ahead full of calls and a mailbox full of emails to respond to, so I'll need some matcha. I love matcha!
Since matcha hurts my stomach if I have not eaten anything, I love to sip on a homemade Ippodo Matcha Tea Latte blended with Vital Protein Collagen Peptides after breakfast. About a year ago, I stopped depending on a morning coffee and have found that my matcha tea latte morning ritual sets me up for a mindful day. Since the addition of Vital Protein Collagen Peptides to my matcha, I have noticed my hair has grown a bit longer, and I stay fuller longer when drinking it with a meal. Additionally, since I do not eat meat, it nice way to sneak in extra protein to my morning. Always looking for that extra protein boost!
12 p.m.: Kale, Ricotta, Egg, and Bean Bowl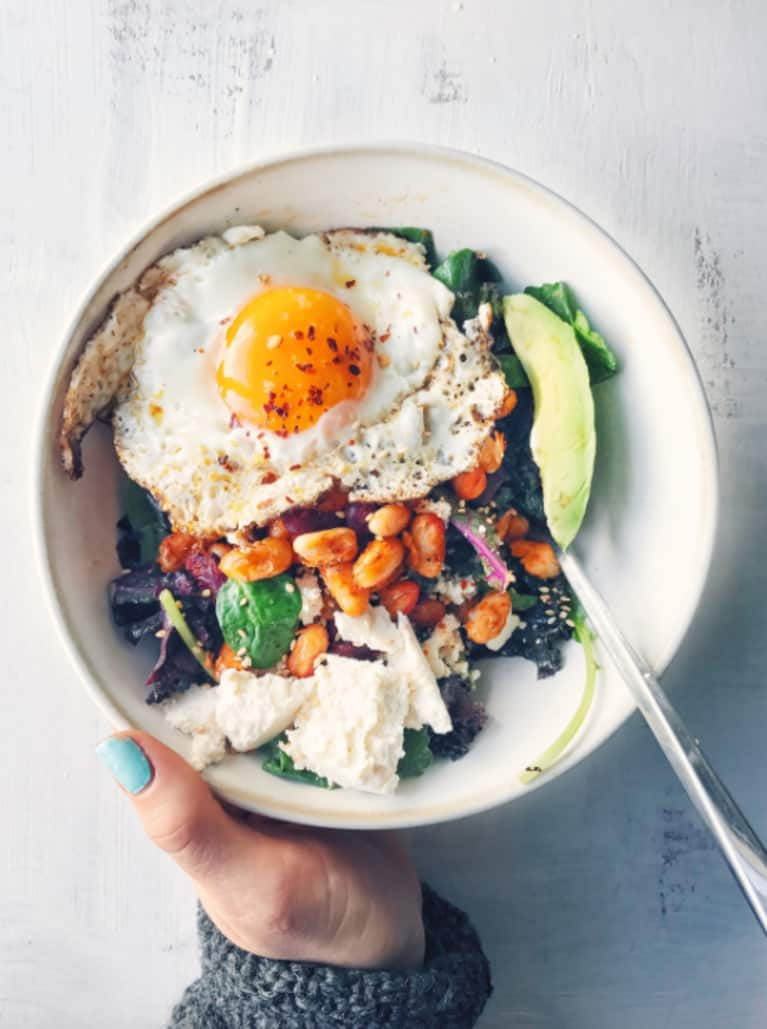 BOWLS. I'm a bowl queen. I eat them every day. They are comforting and nourishing and so fun to eat out of. I'm always stocked up on tons of greens, which help make a quick, healthy (and delicious) salad with little effort. Today's salad was a base of baby kale, baby spinach, and purple kale topped with Kite Hill almond milk ricotta, heated up leftover beans cooked in spices, peppers, pistachios, sesame seeds, avocado, and a fried egg. I typically opt out of packaged salad dressings and whip up a quick homemade dressing. My favorite salad dressing recipe is:
2 tablespoons olive oil
1 teaspoon organic miso paste
2 tablespoons lemon juice
Salt and pepper to taste
Today was super busy, so I stopped for about 15 minutes to assemble this bowl, ate it at my kitchen table, then went back to my desk to keep working.
3 p.m.: Apple, Peanut Butter, and Granola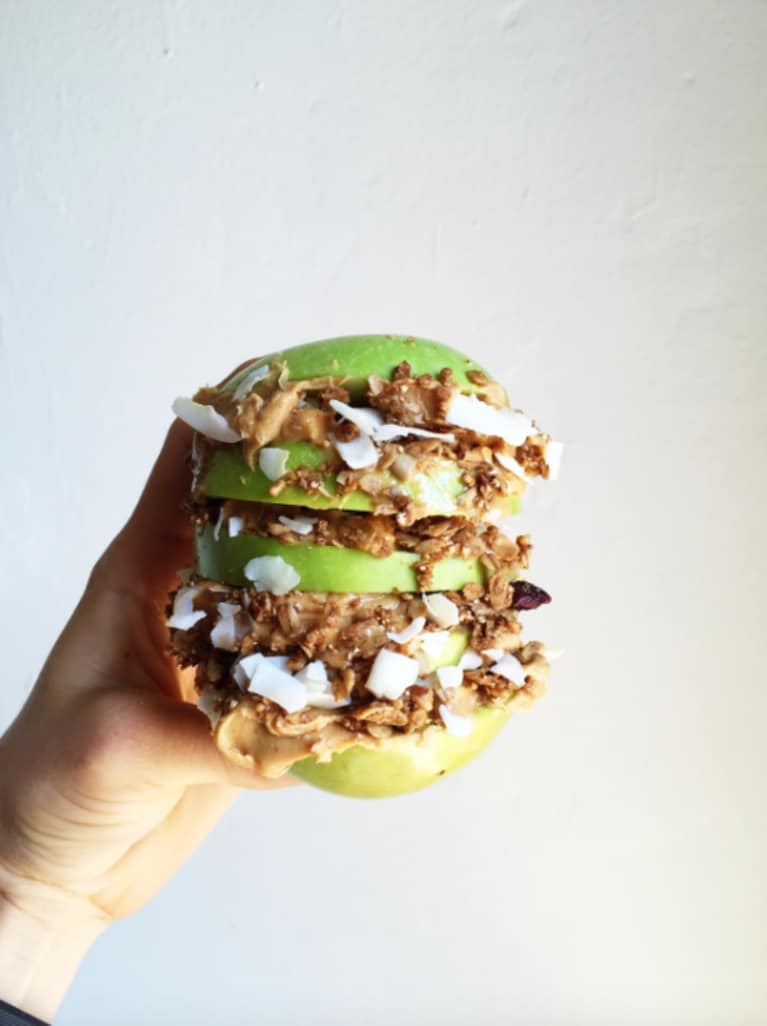 Around 3 p.m., I always have an afternoon snack to hold me over until dinner. I'm like clockwork. No matter how late I eat lunch, I always get hungry at 3. Today, I was super busy at my desk, so I made a quick snack of apple, peanut butter, and granola.
6:30 p.m.: Pumpkin Miso Broth With Tofu Noodles
I like to stop working at around 5. I know that's not always possible as I am an entrepreneur and work never ends, but I think a healthy work-life balance actually makes you more successful and happy, not to mention healthy. Drawing boundaries is super important to me.
I usually crave something lighter, warming, and more grounding at night. I like consuming tons of spices like cinnamon, turmeric, and miso before bed. Tonight's dinner was my pumpkin miso broth with tofu pasta noodles, wakame seaweed, kale, avocado, mushrooms, jalapeno, and a sprinkle of sesame seeds. I love sesame seeds on everything.
9 p.m.: Peanut Butter Bliss Balls
I have a sweet tooth. I love eating these little peanut butter bliss balls with whole ingredients in them right before bed.