Why I'm Meditating Every Day For A Year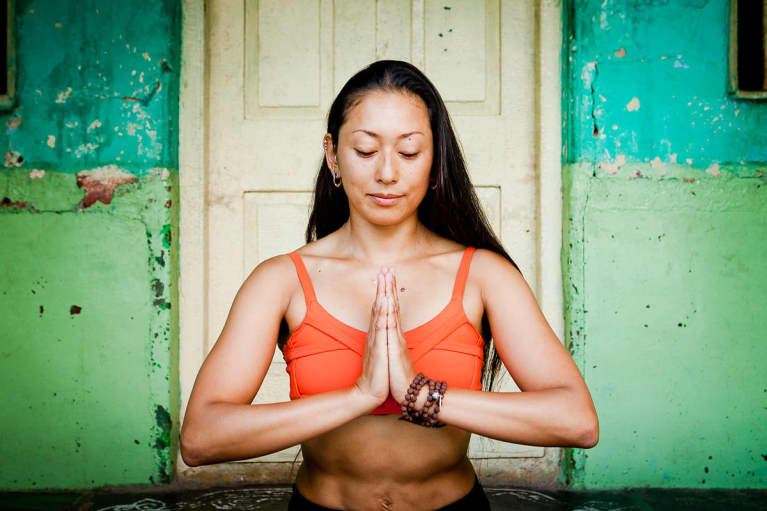 This week, we're celebrating the launch of world-renowned Kundalini yoga teacher Guru Jagat's new class by highlighting some of the incredible ways Kundalini can improve your life. In Guru Jagat's class Kundalini Yoga 101 you'll learn the basics of Kundalini, break a sweat, and nourish your creative spirit.

I was lucky enough to be introduced to meditation when I was only 3 years old. My beautiful mother was an "early adopter," and she would take me through a guided practice every night before falling asleep.
To be honest, I don't remember much about those early meditations—but I do know they were a comfort for many years. As I got older, I did the usual teenage thing of rejecting anything my parents were into. I swapped meditation for fashion, fitness, and partying.
Even when I started experiencing anxiety in my late teens, the prospect of closing my eyes and turning inward felt incredibly daunting, so a traditional meditation practice was out of the question. Instead, I worked hard at the gym, enrolled in boot camp, and chose the kind of yoga that pushed my body to its limits and made me exhausted enough to sleep.
I kept up this grueling battle for many years, punishing myself with physical exercise and dieting. I took the same kind of drive and perfectionism to my workplace, and while my career flourished, I was feeling completely burned out and unhappy.
In a rare moment of mental quiet, I had the insight that I needed to come back to where I'd begun all those years earlier, so I enrolled in yoga teacher training to see if I could learn my way to a calmer state of mind. I underestimated how much it would help.
For the first time in my life, I started to discover a myriad of ways to take care of myself that didn't involve pushing myself to the edge. I ditched my strict diet and exercise routine for a gentler approach, and eventually, I came back to meditation.
While I still struggle with anxiety from time to time, I now have a range of tools and techniques to draw upon that don't include pushing my body to its limits. My meditation practice has been pivotal in my journey toward a more harmonious life.
I know when I meditate regularly that I am a more grounded, confident, and clear-minded person. I'm less reactive, more present, a better friend, partner, daughter. I'm more compassionate toward myself and others. I am more productive, goal-oriented, and disciplined.
This year I've committed to meditating every day—for 365 days. People often wait for a new year, a new week, or a new month to adopt a positive change in their life, however, I'm inviting you to join me on this challenge by starting today.
I'll be documenting my journey toward a greater sense of calm on my blog and on Instagram using the hashtag #insight365.