The Heart-Healing Exercise That Will Get You Through A Breakup
When you are grieving, whether it's from a breakup, the loss of a loved one, the loss of a job, or whatever it may be, the pain and stress is taxing—not only on the body but on the mind as well. It is extremely hard to endure head on, and the majority of the time we run from the suffering, denying the reality of the situation, overanalyzing every little detail, or begin to foster the worst possible situation that we believe will happen.
Heartache does fade over time, just like physical pain. This is where yoga comes into play, not only during these times of suffering—a daily committed practice is essential to helping you grow and transforms your outlook, self-awareness, and perspective. The breath (pranayama) and the poses (asana) both have proven to be effective in calming nerves, soothing your mind, and helping in treating depression, allowing you to become more flexible and stronger during times of instability.
Instead of turning toward something negative or reacting angrily, yoga allows you to recognize the tension, the stress, and is a comfortable space that enables you to do something about the present crisis or heartache that you are experiencing. Here's how yoga can help you cope with heartache:
1. Yoga teaches you self-worth.
Ever notice how excited and elated you are after you finally landed a pose you've been working on for weeks? You feel like a rockstar! Our bodies and our minds are impressive and a lot stronger than we give them credit for. In yoga, with the guidance of breath, you work through each pose to get to the next one. There is no rushing. Yoga allows you to explore the pain and work through it by focusing your attention on that moment.
Everything is linked, connected, and at the end of class, you are opened, relaxed, and feel lighter. You become self-aware of your capabilities, the emotions your body is feeling, the strength you have to stay, not run, and that by doing this you are accepting the heartache, the stress, the grief but subconsciously understanding that you will succeed in restoring inner peace. You grow strong and transform.
2. Yoga teaches you to focus on the present.
Before you begin each yoga class, start to ground yourself on your mat with calm, deep inhales and long exhales and then set an intention and let it go with a loud exhale. This will help center you, bring you mental clarity, and allow a rush of relaxation to wash over you like a wave. This simple routine will also allow you to check in with your body and your mind; you will see how you are feeling, what type of practice you are craving, and what you need to do in order to fully make the most of the yoga class. Setting an intention for yourself, your current situation, or someone else can be as simple as a word such as "love," "strength," "patience," "guidance," and this thought already starts the positive transformation needed to move beyond the heartbreak.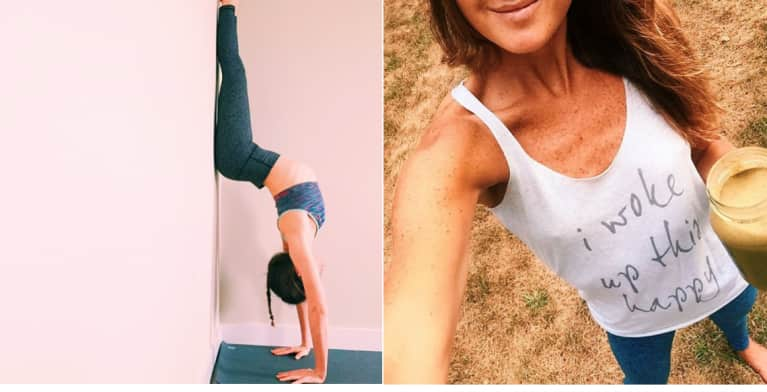 3. Yoga teaches you to go with the flow.
Yoga has taught them the art of letting go, to go with the flow, and that yoga is a practice, a journey just like life. Each day you step on your mat to practice it will be different, such as life. One day, each pose, each breath, will feel so natural and easy, and the next day you will struggle to even make it to class on time. Just like life, no two days are the same. Do you work through the struggle or do you escape? How you decide to react in the struggle is how you grow and see the real change inside yourself.
4. Yoga teaches you gratitude.
Yoga can help you appreciate all the little blessings that are in your life regardless of your current struggles. Yoga teaches you to see your everyday surroundings as a gift, everything is essentially a miracle—your breath that you take for granted every day, the fact that you can actually do yoga, the floor that supports you, the list goes on. Through yoga you begin to replace expectations with awe, and you figure out what excites you in life.
Gratitude and humility are interchangeable, and you begin to shift your perspective to what is truly important from what is not. You learn that you may not be able the change the situation, the heartache, but you can change and transform your perspective through gratitude.
I have a committed yoga practice, because of the transformation I have seen it do for my own mental, physical, and spiritual life, but I always turn to yoga during stressful times especially when I feel as if my world is caving in and I am just barely crawling to the surface. The four corners of my mat are where I find solitude, my own rhythm. By focusing on these four points, my perspective shifts from hopelessness and weakness to peace and strength and where I can begin to quiet the chatter in my mind.