10 Tools New Parents Can Use To Fall Back In Love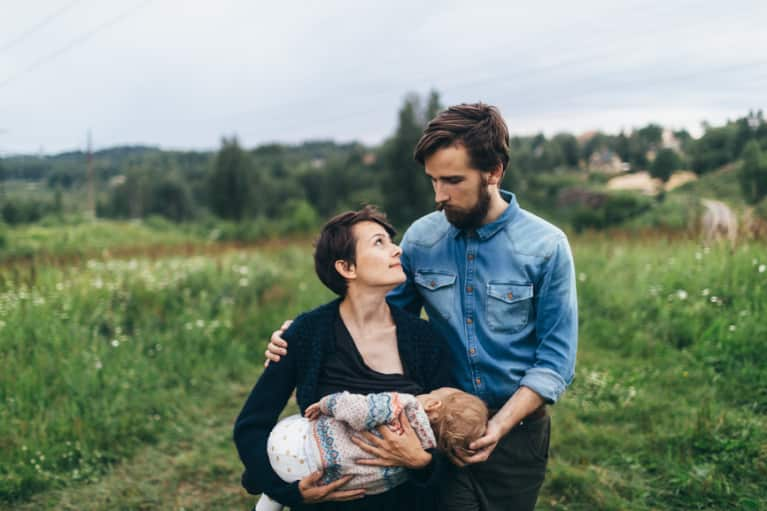 My husband and I recently had lunch with some fellow parent friends of ours talking about life with kids and how it has changed things for us, when our friend said, "So many of my friends hate their husbands since they had kids."
Who here has resented his or her partner after having kids?
I was deeply struck by what she said, but if I was honest, when I began thinking of my clients and friends who recently had kids (as well as my own marriage), they almost all went through a readjustment period in their relationship. And for some, this readjustment period was extremely difficult.
As an eternal optimist, light seeker, and kids lover, I want to believe so badly that having babies and raising children can only make your relationship stronger and better. Isn't it the best thing in the world? The most important job? The most fulfilling task? How can it negatively affect your relationship to the person you started all that with?
But, as a coach to new moms, I know better: The pressures on new moms is enormous. Not only is your body supposed to "bounce back" and look like you never had a baby, but you are also supposed to love motherhood all.the.time. and without complaint. Your family is supposed to be complete now and your partner and you closer than ever.
I am not saying that motherhood isn't full of joy and love, but I am saying that there is so much pressure on new moms to be perfect and for their romantic relationships post-baby to continue seamlessly without any challenges—sexually, emotionally, energetically.
The reality is, having a new baby can be really, really hard on your relationship.
Personally, I recall people giving me all sorts of (unsolicited) advice when I was pregnant and shortly after my son had arrived, but I don't remember anyone talking to me about how much my relationship with my husband would inevitably change when a baby entered our life. Why was no one openly talking about how much more precious your time together would get, how great you have to become at communicating, and how patient and loving you have to be in order to create the time and space for you both to figure out parenthood?
So, here I will say it: There will be times of feeling more distant from each other. There will be times when you are horribly—TERRIBLY—annoyed at your partner. There will be times when you will wonder "What happened to US?"
And of course, then there will be plenty of times when you look at your partner in complete awe over your little newborn. And hopefully there will be plenty of times when you can hold each other when things are hard and find the path back into light and love.
Here are 10 things that I most often talk to my new mama clients about when they are struggling with their relationship:
1. Establish your family values and live them yourself.
What kind of parent do you want to be? What kind of environment do you think is best to help kids thrive? What kind of family life do you want to create? How do you want your home to feel? Once you figured out what's most important, go out and live those values in your daily life. If it helps to write them down and hang them on the fridge, do it!
2. Parent with each other.
I've seen many parents who end up becoming opponents rather than a close-knit team. Declaring your joint values will help you in streamlining your decisions together and being on the same page. You must be a strong unit. After all, you together are the backbone of your family, so sticking together will hold your family together.
3. Know how to support your partner.
Not everyone is the same. Your partner may need different kind of encouragement and support than you in order to be the best possible parent he/she can be. Observe your partner lovingly and learn how you can support each other in your own processes.
4. Give each other a break.
Time alone is so essential for mental and emotional well-being. You have to make sure that you give that to each other. Go on a walk by yourself. Read a book. Get a massage. Give each other a break now and then to recharge by yourself.
5. Ditch the perfectionism.
There are a million different ways to be an awesome parent. Just because society, your neighbor, or your other mom friends decided to do things one way doesn't mean you should. A messy house, a day without a shower, or a body that doesn't look like it did before pregnancy don't make you a bad parent. Don't allow society's perfectionistic standards to rule your world and add stress to your relationship and your expectations of yourself and your partner. If you need help in that endeavor, check out these nine ways to crush your perfectionist tendencies.
6. Have joint support systems (as well as individual ones).
Creating support networks is one of the key things I help my clients develop. It is absolutely essential not only for the mom to have other mommy friends but for the couple to have friends who are also going through the early stages of parenthood (and are willing to have fun dinners at 5 p.m.).
7. Be verbal about letting your partner know what he or she does well.
It's easy to see the things you are annoyed about in your partner, especially when you are tired and emotional. Make it a practice to share with each other what your partner does exceptionally well and what you love about him or her as a parent. Positive encouragement fosters confidence and trust, which are essential in any relationship.
8. When something is off, don't put it off. Talk about it!
Nothing builds more tension and ill will than suppressed anger over time. And whether or not you tell your partner about what's bothering you, holding a grudge—outright or silent—is unhealthy and toxic to you and your whole family. Talk about the issue when you are both calm. Think about your own perception of the issue as well as how your partner actually meant it, and see if you can feel yourself into your partner's skin. Listen to each other and see if you can find a common denominator for how to approach this kind of situation in the future. And then, let it go.
9. Know that most things are temporary.
Especially when the kids are young, things change constantly. And I truly mean constantly. Know that you will get your nights back. Know that you will have more time again for each other. Know that your sex life will return. Know that your partner is still the same awesome person you fell in love with but that there is new, temporary pressure that you can work through together.
10. Get out just the two of you.
Hello, date night. Or date day. My recommendation is to do something just the two of you at least once per month, but if you can swing it, make it twice. Do something that connects you. Go on a hike, for an afternoon tea, take a cooking class, go for a romantic dinner. Do what brings you both pleasure.
You definitely don't have to do all of these things—sometimes all it takes is implementing just a couple more regularly. Of course "just a couple" is still hard to find time for, but prioritizing your relationship will reinvigorate it, especially when it comes to new parents.