Why I Left My Job As A Corporate Lawyer To Become A Meditation Teacher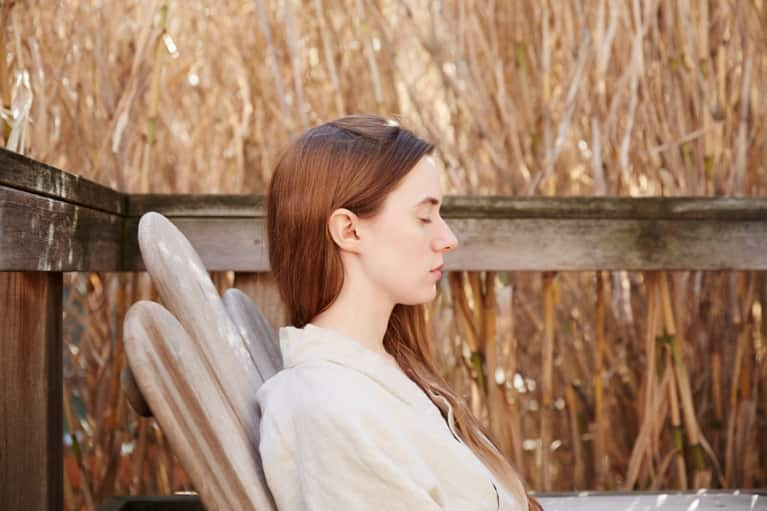 This month we're celebrating the launch of the first-ever online meditation training by highlighting the experiences of some of our favorite meditation pros with first-person narratives. In Charlie Knoles' new 200-Hour Meditation Training, you'll learn all about the art of meditation, deepen your practice, and become equipped with the tools you need to become a teacher. To secure your spot, be sure to enroll before Monday, February 6.
To call my journey from corporate lawyer to Vedic meditation teacher an epiphany would be selling my experience short. It was so much more than that.
In 2008, I was a first-year junior attorney at a prestigious international law firm. This wasn't my first career, as I had spent the years prior studying sports medicine and exercise physiology in college and graduate school and had been an athletic trainer and a strength and conditioning coach. But within the first few weeks of law school, I found myself living in survival mode, barely keeping my head above water.
Riddled with anxiety, depression, and insomnia, I was put on a full regimen of prescription medications and weekly therapy sessions. During law school, I had also tried meditation with little success and abandoned the idea for four years later when I discovered Vedic meditation.
Life as a corporate lawyer at a large international law firm is inherently challenging, and my timing to begin my legal career could not have been worse. When I started my first year at the firm in September 2008, the financial markets were crumbling. The atmosphere at the firm had changed dramatically since my summer there the year before. There were multiple rounds of layoffs, and every day I received a number of emails from attorneys announcing that they were leaving the firm. I showed up each morning not knowing if I was going to be let go. This terrified me and my anxiety skyrocketed. I started having panic attacks again.
To the outside world I kept it together, but inside I was struggling with the fear of what the day would bring. I was certainly not alone in feeling this way. There was a palpable tension in the environment that affected the work and permeated the interactions with my clients and colleagues. The relationships were impersonal and the daily experience was far from pleasant. I remember holding my breath when pressing send on emails, knowing the possibility of the response being hostile.
The moment everything changed
During the summer of 2010, I was assigned to a big project that involving the formation and launch of a new hedge fund. And I wasn't taken off my full-time role, either. With this dual role, I was in the office every Saturday and Sunday that summer. In late August, a friend of mine invited me to his share house in the beach town of Montauk, New York, at the end of Long Island. After three months of working nearly 100 hours a week, I decided to take a few days off. I headed out to Montauk on a Thursday morning bus only to be called back to the office that very next day. During the three-hour ride back into the city, a thought I had suppressed finally erupted: This is not the life I want. It was then that I knew I needed a change.
But I couldn't say goodbye yet. I wasn't ready. And I was scared. I had come to identify with the coveted job I had worked so hard to get. I wasn't ready to give up the income that came with it. And I was scared because I didn't know what I wanted to do next. It took me another two years before I had the courage and direction to make a graceful exit. In that time, I sought counsel from an amazing career counselor named Bruce.
Bruce took me through an extensive and thorough process in which we identified what attributes and characteristics would describe what would be fulfilling work for me. This involved a number of exercises, the result of which yielded those skills that I possessed that I actually enjoyed using (for me, this is teaching and connecting with people at a personal level), the types of people I wanted to work with, manner in which I wanted to work with those people (i.e., working conditions). After going through this process, I had a sense of what kind of work and working environment would fit my personality, working style, and preferences. We then did some due diligence to see what kind of career would be the closest match to what we had found. After investigating a number of options, I found that teaching Vedic meditation was the best choice.
My work in career counseling has been a big driving force in creating the unique learning experience I share with my students. I spend my days working with my students on a personal level. I know my students and my students know me. A lot of them are stressed, like I was when I learned Vedic meditation, but some are looking to inspire their creativity or improve their focus and productivity, and some are looking for a spiritual experience to leave them more present and aware. We have a shared goal. It goes beyond teaching them to meditate; it's about helping them bring about the progressive change they seek in their lives.
When I was a lawyer, I had a "job," and although I was proficient and successful, it was far from rewarding and fulfilling. My life now is very different from what I ever imagined it to be a decade ago. We spend the majority of our adult lives at work. Creating and designing a fulfilling career has been one of the best things I've done. I absolutely love what I do now, but it's not surprising considering the time and effort put into its conscious design.