A Soup For Radiant Skin You'll Want To Eat All Winter Long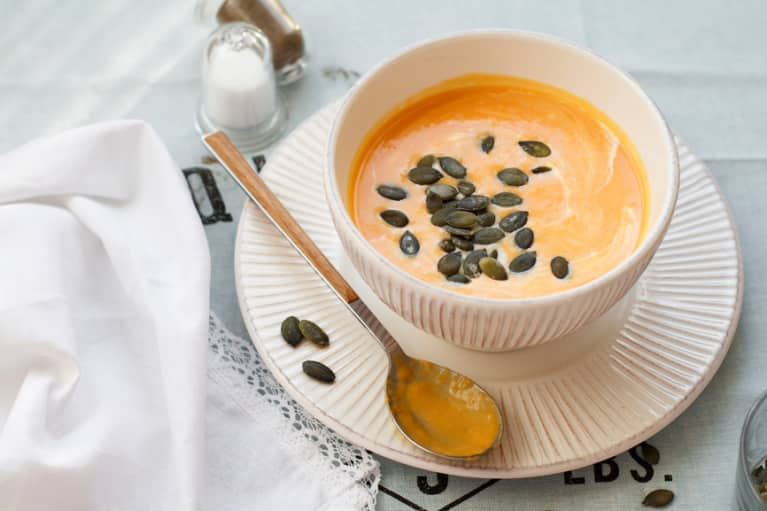 This Creamy Roasted Pumpkin + Apple Bisque has been on repeat in my kitchen this season for a number of reasons. It's easy to make (and makes leftovers to quickly heat up throughout the week), it's warm, comforting, nutrient-dense, and delicious—and packs in a secret ingredient (cue the collagen powder) that keeps my digestion in check and my skin radiant.
Now, because you're all savvy mbg readers, I'm assuming most of you are somewhat familiar with the collagen trend, but for those who aren't well-versed with the benefits yet, it's important to know collagen is the building block for your hair, skin, and nails. As we age, collagen depletes and breaks down easier and our bodies make less of it, resulting in wrinkles and aging skin.
By adding collagen into your diet, it naturally improves your skin's moisture, elasticity, tone, and vibrance, ultimately combating signs of aging. I prefer the marine collagen, which is tasteless and adds a nice frothy texture to soups, smoothies, and even my morning coffee.
Tossing in this "secret ingredient" is such an easy way to get that daily nutrient boost your body needs, and when paired with antioxidant-rich pumpkin, inflammation-fighting healthy fats like ghee and coconut oil, and fiber-rich apples, you've got one serious superfood soup on your hands (plus it's cheaper than getting a facial every week).
I like pairing this soup with a simple spinach salad to add in some greens and topping with pomegranate, avocado, and pistachios for a boost of protein.
Creamy Pumpkin + Apple Bisque
2 tablespoons organic unrefined coconut oil
1 large pumpkin or kabocha squash
2 tablespoons organic ghee
1 sweet onion, peeled and diced
4 cloves garlic, peeled and minced
1 teaspoons sea salt
½ teaspoon ground cinnamon
¼ teaspoon ground nutmeg
pinch of ground cloves
fresh ground pepper, to taste
2 sweet, tart apples (such as Pink Lady), cored and chopped
3 cups vegetable stock
1 can full-fat coconut milk
1 tablespoon pure grade-B maple syrup
1 scoop marine collagen powder (I like Vital Protein's)
Preparation
1. Preheat the oven to 425°F. Cut pumpkin or kabocha squash into halves and scoop seeds out of the middle. Coat with 1 tablespoon of the coconut oil and sprinkle with sea salt and pepper. Roast 30 to 45 minutes, flipping over halfway through, until fully cooked.
2. While pumpkin or squash is roasting, heat the ghee and remaining tablespoon coconut oil in a heavy-bottomed stockpot, add the onions, and cook over medium-low heat for 10 minutes, or until onions are translucent. Add minced garlic to the top of the onions and cook an additional minute. Then add the spices (sea salt, cinnamon, nutmeg, cloves, and pepper) and stir to combine.
3. Add the chopped apples, vegetable stock, and coconut milk. Cover and simmer over medium low-heat while the squash finishes cooking (about 30 minutes or so). Once squash has been removed from the oven and slightly cooled, scoop out the roasted flesh and transfer into the simmering soup base. Let cook an additional 30 minutes.
4. Once the soup is done cooking remove from heat and add in the tablespoon of maple syrup and scoop of collagen powder. Then either transfer soup to a high-speed blender or use a handheld mixer to puree until creamy.