Host A Healthy Brunch With 5 Totally Unexpected & Healthy Recipes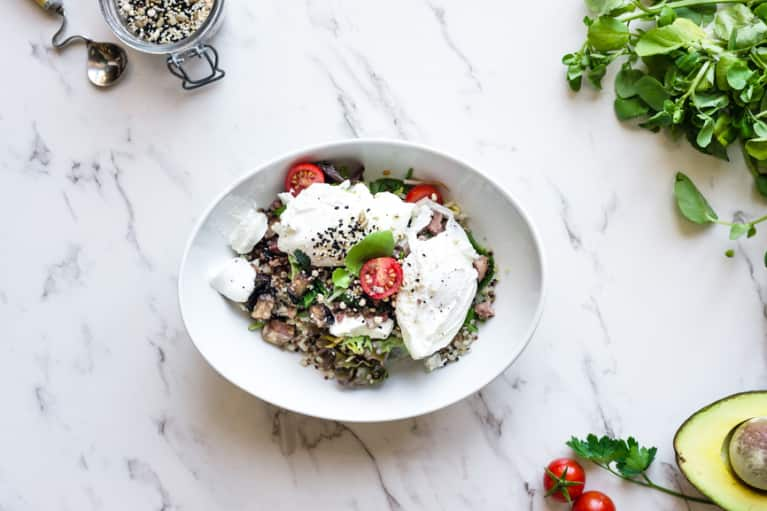 Our editors have independently chosen the products listed on this page. If you purchase something mentioned in this article, we may
earn a small commission
.
The new year has many of us thinking about what we can eliminate from our diets in order to feel our best. But deprivation isn't our style, and we believe it's entirely possible to eat delicious food and feel healthy and happy. Focus on fresh ingredients in flavorful combinations and you're good to go.
We love to entertain, and while dinner parties are always on the roster, we like to make time for Sunday brunch (no earlier than noon). People are relaxed from the weekend, no one's rushing to leave—it's a recipe for long conversations and eating slowly.
Giving guests a combo of sweet and savory foods is our MO. Balance is essential to a good meal, and no one ever said chocolate and salad don't belong together (we never liked rules anyway). This menu has something for everyone and is healthful and fulfilling but won't weigh you down.
Cacao Coconut Granola (aka New-School Cocoa Puffs)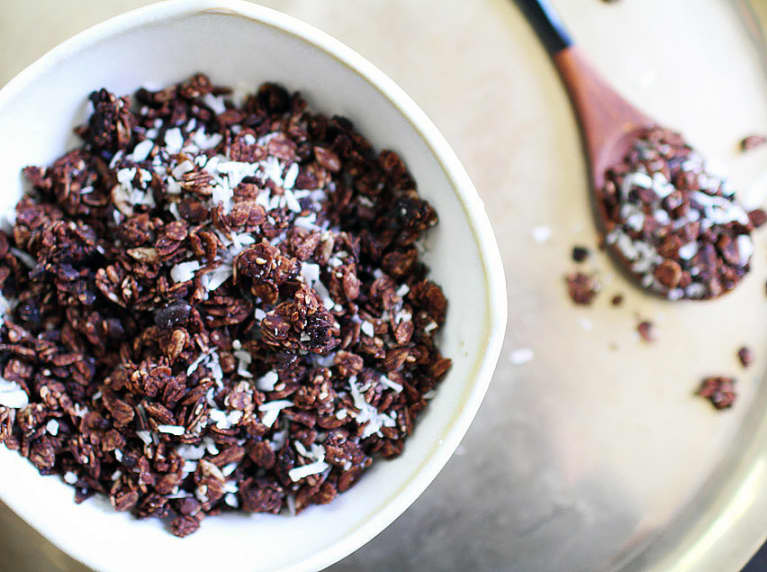 This granola is the best mistake we've ever made—mistake because it's so good we can't help but devour it at a semi-appalling speed whenever it's around.
It's like the Cocoa Puffs of your childhood, all grown up, without any of the bad stuff (sugar, corn syrup, preservatives). In fact, we replaced all that with coconut oil, seeds, and loads of energy-rich cacao…so in our eyes, it's actually good for you! Serve it for breakfast with cashew-date milk (recipe below), regular milk, or honey-sweetened yogurt; sprinkle it on ice cream; stir it into a banana smoothie; or just snack on it straight.
Makes 4 cups
Ingredients
2 cups rolled oats (not quick-cooking)
¼ cup sunflower seeds
¼ cup white sesame seeds
¼ cup cacao nibs
½ teaspoon salt
¼ cup coconut oil
½ cup honey
⅓ cup cacao powder
1 teaspoon vanilla
¼ cup unsweetened coconut flakes
Preparation
1. Preheat oven to 335°F and line a baking sheet with parchment. In a large bowl, mix oats, seeds, and nibs. Heat a small saucepan to low and melt the coconut oil, honey, and vanilla until incorporated. Turn heat down as far as it goes and whisk in the cocoa powder and salt until the mixture is smooth and glossy.
2. Quickly pour the wet ingredients over the dry and mix well until every last bit is covered in chocolate. Give it a taste. Stir in a bit more melted honey if you're looking for something sweeter.
3. Pour the granola onto your baking sheet and pat into a solid single layer (this will give you maximum clumpage). Bake for 15 minutes, stir and pat down again, and bake for 15 minutes more.
4. Turn off the heat, open the oven door and let the granola firm up and dry out for about 5 minutes. Remove from the oven and let it cool completely before serving or sealing. Meanwhile, heat a nonstick pan to low and gently toast the coconut until golden. Stir it through the granola when it's cool.
5. Store it in a glass jar and it'll stay crunchy for weeks. Plastic freezer bags work, too—it just won't last as long.
Note: Your oven might run hotter than ours, in which case your batch might bake more quickly and burn more easily. If this is the case, bake at 325°F and check your granola for the second time after 10 minutes rather than 15.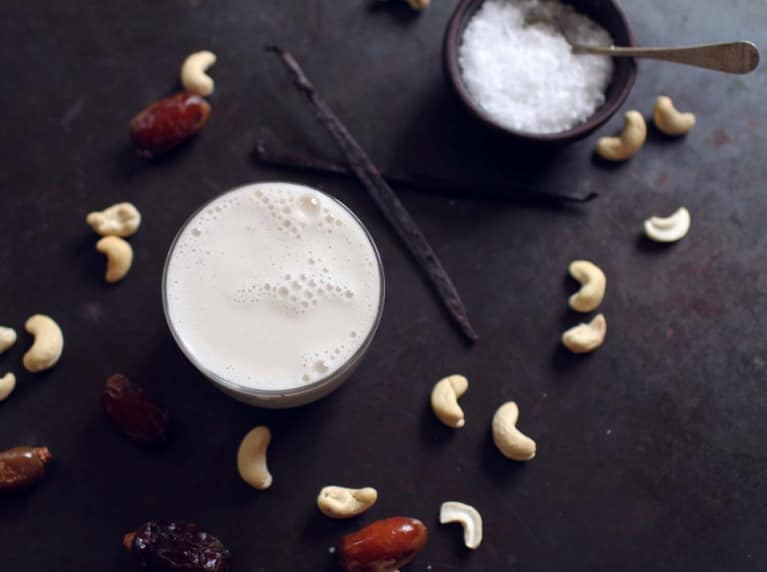 Of all the nut milks in all the lands, this one is our favorite—and the best with coffee, we do believe! It's creamy, rich, and just a touch sweet. It's wonderful warm (it steams quite well, though it doesn't get frothy), refreshing and delicious cold; it's an all-around keeper.
Makes 3½ cups
Ingredients
1 heaping cup raw cashews
3 small dates (honey dates are our favorites)
1-inch length of vanilla bean
A good pinch of sea salt
A big pinch of cinnamon (optional)
3 cups filtered water
Preparation
1. Soak the cashews in water for at least 5 hours (or overnight). Strain, rinse, and place in a blender.
2. Add the dates, vanilla bean, sea salt, and cinnamon (if using), and cover with 3 cups of filtered water. Blend on high until frothy and smooth. Give it a taste and add another date if you'd like it a touch sweeter or another bit of cinnamon if you're feeling cinnamon-y.
3. Once it's tasting just right, place a nut milk bag or a super-fine mesh strainer (like a chinois) over a wide-mouth bowl and pour in the contents of the blender. Strain, squeezing or stirring (depending on what you're using), until the liquid is strained out and only a bit of cashew solids remain. Save these for another use, transfer your fresh-n-frothy nut milk to a jar, and store in the fridge. It will last for 3 to 4 days.
Turkish-ish Breakfast Salad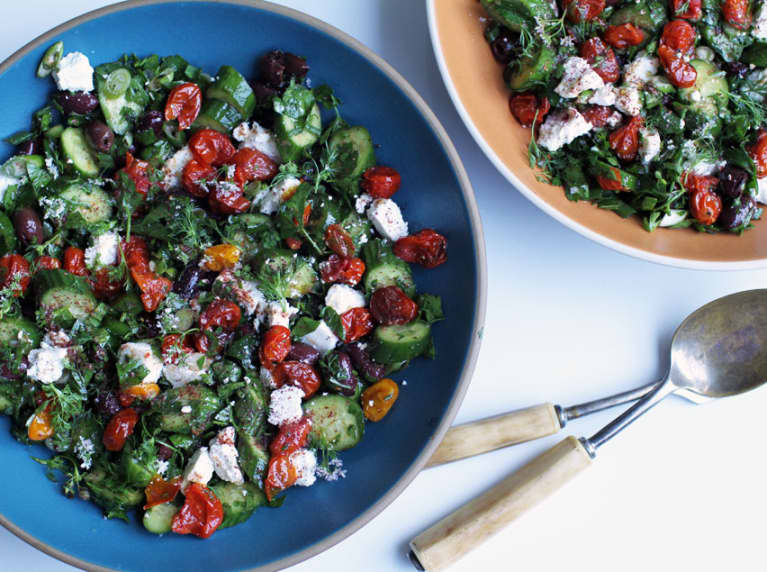 If we were preachers, we'd give a salad-for-breakfast sermon. We're passionate about starting our days savory-style, and this Turkish-ish recipe is no exception.
We've given this salad -ish status because it's not technically Turkish; it's an Israeli/Californian/Turkish hybrid, and it's a serious crowd-pleaser. Turns out people don't even know they want vegetables for breakfast until they eat them. Then they get a wild look in their eyes and you know you've created a fresh-and-savory-breakfast monster.
Note: Manouri is a Greek cheese made from cow's and sheep's milk; we prefer the sheep's milk variety here for its sharpness. The recipe below serves six to eight and can be easily scaled up or down depending how many people are feasting.
Serves 6 to 8
Lemon-Sumac Vinaigrette Ingredients
1 cup delicious olive oil
Juice and zest of 2 to 4 lemons (about ¼ cup juice)
2 tablespoons sumac, plus more for garnish
lots of sea salt
2 cups Persian cucumbers, sliced ½-inch thick, on the bias
1 bunch scallions, thinly sliced on the bias (about 1 cup)
2 cups torn parsley (keep the leaves large)
½ cup pitted kalamata olives
½ cup roasted tomatoes
½ cup cherry tomatoes (only include if it's tomato season; if not, sub more roasted tomatoes)
1 cup sheep's milk manouri, broken into large hunks
Preparation
1. Make your vinaigrette by combining all of the ingredients in a jar and shaking it like you mean it. Give it a taste. It should be super lemony with a nice creamy balance from the oil. Adjust per your taste with more lemon juice/olive oil.
2. Place the cucumbers, scallions, parsley, and olives in a mixing bowl, toss with a healthy amount of dressing, and mix well with your hands. Season with sea salt.
3. To serve, plate the salad on a platter. Stud the salad with the roasted (and fresh, if using) tomatoes and hunks of manouri cheese. Drizzle more dressing on top, scatter with sumac and sea salt, and serve.
Eggs in Spiced Tomato Sauce (Shakshuka)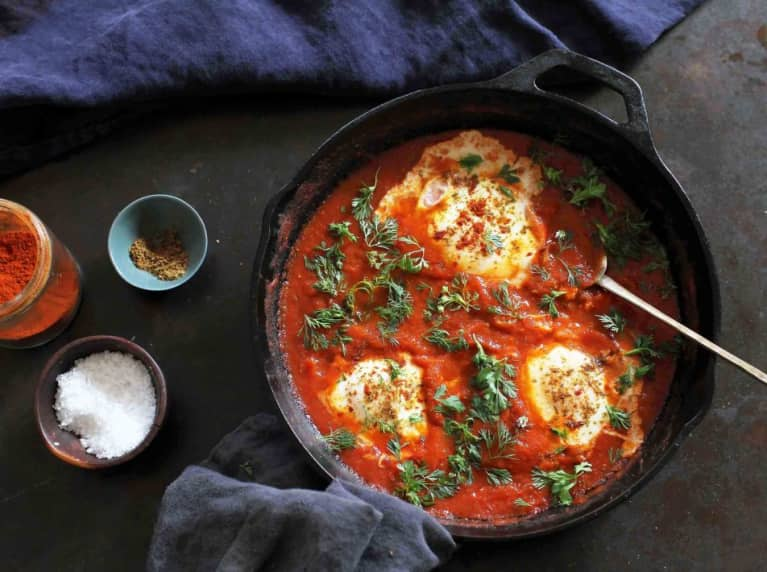 This basic shakshuka makes for a hearty, flavorful, crowd-pleasing breakfast (or brunch or lunch or dinner). Richly spiced with cumin and smoked paprika, with just a touch of heat, it's swipe-your-finger-through-the-pan-stickings good exactly as is. But feel free to do your thing.
Need more greens in your life? Wilt some torn lacinato kale or Swiss chard into the pan right before the eggs go in. Craving something cooling and creamy alongside? Plop a scoop of labne into your serving dish. Want some extra-savory action? Crisp some prosciutto in the pan with the onions and garlic. This shakshuka is your eggy tomato-y oyster!
Serves 2
Ingredients
2 tablespoons olive oil
1 small onion, diced
2 garlic cloves, smashed
Sea salt
half a jalapeno*, minced
1 teaspoon cumin seeds
1 teaspoon ground cumin
A big pinch of your favorite chili flakes
1 heaping tablespoon pimentón dulce
3 cups canned whole tomatoes, pureed
3 to 4 eggs
Cilantro, for garnish
Preparation
1. Warm the olive oil in a medium sauté pan over medium-high heat. Add the onion and garlic, season with salt, and sauté for 3 to 4 minutes, stirring occasionally, until wilted and starting to color.
2. Add the jalapeño and cumin seeds, give a good stir, and let sizzle for a minute. Add the ground cumin, chili flakes, and pimentón and let cook for another minute, stirring every so often. Pour in the tomatoes and stir well; season with more salt and let the pan bubble away, stirring now and then, for 2 to 3 minutes.
3. Crack your eggs directly into the pan, one in each quarter of the pan, and turn the heat down to medium-low. Cover the pan and go pluck some cilantro leaves. Keep an eye on your eggs; you want to pull the pan off the heat as soon as the whites are solidly milky, but not 100 percent set. (Just-cooked whites and still-runny yolks are what we're hoping for here…which should take 5 to 6 minutes.)
4. When the eggs are done, kill the heat, garnish each egg with salt, pepper, and a sprinkle of pimentón, and garnish the pan with a healthy scattering of cilantro leaves. Serve with a hunk of garlic toast.
*Include the seeds, unless the chili is blazing hot.
Chard Date Avocado Smoothie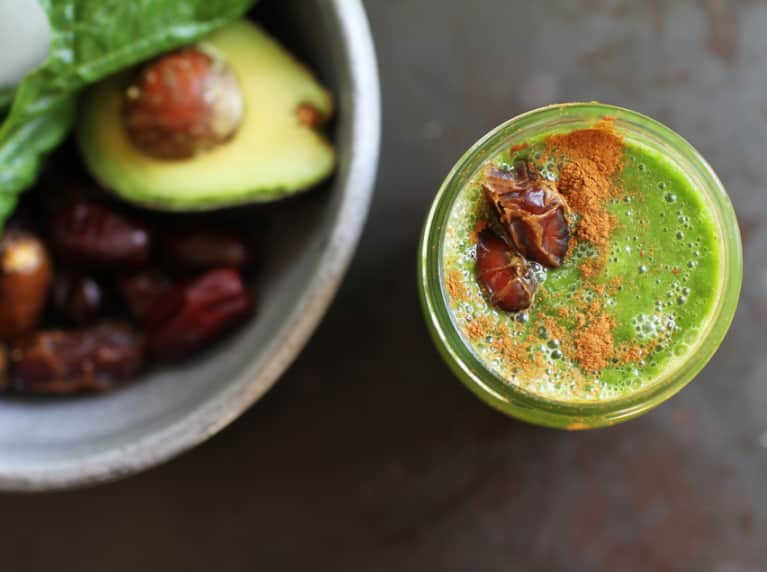 This simple smoothie is a delicious pick-me-up. It's creamy (thanks, avocado!) and sweet (thanks, dates!), and has just enough green to make it well-rounded and wholesome. Dates and cinnamon pack it with energy, and the avo adds good fat that will keep you workin' it until lunch.
Makes 1 12-ounce smoothie
Ingredients
1 handful swiss chard
1 handful hearty spinach leaves
¼ avocado (about 3 tablespoons)
3 medium-size dates
¼ teaspoon cinnamon
1 cup water
Ice
Preparation
Add everything but the ice to a blender and purée until smooth. Add 3 to 4 pieces of ice and blend again; you want to bring the temperature down but not make things too slushy. Garnish with a good sprinkle of cinnamon.