6 Ways To Get Your Sh*t Together Based On Your Personality Type
Contributing Wellness & Beauty Editor
By Lindsay Kellner
Contributing Wellness & Beauty Editor
Lindsay is a freelance writer and certified yoga instructor based in Brooklyn, NY. She holds a journalism and psychology degree from New York University. Kellner is the co-author of "The Spirit Almanac: A Modern Guide to Ancient Self Care," with mbg Sustainability Editor Emma Loewe.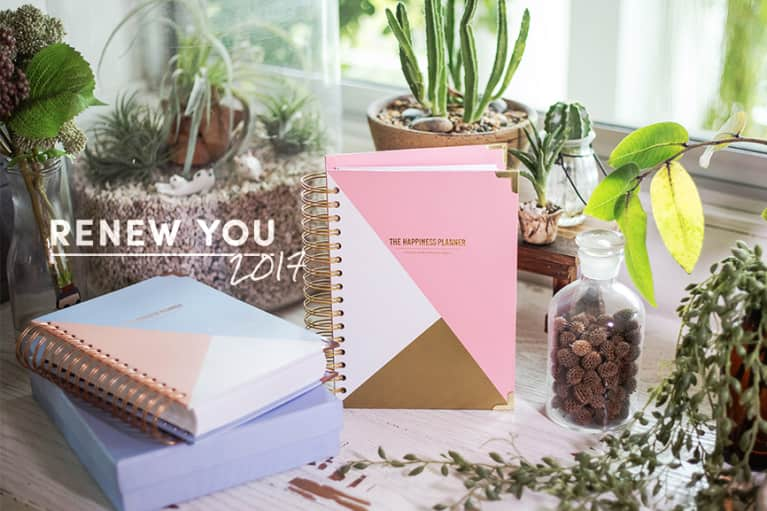 Our editors have independently chosen the products listed on this page. If you purchase something mentioned in this article, we may
earn a small commission
.
Manifest the year of your dreams by going inward. Renew You 2017 is a month of mindfulness during which we'll share content that guides you to create a deeply rooted intention for the new year. We'll help you navigate inevitable obstacles with the latest science on habits, motivation, ritual, and more and equip you with tried-and-true techniques to outsmart even the toughest inner critic.
Whether you're the resolution type or not, a new year brings something so appealing: the clean slate. Maybe you've decided to finally get organized, stay organized, or prioritize better. Regardless, doesn't it seem like we could all use some help in the "getting our shit together" department year round? Especially with technology, media, and a near constant demand on our attention, it's easier to feel overwhelmed than it is to feel "together" these days.
For some of us, a fresh notebook offers the same kind of excitement regardless of the time of year. It signifies a new chapter and is a promise to your future self of a more thoughtful, more organized, less chaotic existence. A new notebook feels sacred...it's reminiscent of walking on fresh snow. You know what I mean? It's so exciting and inevitable, but those first few steps seem extra special and charged.
But deciding how you'll write in your notebook can be overwhelming and slightly discouraging. Perhaps you've looked to Instagram for inspiration or fallen down the deep, deep rabbit hole that is Bullet Journaling (BuJo, anyone?). Who has time for these masterpieces? What if you want a beautiful journal, but you're not an artist? Or, what if you need a new way to prioritize but crave more structure than a lined page?
This is for you. Below are the most helpful—and, dare we say, enchanting?—methods of prioritizing that span the creativity and productivity spectrum. We mapped each technique to a personality type, so there's something for everyone. But we betchya can't pick just one!
1. For the freelancer who wears many hats: Master your Google calendar.
If you're someone who tends to forget things, is required to be in multiple places each day (e.g., on set, picking up kids, dinner meeting), or who runs a company or team, these tips are for you. My life changed when Camille Styles, a book author, wellness blogger, and mom who lives and dies by her g-cal, posted her advice last year. One of her best digital to-do list hacks is below:
"In iCal, every Sunday I create a calendar appointment called "TO DO" that is basically my to-do list for the entire week. I order things in order of importance so I always know what gets priority, and then I place an asterisk next to anything that has to get done today. Then, I always know to check that week's TO DO appointment and look at what's starred since I know it has to be accomplished asap. When I finish a task, it gets removed from the list. At the beginning of a new week, anything that's left undone from last week's list gets moved to the next Sunday's to do's."
2. For the artist: Translate your creativity into productivity with a Bullet Journal.
Bullet Journaling (or BuJo for short) is nothing new, but the originality it sparks makes it worth mentioning again and again. It's a way to record your goals, to-dos, events—things you want to achieve. In service of those dreams, it's also a place to keep track of your habits, accomplishments, and emotions, so you have more context than simple times and dates when reflecting on the year and finding out where to go next.
However, none of this is what makes Bullet Journaling incredible. It's the time, energy, and individuality people infuse into their notebooks. Check it out on the #bulletjournal hashtag and blog.
3. For anyone stressed out by planning: Focus on what makes you happy with The Happiness Planner.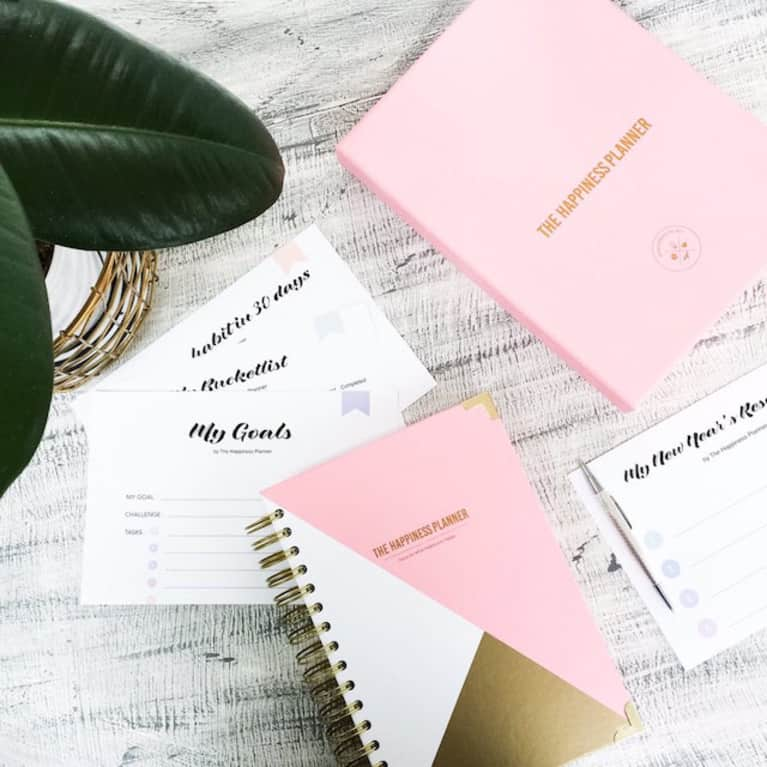 Don't be fooled: The Happiness Planner will indeed help you achieve those goals but through a different lens—or five. The premise of The Happiness Planner is to increase self-awareness and cultivate positive thinking, mindfulness, and gratitude, leading to personal growth and ultimately tackling achievement from a place of self-love, not "should." Win-win.
4. For the big-idea person: Turn your dreams into actions with the Get to Work Book.
The Get to Work Book is kind of like the BuJo but for those of us who perhaps aren't as artistically inclined or who need more boundaries and guidance. The tagline, "big things happen one day at a time," speaks to how the planner is organized. You can peep the page layouts here, but it's set up in a way that allows for yearly, monthly, and daily planning, as well as reflection and habit tracking. It does everything...except the work.
5. For anyone who stinks at time management: Discover the Getting Things Done method and community.
It's OK to fess up! The first step to recovery is admission, and we're here to help. Based on David Allen's Getting Things Done: The Art of Stress-Free Productivity, or "GTD" for short, this technique was released in the early 2000s (OG status, as far as we're concerned) and has since developed a cult following. It's not an app, planner, or program, but more of an infrastructure for finding out what your priorities are and then moving forward to tackle them. In that regard, It's great for people who know they want to do something big but haven't quite landed on the idea yet. The methodology—capture, clarify, organize, reflect, and engage—cuts through the clutter and helps you build focus, and is a great complement to one of the journals mentioned above.
6. For the type-A list-maker: Trello gives you flexibility.
If you're bothered by constantly having to scratch things off your list, Trello is a fairly straightforward mobile and desktop program that allows you to make color-coded lists, prioritize and categorize items on those lists, capture random thoughts, and easily rearrange them. If your priorities are constantly changing, you operate more on a daily to-do list, or you're working on many things throughout the day, Trello boards are an excellent solution and, like GTD, can be used in conjunction with one of the journaling methods above.
So there you have it! New year, new notebook, new goals, new technique, same awesome you. Go forth and crush it.