Move Over, Smoothie Bowls: Warming Breakfast Soup Is The New Way To Start Your Day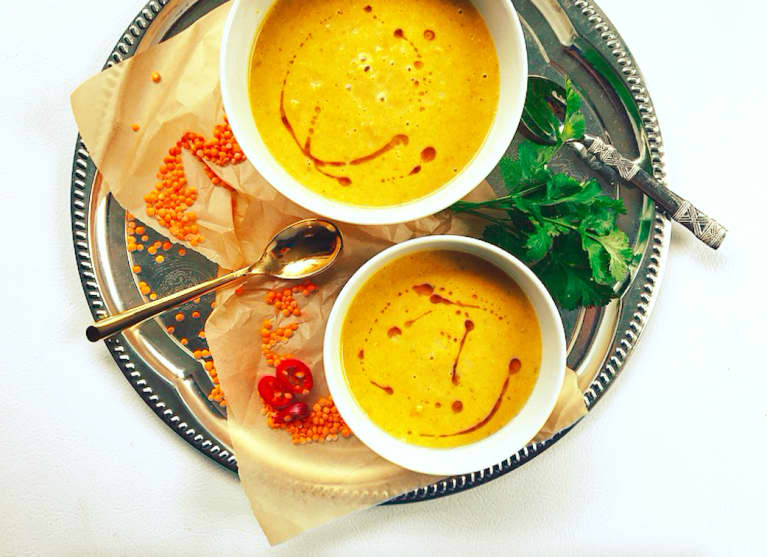 When the weather starts getting colder, I put down my green smoothie and swap it for this nourishing breakfast soup instead, perfect for relaxing, chilly mornings reading food blogs and sipping in bed. Though it can be enjoyed any time, Ayurvedic tradition makes me believe that now especially, in winter, we should be nourishing our bodies with warming foods in the morning. Make this soup in a big batch and keep in the fridge for easy access in the morning! Enjoy!
½ cup red lentils
3 cups water or broth
1 yellow onion
2 celery stalks
2 medium carrots
1 teaspoon coconut oil
4 garlic cloves
2 to 3 centimeters fresh ginger
1 tablespoon curry powder (or more if you love the spice)
1 teaspoon cinnamon
1 teaspoon cumin
½ cup coconut milk
Salt to taste
Cilantro to garnish
Add coconut oil to soup pot and sauté onions, garlic, celery, and carrots until fragrant (about 10 minutes).
Add in lentils and water/broth and cook until lentils are soft, about 30 minutes. Add more water if they're drying out.
Turn heat down and add ginger and spices, along with the coconut milk. Let simmer on low 10 to 20 minutes so all the flavors can absorb.
Purée soup, garnish if desired, and enjoy!