This Cozy Trend Has A Fitness Element That No One's Talking About
Written by
Leigh Weingus
Leigh Weingus is a New York City based freelance journalist writing about health, wellness, feminism, entertainment, personal finance, and more. She received her bachelor's in English and Communication from the University of California, Davis.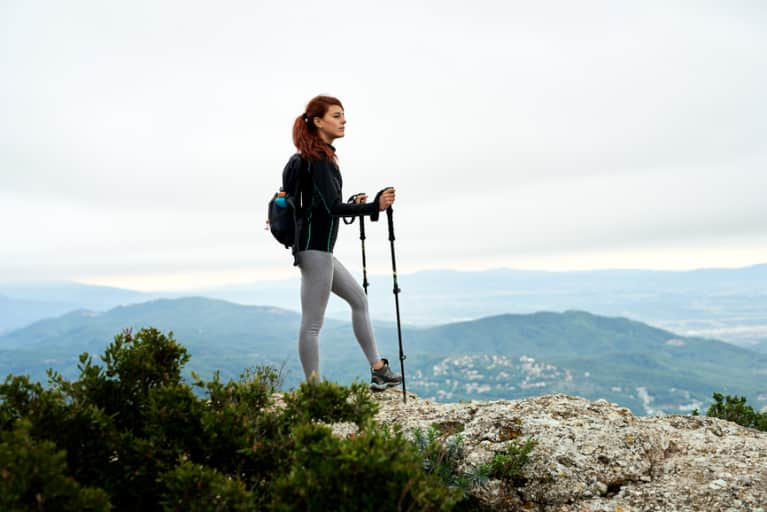 Our editors have independently chosen the products listed on this page. If you purchase something mentioned in this article, we may
earn a small commission
.
The Danish movement hygge is all about being cozy. Hygge is warm mugs of hot cocoa, fires blazing and candles flickering, wool socks, and long dinner parties with close friends.
At first glance, hygge appears to be the antithesis of fitness. But to the joy of workout enthusiasts everywhere, movement is actually an integral part of this cozy lifestyle. Here's what you need to know about applying hygge to your workout routine.
Hygge exercise is pleasant exercise.
If you're working hard to find joy in exercise this year, hygge workouts are the way to go. Pia Edberg, author of The Cozy Life: Rediscover the Joy of Simple Things Through the Danish Concept of Hygge, says that when you're exercising with a hygge mindset, you should make sure it's pleasant.
"It's walks in nature (with loved ones adds extra hygge), relaxing bike rides through pretty scenery, dancing with your partner, hikes with picnics, and for some people even going for a run is meditation for them," she says. "Being outside in general is a great way to be more hygge while exercising. Really appreciating nature for what it is—stopping to smell the roses, as they say."
Charlotte Abrahams, author of Hygge: A Celebration of Simple Pleasures. Living the Danish Way, is a runner—and the hygge approach to running is different from what she's used to. Hygge running should never be too sweaty or competitive, and calorie-counting isn't part of the equation.
"I took that to mean that I could still run, but that I should leave all the speed, distance, and calorie-counting devices at home and focus simply on the pleasure of running," she says.
To make your workout wardrobe more hygge, stay away from tight, uncomfortable fabrics.
"Hygge is all about comfort, so whatever fabrics are cozy to you will work," say Meik Wiking, author of The Little Book of Hygge: Danish Secrets to Happy Living. "But remember, Danes like sleek, minimalistic fashion, so you can be comfy but not sloppy."
Pia echoes the importance of comfort, saying, "Find fabrics that are pleasant to the touch. Some people are more sensitive to textures than others, but I always find cotton is a pretty safe bet."
Meditation is also a very hygge activity.
Once you're done with your pleasant hygge workout, hit the meditation cushion. Because as it turns out, hygge is very meditative.
"One of the cornerstones of hygge is presence and appreciating the moment," says Meik. Pia adds, "It's a wonderful time for inner connection/inner hygge. Connecting with ourselves is just as important as connection with others. To make meditation super hygge, light candles or incense; if you have a diffuser use that. Sit on a comfy cushion and wear comfy loose clothing."
Looks like hygge has a little something for everyone.