What These 7 Fit People Do When They Only Have 10 Minutes To Exercise
mbg Contributor
By Leigh Weingus
mbg Contributor
Leigh Weingus is a New York City based freelance journalist writing about health, wellness, feminism, entertainment, personal finance, and more. She received her bachelor's in English and Communication from the University of California, Davis.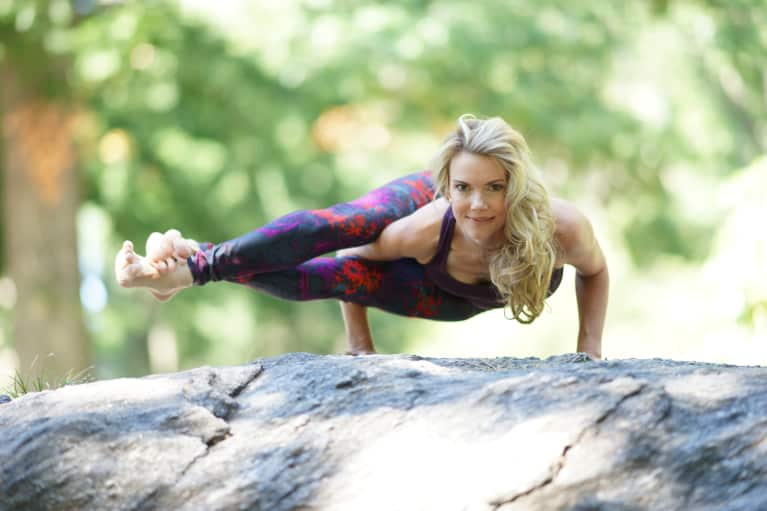 New Year's resolutions aside, January isn't an optimal time for exercise. The sun sets early, workloads increase, and freezing temperatures make it easy to give in to the temptation of sleeping in late and retreating to cozy homes right after work.
Even fitness experts, personal trainers, and yogis aren't immune to this phenomenon, which is why many of them take advantage of the 10-minute workout.
Here's how seven of the fittest people we know get a workout in just 10 minutes:
"When I only have 10 minutes to work out, I do something restorative that will up my energy levels and send blood flow into my muscles," says yoga teacher and blogger Jordan Younger. "I love doing a light Vinyasa flow on my yoga mat and flowing through some sun salutations, or lying on the ground with my legs up the wall. I always feel so rejuvenated after a nice, restorative stretch session versus trying to sprint my butt off on the treadmill for only 10 minutes. Keep it light and reap the benefits!"
"Making workouts work is all about efficiency and effectiveness," says fitness expert Lisa Tanker. "When I have 10 minutes to work out, I focus completely on compound movements that work two or three body parts at once combined with plyometric moves that keep my heart rate in cardio mode. I love doing high reps—20 to 30—and focus on doing a giant set, which means completing a full round of exercises without taking a break. By doing high reps, giant setting, and throwing in cardio plyometric moves, my workouts end up being total body, cardio, strength, and effective."
"If I only have 10 minutes to work out, I try to make it as efficient as possible," says trainer Krista Stryker. "What I tend to do is combine full-body cardio and strength exercises into an interval or AMRAP workout (a workout where you complete as many rounds as possible of a set of exercises in a fixed amount of time)."
"So here's an example 10-Minute AMRAP workout I would do," she continues. "100 high knees with a jump rope, 10 push-ups, 20 air squats, 50 mountain climbers, and 10 v-ups."
"Movement is a pillar of my Thyroid Yoga daily practice, and a good sweat first thing in the morning is critical for maintaining thyroid health, so it's important to practice what I preach—no matter what my day looks like," Thyroid yoga teacher Fern Olivia tells mbg. "To maintain a fast metabolism along with a toned and healthy body, my go-to quickie is one minute of fast cat/cow spinal flexion, two minutes of jumping jacks, one minute of forearm plank, one minute burpees, then another one minute forearm plank, another one minute burpees, one minute reverse crunches (lying on back, super-straight legs extended at 90-degree angle and slowly lowering to hover above ground and using abdomen, lift back up), and 1 minute flutter kicks (laying on back), then finishing it off with one minute twists with a medicine ball (seated with knees bent and toes lifted off ground). If you have 20 minutes, repeat the circuit twice!"
"My go-to 10-minute routine is always a mix of yoga and Pilates done at a decent pace to keep my heart rate up. I add in some calisthenic-type moves to really sculpt and tone as well," yoga, Pilates, and fitness instructor Kristin McGee tells mbg. "I start with the Pilates 100s to get my blood flowing and core fired up."
"Next, I do six to eight roll-ups to work the entire abdominal area and stretch my back and hamstrings," she continues. "On my last roll-up, I come forward over my legs and onto hands and knees. Once I'm on all fours I do some cat/cow for about three to five reps and then do bird dog five times on each side to work my core, back, and butt.
Then, I go into downward dog and hold five breaths. I roll out to plank and stay for 30 to 60 seconds before doing a set of 10 chaturanga-style push-ups. After the push-ups I press back to dog and walk forward into a hang. To work my butt and thighs, I come up to stand and keep my feet hip-width apart and do mindful utkatasana squats into forward hangs and back up six to eight times. Finally, I finish with a few sun salutations incorporating warrior 1, 2, and reverse warrior.
This is an effective little routine and can pretty much be done anywhere, if I'm traveling or up before my 3-year-old son and newborn twin boys!"
"When trying to stick with your fitness goals, the saying is true, 'fail to plan, plan to fail.' I like to have a few mini high-intensity interval training (HIIT) workouts on hand," John, a New York-based group fitness instructor, says. "Generally, three to four body weight exercises, done for a minute each, and targeting all muscle groups. This way, I can get my heart rate up and get a good workout anytime, anywhere."
"If I only have 10 minutes to work out (which happens sometimes), it's important to me to do something rather than nothing so that I maintain my healthy habits," personal trainer Rachel Trotta says. "I hop on the stationary bike for a quick sprint workout. I pedal with no resistance at an easy speed for one minute, and then I crank up the resistance and alternate between pedaling at 100-plus RPMs and 70-plus RPMs—in 30-second intervals—for eight minutes. For the last minute, I decrease the resistance again and pedal at any speed to cool off. It's fast, efficient, and challenging, but most of all, it keeps you in the habit of exercising even if you have a short amount of time."