Why I'm Doing A Backbend Every Day in 2017
You'd be hard-pressed to find someone who said 2016 was a great year. It was a year full of tragedies, many heartbreaks, and a near-death experience I never expected to face in a million years. And it all left me pretty broken.
Where I used to be inspired and upbeat, I'm now cynical and disenchanted. I used to encourage my yoga students to dream big, to manifest whatever it is they wanted from this lifetime. But frankly, I'm stuck in a place where I don't really believe that to be true anymore. With all the disasters I've recently been through, I'm having a lot of trouble believing things will work out for the better and that I can just will my way back to equilibrium. I know this is temporary. I know this will pass. It's just that, at this point, life has lost a little bit of magic.
When I started to overcome the physical injuries I sustained at the tail end of 2016, and I began to bring yogic movement back into my body for the first time, the backbends were the poses that brought me back to life, so to speak, even if only temporarily. Postures like camel and wheel were brief moments of euphoria that yanked me out of my inner screenplay of devastating thoughts and instead thrust me into the present moment. I had done my fair share of backbends in the past, but they took on a whole new meaning this go-around. It's hard to remember what's going wrong when you're upside down and you can't tell which way is up and which way is down.
So in an attempt to take control of 2017 and transform it into an exquisite year (or at least make it slightly more tolerable than 2016), I'm embarking on a new project: The Year of Backbending.
Here are six reasons I'm doing a backbend every day in 2017 and documenting the voyage along the way:
1. To relieve chronic pain in my back and neck.
I live with scoliosis, so I wake up in pain nearly every single morning. But the simplest of backbends can counteract the constant forward folding we're known to do in everyday life—sitting at a desk, hunching over a computer, etc. As a writer, I'm stuck in these positions for most of the day, and I often get so consumed with my work that I forget to unwind myself, or I convince myself that I don't have the time to slip off to yoga.
Regardless of my busy schedule, though, there's always time to pause, find an empty space, and run through a brief backbend practice. My back and neck instantly feel relieved when I do, and my spine immediately feels less compressed. The year 2017 doesn't have to be chock-a-block full of advanced backbends (I want to go off with pixies, after all); even a gentle backbend like cobra will do the trick when the late afternoon rolls around and my lumbar spine is aching for some attention.
2. To open my heart often and fearlessly.
Backbends are the most vulnerable position you can put your body in. Your chest and shoulders are wide open, and in many of these postures, your head is tilted back to a point where you can't distinguish north from south. I like to say to my students, "There's no high like a backbend high." These postures animate our heart chakra and move energy through our body in incredible ways.
That physical openness translates beautifully to our emotional and spiritual health. When our hearts are open to the sky, we're more likely to receive whatever it is we're searching for. And after everything I've been through this year—after everything we've all been through—we need our hearts to be as receptive as possible, because that's the very thing that will carry us through 2017.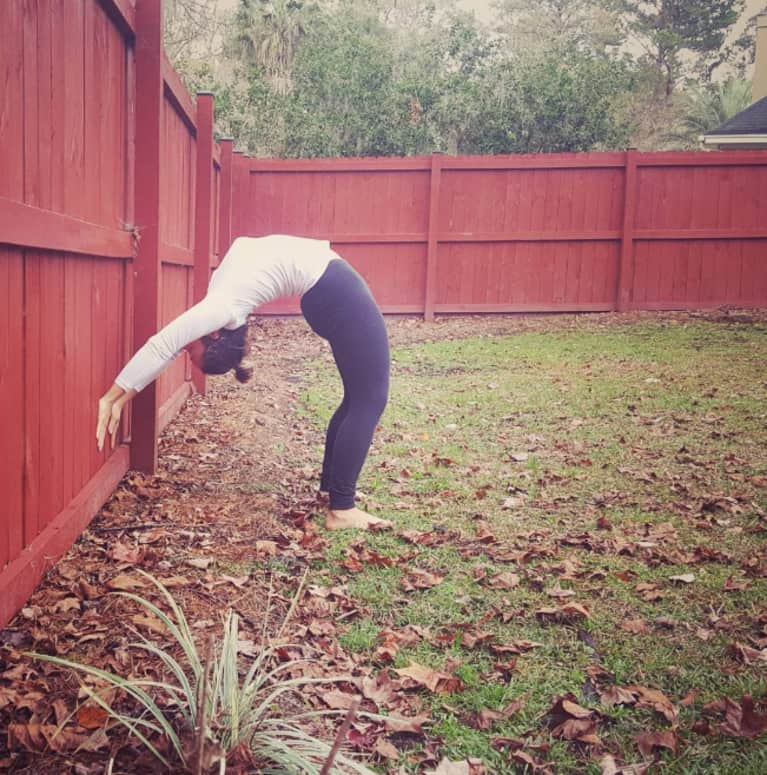 3. To improve flexibility in my spine.
The spine is our lifeline. It's the connecting factor that brings movement to the entire body. It's so much easier to move through the day with a supple spine. Simple things like standing up and sitting down, exercising, and playing with children don't feel so restricted. We're also less likely to suffer injury when our back is comfortably mobile.
Furthermore, committing to improve the flexibility of my spine is a welcomed change from most of the New Year's resolutions I've made in the past, such as losing weight or giving up certain food groups (life without bread is hardly worth living). Only 8 percent of us even succeed with resolutions, mostly because we're making the kind of resolutions that are externally focused. We want to look better, be thinner, fit into our skinny jeans.
What if we instead promised to give ourselves the gift of a healthier bone structure? To engage in activities that will improve our overall well-being, our daily movement, rather than becoming obsessed with how we look? That's where I'm hoping to channel my focus in 2017—my spine, rather than the size of my pants.
4. To help manage my anxiety disorder.
Backbends are known to stimulate the autonomic nervous system and send cleansing energy throughout our body that helps clear the mind. Anytime I engage in a backbend practice I always walk away feeling more focused, more calm, and more at ease with myself. Living with an anxiety disorder, the smallest things can trigger me and send me in a downward spiral, so committing to regular backbends is a surefire way to manage the anxiety that has been a burden to me this last year.
5. To give myself the chance to feel something authentic every single day.
You go through a whole spectrum of emotions when you practice backbends. You feel angry, euphoric, elated, relieved, sad, hopeful—sometimes all at once. It's a magnificent range of emotions to flutter through. No matter what your level of yoga is, whether you're a tentative beginner or a seasoned practitioner, there is always a backbend out there that will make you feel something remarkable.
Coming out of a year that left me crushed and even numb at times, I'm taking 2017 by the horns and giving myself the daily chance to feel, to experience, to be aware. In a great big world where nothing is guaranteed, giving this gift of vitality to ourselves is the most grounding thing we can do. Even better if we can learn to toss our heads back and have a few laughs along the way.
Follow me on Instagram (@gmflorio) to watch my Year of Backbending unfold—and maybe join in on the adventure!