Your 5-Minute Energy Practice For A Healthy Body Image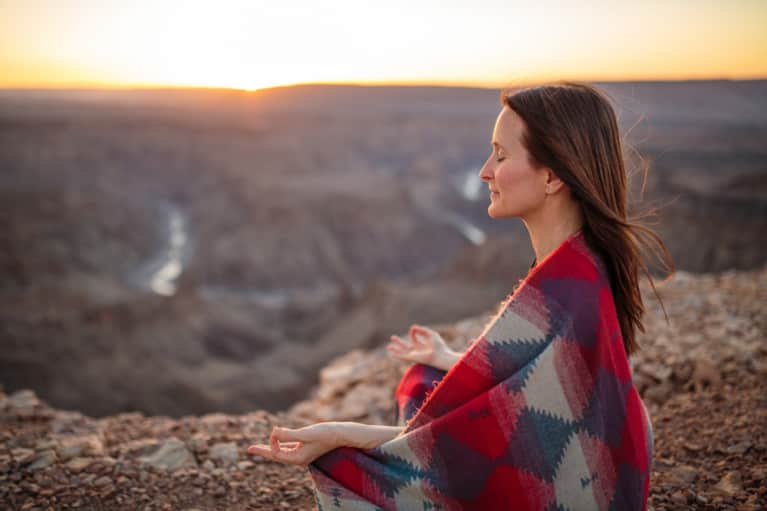 "I've gained 20 pounds in the last five years," "I feel gross," or "I wish I look like I used to." I hear these types of comments often. And now that it's January (when seasonal weight gain tends to be a popular topic), I'd like to challenge the societal construct that we should work harder and be hard on ourselves in an effort to look how we used to or to look differently.
I am not saying that we should all give up on physical activity or working to better ourselves, but why not increase curiosity about alternate ways of thinking and viewing our bodies? By thinking more about the topic and observing our typical thought patterns mindfully, we can change our point of view altogether.
Body image should be about connecting deeply with your body.
Thinking about my body and external image reminds me of the feeling of being stuck, being stuck in one's body, a body that the owner doesn't connect with, acknowledge, or maybe even want. Take a moment to think about this for a second: Have you ever wished you looked like someone else? Did that type of thinking make you feel connected to your own body? These thoughts are often deeply ingrained and are aggressively emphasized by the media's unbalanced focus and promotion of unreasonable beauty standards—which separates us from our bodies and disrupts our mind-body connection.
Fortunately, there are ways to address these feelings of being stuck and disconnected, ways that will influence positive change around how we view ourselves! I invite you to be open to the idea of becoming aware of how you're feeling energetically and addressing that state of being instead of aspiring to an external, visual image.
Here's a practice for a healthy body image:
1. Become aware of your energetic state from a very simple and descriptive perspective: "I'm feeling sluggish right now and my head feels heavy" or "I'm feeling light on my feet and my energy levels are high."
2. Address the current energetic state: "This sluggishness feels heavy and is weighing me down."
3. Ask yourself what you need: "Maybe if I take a walk, I'll feel lighter and it will clear my head" or "The lightness in my feet is making me want to dance!"
4. Practice observing your thoughts with nonjudgment: Going forward, practice noticing and becoming more aware of when you have critical or negative thoughts about your body. Then explore your energy and determine what your energetic state is trying to tell you and how you can adjust your behavior to connect more deeply with your body.
Use this practice as much as you want to encourage new ways of thinking and to continue the pattern of forging a deeper connection to your amazing self!