The Moving Meditation That Has Nothing To Do With Yoga
Written by
Leigh Weingus
Leigh Weingus is a New York City based freelance journalist writing about health, wellness, feminism, entertainment, personal finance, and more. She received her bachelor's in English and Communication from the University of California, Davis.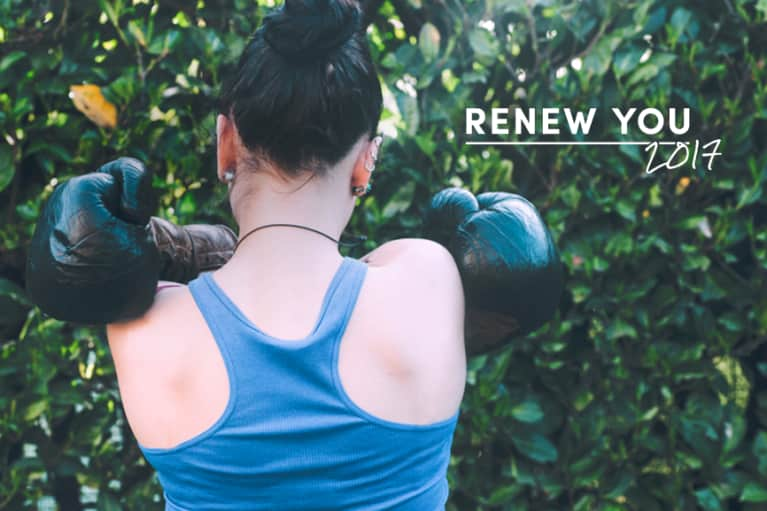 Manifest the year of your dreams by going inward. Renew You 2017 is a month of mindfulness during which we'll share content that guides you to create a deeply rooted intention for the new year. We'll help you navigate inevitable obstacles with the latest science on habits, motivation, ritual, and more and equip you with tried-and-true techniques to outsmart even the toughest inner critic.
Boxing probably isn't the first thing that comes to mind when you think of meditation.
But these days, boxing is the ultimate moving meditation. The end of 2016 and beginning of 2017 saw the openings of several new boxing studios in New York City such as Rumble, Box + Flow, and a new location of the popular boutique boxing studio Shadowbox. And now, women everywhere are pulling on their boxing gloves and spending an hour working out their bodies and minds with a punching bag.
Here's what you need to know if you're ready to incorporate boxing into your meditation routine.
Here's the thing about boxing: When you're fully engaging your body and are so intensely concentrated on one thing, it's hard to dwell on that nagging item on your to-do list. "Boxing requires a focus that demands 100 percent attention," says Box + Flow founder Olivia Young. "Such focus becomes a detachment of the mind. It is meditating on exactly what you're doing to require you to be completely present in the current moment."
Circuit of Change Wellness Director Alyssa Delmonico adds that punching is a release, and that release helps us feel more centered in our bodies and minds. "The physical exertion allows us to let go of things that get stuck inside mentally, emotionally, spiritually," she adds. "Through boxing we are able to experience a strong physical release (of tension, stress, unwanted energies) and create more space inside."
What to remember if you're looking to make your boxing experience more mindful
While boxing may automatically be a meditative experience for some, for others transforming it from a workout to a moving meditation requires a mental trick or two.
According to Shadowbox's Annah Kessler, up until recently boxing simply focused on the fight—and now it's about a lot more. "Remember that it's a safe, clean, and supportive community where you have your own space."
Another important part of making the process more meditative is syncing your breath with your movements. So if you're moving slowly, slow your breath down, and if you're moving faster, speed it up. "When moving quick, inhale through the nose, exhale through your mouth (short and quick)," says Alyssa. "Stay present and give your all to each moment as it arises."
In your regular meditation, you may use a mantra, such as Thich Nhat Hanh's "Breathing in, I know I am breathing in; breathing out, I know I am breathing out."
The same applies to boxing as a moving meditation. Olivia suggests "flow through the fight," while Alyssa opts for simple phrases like "release," "let go," and "I am powerful."
Annah's mantra is "embrace the process." "Boxing is a challenge," she says. "It doesn't come easily, and your first few times will definitely be a huge learning experience—but that's the best part about the sport. There's always something to learn."
Who's ready to put on their boxing gloves?