How To Start Running (When It's The Last Thing You Feel Like Doing)
mbg Contributor
By Leigh Weingus
mbg Contributor
Leigh Weingus is a New York City based freelance journalist writing about health, wellness, feminism, entertainment, personal finance, and more. She received her bachelor's in English and Communication from the University of California, Davis.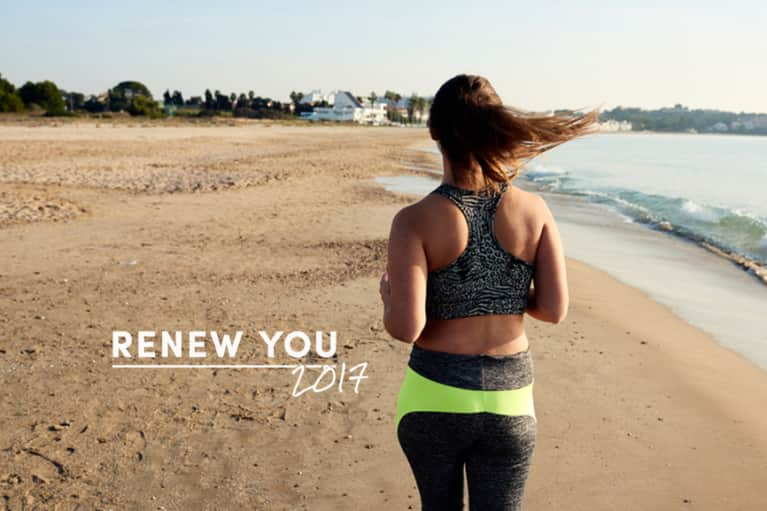 Manifest the year of your dreams by going inward. Renew You 2017 is a month of mindfulness during which we'll share content that guides you to create a deeply rooted intention for the new year. We'll help you navigate inevitable obstacles with the latest science on habits, motivation, ritual, and more and equip you with tried-and-true techniques to outsmart even the toughest inner critic.
While you may have spent the first week of 2017 shopping for high-quality athleisure with the intention of running more or beating your personal half-marathon record, actually lacing up your sneakers and hitting the pavement is easier said than done.
Maybe it's too cold out, or perhaps a tiny voice in your head tells you to stop mid-run when your heart knows you should keep going. Maybe you've long healed from an old injury, but the idea of getting one again keeps you returning to the elliptical day after day.
Mental roadblocks can be a huge problem when it comes to reaching your running goals. So we chatted with three people who have made running their profession—fitness expert and celebrity trainer Rebecca Kennedy, sports and conditioning coach Andia Winslow, and group fitness instructor John Cianca—to find out how to overcome them.
New to running? Just start.
Maybe you've never run before in your life, or maybe you're returning to running after a long hiatus. It can be easy to get caught up in the tiny details that turn into the excuses, so just start and don't think about it too much.
"Start by walking, walking briskly, then jogging for short spurts. After this, extend these short jogs longer and longer each time you make the effort. Stamina will increase, as will confidence and ability," says Andia. "Also, the notion that a 'run' must be one continuous journey is faulty. In fact, research has shown that a 'run-walk' pattern can be as—if not more—effective than continuous running in certain situations and with certain people."
Rebecca also encourages new runners to leave their expectations at home and assume becoming a fast runner will take time. "Instead, learn the proper way to run and set yourself up to become a great runner. Get the right gear, warm up properly, get a playlist that is inspiring, go to a place that is motivating—a run club, gym, or outdoor class—or even seek a running coach out for advice. Running isn't scary when you do it right and it enhances your life. Going fast is a journey—enjoy the ride!"
What to do when you hit "the wall"
As runners of all levels know, it can be easy to hit a mental wall and feel like you can't possibly complete your run. When this happens, John suggests slowing down a bit rather than stopping. "When I hit a wall during my runs, I try to slow down, take deeper breaths, do my best to clear my mind, and I tell myself 'finish what you started.' As runners we have good days and we have bad days, and sometimes it's all about the finish."
Rebecca suggests having a powerful go-to song that will get you going when you feel ready to quit, and taking your runs outside so that you can't give up—after all, you have to get home somehow.
She also stresses the importance of breaking through that wall in the name of progress. "What determines our success is not just your physical ability but your mental ability to persevere. If you never break through that wall, that will always be your endgame; there won't be more. Rome wasn't built in a day, but it was built stone by stone. Don't forget—every step gets you closer to the finish line."
How to move past an injury
Unfortunately, injuries are a part of life. And when you do get an injury, Andia advises seeing a professional to figure out why you got injured and learn how to properly heal it. But just because you developed plantar fasciitis or strained your hamstring doesn't mean you're out of the game for good, but clearing out the mental mess is just as important as healing physically.
"Injuries help me learn more about my body, about why I incurred that injury and how to prevent it," says Rebecca. "I become a better athlete and an even better coach. You can become a stronger athlete post-injury if you take it as a learning experience. Don't let fear run your life; you'll miss out on too many great things."