How To Combat Distraction + Stay Mindful All Day Long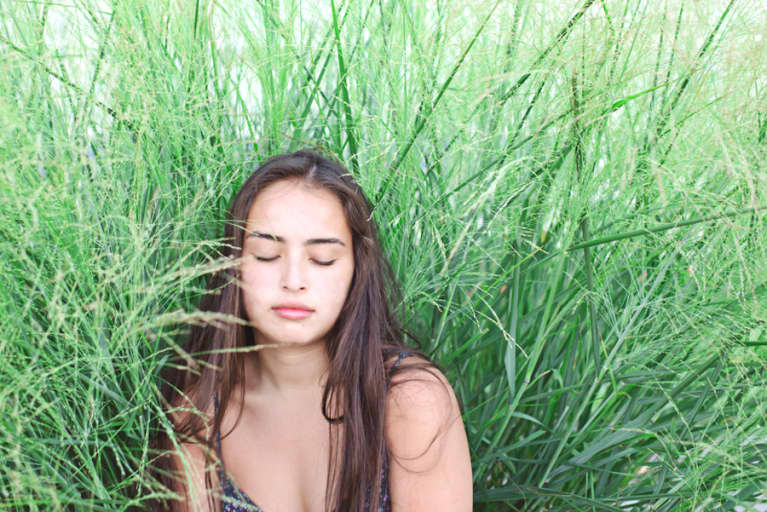 How many times have we looked up from our computers or cellphones only to realize we had completely forgotten what time of day it was? Or maybe we even lost track of the task we were working on before we became distracted. We all do it, and as more information and data bombard us each day, that sense of being immersed without any point of focus becomes almost a constant state of daily existence.
Overwhelmed and distracted, we let mindfulness slip away. Doing more and more keeps us from those priceless moments of focus and clarity. These are the moments that nourish and restore our sense of self, and help us regain our stability in an avalanche of incoming noise. We miss an opportunity for mindfulness every time we neglect to recognize that each activity, each hour, is the only one that matters. What is here right in front of us is all that counts; in this experience is the entire world.
It's a common misconception that mindfulness is a vague, static state of consciousness. True mindfulness is an act of engagement.
One of the most common ways we relinquish our own mindful experience is when we let a TV ad or some cultural icon dictate what we think and do. Of course it's simple to just follow a popular trend when deciding what to buy or eat or read. Sure, it takes more effort to make up our own minds, to locate and act upon our own desires and tastes. But the path of least resistance leads to vacating our own unique biography. We miss so many opportunities to act mindfully when we allow ourselves to be passively led into this or that next thing—the next dinner, next date, next professional choice.
Mindfulness is inevitably obscured when we become passive, texting instead of meeting face to face. Sitting at the computer and sending a message via social media instead of taking a walk, or saying "yes" to an invitation for coffee. It's a common misconception that mindfulness is a vague, static state of consciousness. True mindfulness is an act of engagement, a turning our attention to a specific, vibrant activity or experience. Acting with intention—living the examined life—is simply mindfulness grown into sensory, bodily proportions. When we choose what we are doing, we are being mindful.
At its fullest and richest, mindfulness is an active attitude toward our own lives and toward the world around us. It is a strategy of affirmation, of saying "yes" to the discoveries and opportunities that being alive presents.
Every day seems filled with examples of how we become so busy, each hour so hectic that we just rush through every single task. Making meals, driving to work, dressing our children, talking with friends, so rushed that small moments of unexpected contact seem intrusive. A neighbor comes to the door with a question and we find it difficult not to resent their presence. We're on a schedule, and time is slipping away. But this attitude itself colors our ability to see their visit as an opportunity to connect, to smile, to reinforce their place in our living environment. It takes no longer to be present in their short visit than it does to resent it and try to rush through the encounter. Mindful attention to what they bring and how we can both enjoy even the smallest meeting enriches us incalculably.
All it takes is an act of intention. Taking an active attitude toward even simple daily acts, such as driving or choosing groceries for dinner can bring tactile pleasure we rarely allow ourselves to expect. Yet every physical action we undertake brings with it the possibility of feeling deeper, exploring further, finding the surprise pleasure—and humor!—that comes from being at home in a sensory world.
Mindfulness as an active approach to whatever the day brings is guaranteed to deepen our awareness of our own lives, this one, this moment. These are opportunities too wonderful to miss.