How To Declutter Your Digital Life
mbg Sustainability Editor
By Emma Loewe
mbg Sustainability Editor
Emma Loewe is the Sustainability Editor at mindbodygreen and the author of "The Spirit Almanac: A Modern Guide To Ancient Self Care."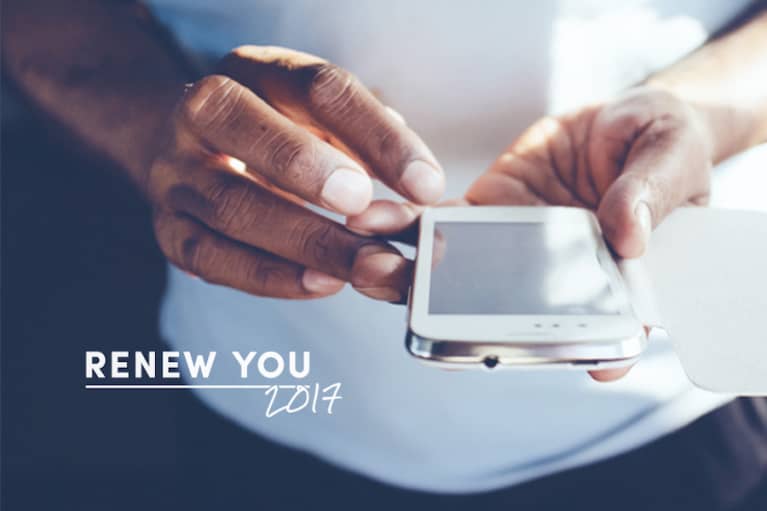 Manifest the year of your dreams by going inward. Renew You 2017 is a month of mindfulness during which we'll share content that guides you to create a deeply rooted intention for the new year. We'll help you navigate inevitable obstacles with the latest science on habits, motivation, ritual, and more and equip you with tried-and-true techniques to outsmart even the toughest inner critic.
Separating your digital life from your tangible one can be a trying task in the age of tablets, laptops, smartphones, Instagram, Facebook, Google home, Fitbit...you get the picture.
Smartphones in particular pose a real challenge, since they are highly addictive fixtures that house our social and professional personas, all in one neat little package. This utility comes at a cost, and excess phone usage has been linked to everything from sleep deprivation and depression to anxiety and irritability.
In an attempt to combat this cellular clutter, successful people the likes of Shonda Rhimes and Barack Obama follow strict rules in regard to their phones. Rhimes' email signature reads, "Please Note: I will not engage in work emails after 7 p.m. or on weekends. IF I AM YOUR BOSS, MAY I SUGGEST: PUT DOWN YOUR PHONE," and Obama refuses to check emails during his morning workout, at dinnertime, or right before bed.
Employers are slowly beginning to acknowledge the power and purpose of such boundaries, and as of this month, companies in France are legally required to grant their employees a "right to disconnect" from technology.
Here are some actionable ways to impose similar boundaries in your own routine and declutter your digital life. Give a few a try this week and watch your screen time become more purposeful and less consuming.
First, distance yourself from your device.
There are plenty of places and occasions where phones really aren't necessary. These simple daily tweaks build on one another, and they'll help you slowly reframe your screen time through the week. See if you can implement all of them by this weekend, and try to adopt one or two for good.
Functional medicine practitioner Dr. William Cole recently completed an eight-week smartphone detox in an effort to ease his anxiety and adrenal fatigue. Now on the other side of the challenge, he has some simple advice for anyone who wants to limit screen time: Put your phone on silent and turn off notifications. "This will allow you to be in the present moment without being pulled back in phone zone," he says.
Tuesday's task: Today, turn off all push notifications and put your device on silent mode for the entire day.
2. Create a digital-free morning and nighttime routine.
If you're going to ban your phone from one room, make it the bedroom. Study after study shows that the blue light from our phones suppresses melatonin, interfering with our circadian rhythms and messing with our sleep. And by checking your phone right when you wake up, you're starting the day with a laundry list of notifications and to-dos.
"Buy an old school alarm clock instead of using your cell phone," advises Dr. Deepika Chopra, optimism doctor and professional psychologist. "Have your phone charging in another room when you're in bed. That way, you aren't subject to the easy temptation of perusing on the internet and getting lost within social media before sleep and first thing upon waking."
Wednesday's task: Carry out a morning and nighttime ritual that doesn't include your phone. Morning meditations and nighttime journaling exercises are wonderful places to start.
3. Designate face-to-face time and write a letter.
Research shows that the mere presence of a smartphone actually distracts from authentic, face-to-face interactions and can stand in the way of meaningful connection.
Thursday's task: Write a letter to a friend who you've lost touch with, ending it with a request to set up time to catch up face-to-face this weekend or in the week ahead.
4. Connect with your food.
Making your meal a meditative experience by tuning out distractions and noticing the sensations of every bite can keep you from mindlessly bingeing. And nothing pulls you out of the present moment like a phone notification.
Friday's task: Sit down for lunch or dinner, either alone or with company, and leave your phone off through the entire meal. Practice mindful eating and reap the rewards.
Now, use your phone more mindfully.
While phones can easily transport us out of the present moment, they can also place us right smack dab in the middle of it when used successfully and sparingly. Here are a few ways to make the most of the moments that you do spend on your phone throughout the day.
New applications like Track Your Happiness and Shine offer users an opportunity to check in with themselves by sending a list of questions and affirmations at random points throughout the day. In the case of Track Your Happiness, these texts are a way to analyze how you're feeling in that moment and think about what it is that may be causing these emotions. On the other hand, Shine serves as a portable life coach by sending users research-backed daily intentions and words of motivation.
"When surveyed, 93 percent of users said that Shine has had a positive impact on their mental health, citing notable increases in their confidence, daily happiness and productivity," explain co-founders Naomi Hirabayashi and Marah Lidey.
Artist and author Flora Bowley uses her phone's camera as a portable mindfulness lens. She recommends taking walks without a destination, using your phone to gather inspiration as you go. With this exercise, you'll be forced to notice beauty you might have otherwise dismissed as background noise and get up close and personal with your surroundings.