On Becoming a Yoga Teacher: One Month In, And We're Already Saying I Love You...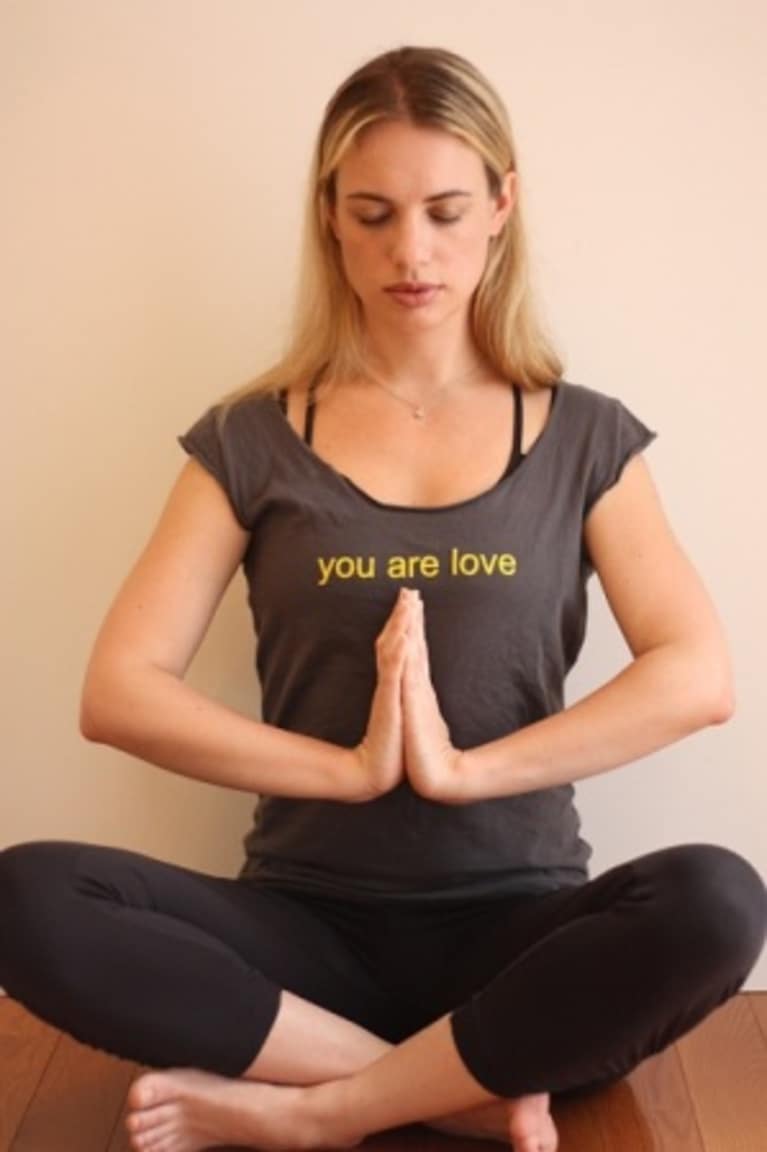 In relationships, I use the word "love" very carefully. Love means a lot to me and each time I say it I want to make sure it conveys the intensity that is intended. So it is no insignificant utterance when I tell you that I LOVE my job. I have absolutely 100% fallen head over heels in love with teaching yoga: I think about it all the time; I talk about it all the time; I dream about it almost every night; and I am constantly looking for new and creative ways to integrate it more deeply into my life. Yes, it has only been a month since I graduated teacher training, but each time I step into a classroom I feel like I am where I'm supposed to be.
I started Week Four a bit unsure but determined to not succumb to my own resistance and self-doubt. Anxiety and new teachers is pretty common, but it's something I would have let completely demotivate me in the past. Constantly finding myself in new situations, making "newbie" mistakes and being challenged to define myself when I'm not feeling entirely ready to do so has created a lot of negative internal chatter. I am facing this anxiety down, though, because I love teaching yoga and I am determined to develop into a great teacher. I was anticipating a struggle and I am challenging myself to embrace it and let it inform me about myself along the way. As a result, I am learning a lot about myself and I am constantly redefining my self-set limitations. Instead of allowing myself to be consumed by anxiety, I am redirecting that energy towards excitement. And in that excitement, I have found an enormous reserve of energy and joy.
On Monday, I assisted a class for the owner of my favorite studio. It was a great continuing education opportunity, and I learned a lot about pacing and energy and creatively engaging a classroom. It was a smaller, more advanced class so there wasn't much technical adjusting to do, but it was fun to work on the "feel goods." By the end of the Surya Namaskar A sequence, I had found my rhythm and decided to assist at least one class a month. I loved having the real-life, real-time chance to refine my adjustment skills while simultaneously building a different kind of relationship with the studio, the teachers and the students.
In terms of generating jobs, this week I was hooked up with an audition at a really beautiful Mind & Body spa through a friend who is taking a prenatal series there. I also encountered a few students that wanted access to me outside of the studio, so I designed and ordered some business cards (I used Tiny Prints, and commissioned a friend to help me build a professional website. I'm looking for photographers to do some shoots (any suggestions in the CT/NYC area are greatly appreciated!) and I'm probably most unreasonably excited about that. I should create a Facebook page and increase my social networking, but those are things I'm not entirely comfortable with yet, so I'm easing my way into it.
By the week's end, I had taught 5 classes and lined up three more to begin in the autumn. Each class was different and each class added to my love of teaching yoga. At the end of one class, a 70-year-old woman approached me and told me she had increased mobility and felt a significant difference in her body. The next day, I walked into a "Power" class to discover the students were all beginners but after a quick change of direction they left smiling and inquiring about my next class. Another day, I drove 45 minutes to a class nobody showed up to. During my Gentle class I instructed Tree pose, and an older gentleman who had previously wandered around the back of the room to avoid balancing stood in Tree for almost an entire minute! I was applauded, corrected, hugged, thanked, ignored and farted on. I cried, I laughed and I shared my experiences with anyone who would listen. The more I experienced, the more enthusiastic I became. I am witnessing the unveiling of my own potential as a yoga teacher. And as my enthusiasm grows, so does my ability to cultivate a meaningful experience for my students. The conversation I am having with myself is shifting from one of fear into one of excitement and creativity. I find inspiration everywhere, and with practice I am acquiring the skills to articulate it in a way that provokes my students to go beyond what they thought was possible. The more time, energy and creativity I give to yoga, the more beauty, excitement and happiness I get in return.
Teaching yoga is humbling, empowering, hilarious, heartbreaking, fun and terrifying. The triumph over anxiety mixed with the dance of building confidence and tapping into empowerment is intoxicating. Finding myself passionately pursuing learning experiences and inspiration, and bathing in self-generated creativity has brought a beautiful dimension to my life. And probably most important, having an opportunity to immediately and significantly impact people's lives in a profound and meaningful way is something that fills me with awe and gratitude over and over again. Is it any wonder I am in love?