The 6 Accessories Every Comfy, Cozy Home Needs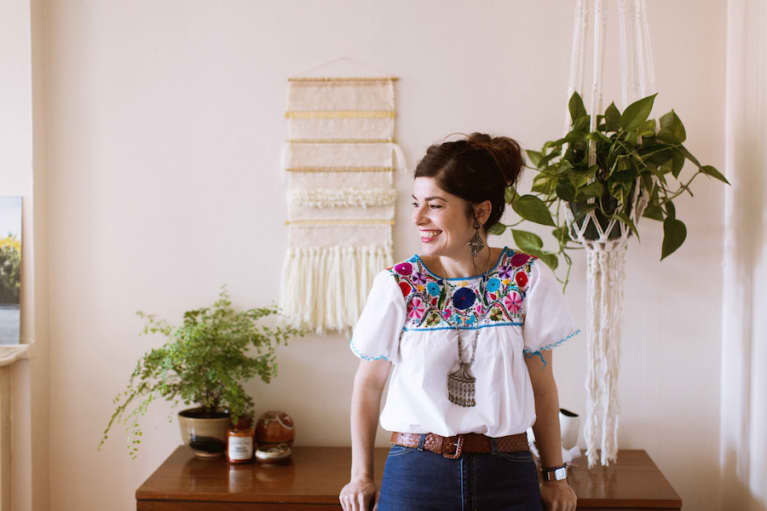 I've always been all about layering up in the colder months. It's a time to pull out your coats, scarves, gloves, and boots to get all snuggly warm. But the idea of getting snuggly and layering up should not be relegated to the body alone. You can bring the same cozy layering to your home.
The Scandinavians have it right. They celebrate hygge, a Danish term defined as "a quality of coziness and comfortable conviviality that engenders a feeling of contentment or well-being." But you don't have to move to Europe to add some comfort and warmth to your space. Here are a few simple accessories that can help you craft the cozy sanctuary of your dreams.
The cooler months are a perfect time to learn a new craft or start one up again that's been put aside. So why not pull out some yarn and a loom to make a wall-hanging that speaks to your home? (You can find materials and instructions on my site!) You might want to create a piece that symbolizes new beginnings or maybe one that celebrates your growing family. Weave good vibrations into your piece and hang it with love. If you are not the crafty type, you can also call on a weaver to bring your vision to life by commissioning a masterpiece that is perfect for you.
I love slipping on my Ugg boots, snuggling down on the couch among soft cushions, and pulling a blanket up to my chin. I create a little cocoon and work my way through a season of my favorite series or book surrounded by loved ones.
3. Rugs with a side of ritual
In the summer, I take my rugs up off the hardwood floors for the season. Then I get them professionally cleaned so that as the weather cools, I can lay them down in preparation for winter as a sort of ritual. My home has lots of vintage rugs with bright colors and lovely, chunky textures. It feels luxurious to come home, take off my snow boots, and let my bare feet connect with the space.
4. Lamps that have a soft, warm glow
Fill your space with a warm, soft glow by going with incandescent bulbs rather than blue daylight ones. I also love to scatter vintage lamps and salt lamps in different corners of my home to create little patches of light.
5. Reds, peaches, and golds
My space is painted white and full of natural materials like wood, wool, cotton, and silk, so I opt for soft furnishings in warm colors like red, peach, gold, and salmon. They breathe but keep you cozy and warm at the same time.
Think huge candles in Mason jars you can light once the kids go to bed, candles on the back porch for when you host a bonfire or BBQ, small tea lights around the bathtub, and scented candles made with natural oil blends next to your bed. There is something very human that draws us to the flame. Everyone looks lovely by candlelight and the soft conversations that ensue as you watch the time pass and the wax drip become precious memories.