Ever Wondered What That Yellow Fruit That Looks Like A Tomato Is? We've Got You Covered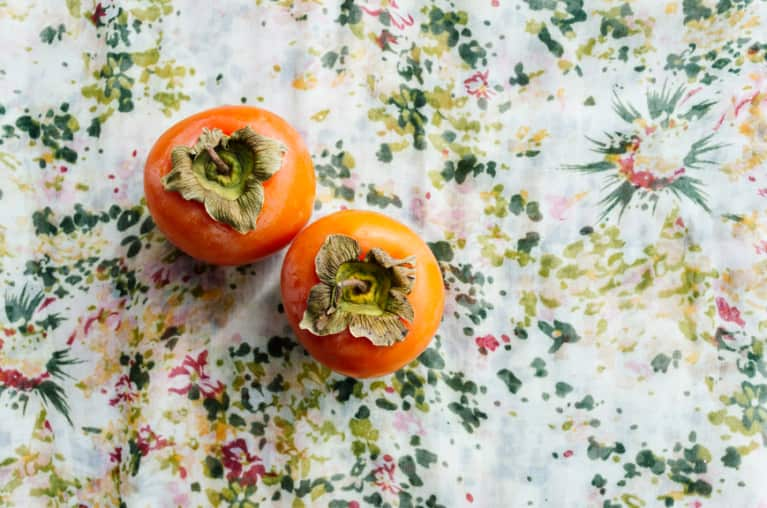 You've probably seen this tomato-doppelgänger-looking fruit at your local market. Persimmons, which originate from Asia, are sweet like dates but most similar in consistency to mangos. An excellent source of dietary fiber, they help your body fight inflammation and are rich in vitamins C and B.
The two most commonly found varieties here in the United States are Fuyu, which can be eaten when more firm and look more like a tomato, and Hachiya, which need to be soft before being consumed. If you eat Hachiya before they're ripe, they make your tongue tingle—really! While it's a fun trick, I don't recommend it.
They're a fun way to brighten up your winter food, and they go out of season in North America in February, so get to cookin'!
Persimmons are also nature's candy. Next time you're making a smoothie, throw in frozen persimmon pieces and see what happens. Only good things, I promise.
2. Make a breakfast pizza.
We all know that avocado toast will always be the fave (though check out some other fun toasts here), but one of my go-to alternatives is toasting up a piece of lavash, spreading yogurt on it, and then placing thin slices of persimmon on top with a sprinkle of toasted crumbled hazelnuts and a drizzle of tahini. It's full of calcium and protein, and it's absolutely magical.
I love any sort of beet in my salads, but why not sub that good-for-us root veg for a good-for-us fruit? It might be a touch sweeter, but when paired with a nice goat cheese, a miso-tahini vinaigrette and crunchy shiitake "bacon," you'll be golden from the inside out.
You can actually sub persimmon for honey in your favorite blended dressing recipe. Here's one I love: Blend 2 tablespoons Dijon mustard, 1½ persimmons, a touch of salt and pepper, and 2 tablespoons of water. You end up with a great winter salad dressing, a sauce for roasted vegetables, or simply a dip for crudité.