A Detoxing Bone Broth & Beet Winter Soup
Doctor of Clinical Nutrition
By Brooke Scheller, DCN, M.S., CNS
Doctor of Clinical Nutrition
Brooke Scheller, DCN, M.S., CNS, is a clinical nutritionist, wellness expert, and foodie passionate about changing the way people feel about the food that they eat. She received her Doctorate in Clinical Nutrition, Functional and Integrative Nutrition from Maryland University of Integrative Health.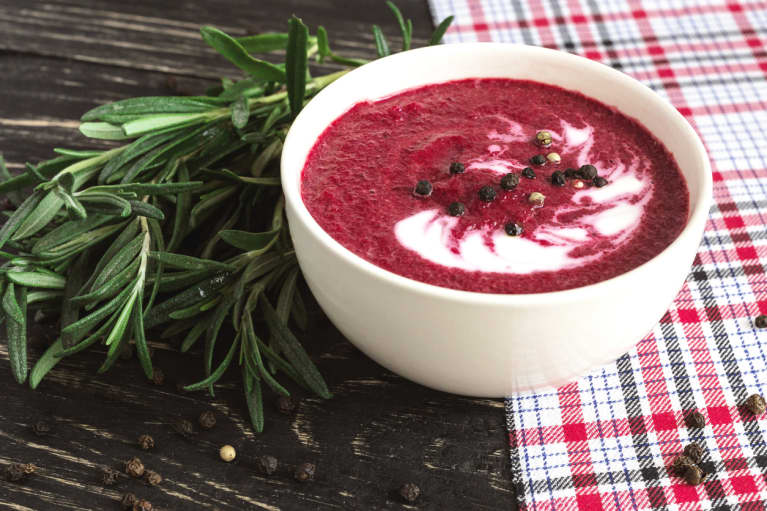 As a functional nutritionist, I see the constant need for detoxification in my clients. I've transitioned from doing only a few cleanses per year to regularly supporting my detoxification process. Because of the amount of chemicals and toxins we're exposed to on a daily basis, and also because I have several tattoos, I incorporate daily detox methods through foods and herbs.
My favorite recipe for detox was actually inspired because a few years ago I hated beets (I don't think I actually had ever had a well-cooked beet). However, my mentor told me to incorporate beets because of their benefit on the liver. Beets contain betaine and other antioxidants that help cleanse and purify the liver and gallbladder (two of our major detoxing organs).
So what's a beet-hating nutritionist to do? I remembered back to years before when an old boyfriend's family had Borscht (beet soup) as part of a family tradition. It was the only time I can remember eating beets and liking them. I decided to create a recipe incorporating all of the ingredients of Borscht enhanced with a grass-fed beef bone broth.
Brooke's Bone Broth Borscht
1 to 2 quarts of beef bone broth (I prefer homemade, but there are many companies that now sell fresh broth online)
3 medium beets, peeled and chopped into 1-inch cubes
1 yellow onion, diced
4 stalks celery, chopped
1 fennel bulb, thinly sliced
3 carrots, chopped
5 garlic cloves, minced
2 tablespoons extra-virgin olive oil
¼ lemon, for juice
Celtic sea salt
fresh black pepper
In a medium pan, heat 1 tablespoon olive oil until warm but not hot. Add the onion, celery, fennel, carrots, salt, and pepper and saute for about 2 to 3 minutes.
Add the garlic and stir for another 1 to 2 minutes or until translucent.
Transfer the vegetable to a large saucepan or crockpot. Add the bone broth, beets, and a touch more salt and pepper. For crockpot: cook on low for 5 to 6 hours, or simmer for 1 to 1½ hours on the stovetop.
Once all vegetables are tender, add the juice of ¼ lemon and the remaining tablespoon of olive oil. These ingredients help to build the texture and the flavor (you may find adding a little more lemon, oil, or salt will help bring out the flavors, but make sure you keep tasting!).