The One Thing That Actually Helped Me Eat Healthier This Year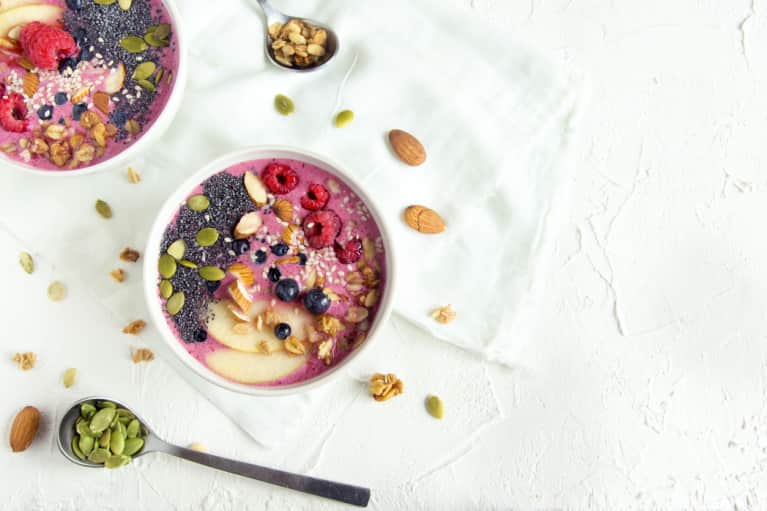 With a new year comes New Year's resolutions. I don't know about you, but I gave up on making these so-called resolutions a long time ago.
Here's the thing about resolutions: They put all the emphasis on what we're going to do better this year but neglect to celebrate the things that actually went well.
What did you do this past year that's worth celebrating? What did you do that improved your quality of life? What did you do this year that made you feel good?
It's so important to highlight things that are actually working in our lives so we can do more of them and feel great about it.
When reflecting on my own year, I realized that there was one thing I had done that had been crucial in helping me eat healthy on a consistent basis and ultimately feel my absolute best ever. I practiced this one thing every week until it became a life-changing habit. A habit that I now actually look forward to every week. It's a habit that helps me stick to healthy eating habits day after day. It makes me feel great about myself and excited to eat well.
That habit is meal planning, and I'll definitely be carrying it through into this new year.
Meal planning has made such a huge impact in my life. It helps keep me organized and on track. When I plan my meals with delicious recipes, I'm actually excited to eat well. I buy only what I need, which saves me a ton of time and money. I'm never left wondering what I'm having for my next meal or reaching for food that makes me feel icky.
Getting into the habit of meal planning has been a serious game-changer for me. If eating healthy is a priority for you this year, here's a super-simple five-step process for how you can get started with meal planning ASAP:
1. Create a calendar outline of your week.
You can do this on paper on your phone or using a meal-planning platform like That Clean Life. Start by filling in any meals you will be eating out (like your best friend's birthday). I like to call these flex meals. Balance and maintaining your social life is key.
2. Fill in the blank spots with healthy meals and snacks.
Draw from old favorites and mix in some new things you are excited to try. Incorporate your favorite ingredients. If you need inspiration, check out some of my favorite meals here.
3. Derive a grocery list from the recipes you have chosen.
Divide ingredients into the sections of your grocery store to make shopping a breeze.
4. Do your shopping and prep.
After you shop, prepare any ingredients or meals that can be made in advance. Investing a bit of time into prep at the start of the week will save you a ton of time and stress later on.
5. Stick your plan on the fridge or keep a copy on your phone as a quick reference.
Voila! You are all set to eat healthy and feel awesome for the week.
If you are feeling a calling to fuel your body with better food this year, stick to the basics. Don't complicate things. Just focus on eating real, whole foods. Having a plan is key and so is making sure that the process is enjoyable. I'm proof that meal planning can quickly become a life-altering habit that you actually love.
Cheers to doing more of those things that make you feel awesome this year!