Why Winter Is The Best Time To Indulge In Pampering Beauty Rituals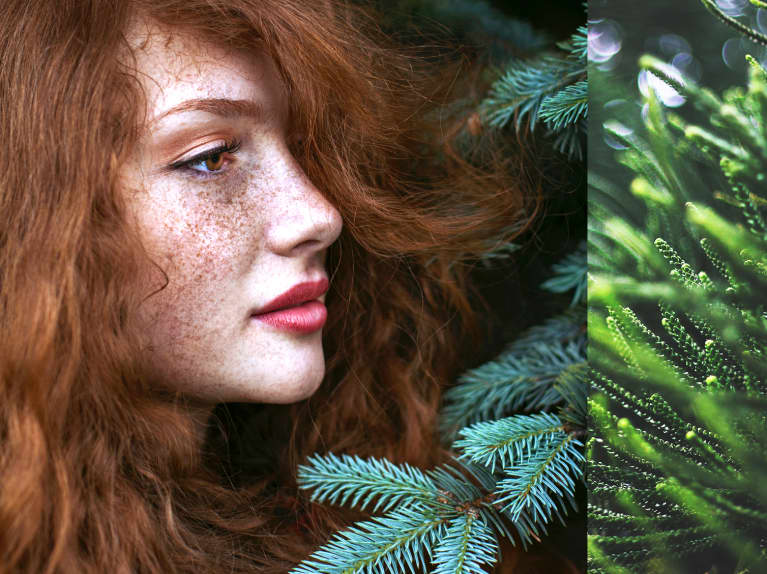 Our editors have independently chosen the products listed on this page. If you purchase something mentioned in this article, we may
earn a small commission
.
In life we are constantly striving for balance, whether it's with work, relationships, food…so why should beauty be any different? Here at mbg, we take an inside-out/outside-in approach to beauty because we believe that the more we take care of ourselves, the better we feel. This week, we're focusing on the self-care rituals that help you take care of your skin. Instead of treating skin care as a chore or an indulgence, try embracing it for six days and enjoy the act of caring for your skin and thus yourself. We bet you'll be surprised at how good it feels. Let us know!
As seasons' popularity goes, winter has a bad rep.
Every year, as we celebrate the beginning of the holiday, we also start their traditional rant about the long, cold winter days. The winter solstice, the year's shortest day looms on the horizon like a bad omen. Everywhere you turn, you read tips and rules on "how to survive winter" or "how to fight the cold weather." What you are never told, however, is "how to welcome and embrace winter."
But this may change, thanks to the Danes, named the happiest people in the world by the 2016 World Happiness Report, and their long tradition of celebrating all the positive effects winter has on our body and soul. Since the ranking came out early this year, the world has been introduced to the Danish concept of hygge (pronounce hoo-gah), the art of making and celebrating a cozy life and the philosophy that makes Danish people even happier when days are getting shorter.
Think of hygge as winter's silver lining. Shorter daylight and freezing temperatures force us to spend more time indoors and give us the opportunity to slow down, listen to our body, pamper, nourish, and soothe. If summer is the loud, showoff season, winter is definitely the quietly confident season of beauty. So get ready to put some hygge in your beauty routine and have the happiest—and most beautiful winter ever.
Give your frozen toes some TLC and they will be sandal-worthy way before spring has started.
With your feet hidden away in boots all day and comfortably wrapped in cashmere socks at night, it may be easy to forget about the body part that keeps you connected to the ground. Often neglected, our feet walk an average of 8,000 to 10,000 steps every day and stabilize our entire body. They also have over 7,000 nerve endings, which explains why pedicures make you feel so good and why we should pay attention to our feet every day. Before going to bed, give your bathroom the hygge treatment by arranging warming scented candles, plush bath mats, and fluffy pillows so you can sit comfortably while you pamper your feet.
Step 1: Start by washing away the day—and your worries—using a warm, wet face cloth that you wipe from the heel up to the calf. Always wipe in an upward motion to boost circulation and ease tension.
Step 2: Follow with a gentle exfoliation, always moving upward, and focusing on the driest areas. Wipe off excess with the face cloth. If you need a little extra TLC, spray lavender water on to your face cloth for a calming effect.
Step 3: Next, apply a dollop of nourishing foot cream like Kora Organics Rejuvenating Foot Balm, add in a drop of peppermint essential oil, and massage in well. Move forward toward your toes. Slow down and massage each of your toes, using an orange stick to remove excess cream if needed. It is the perfect time to reflect on what being grounded means to you. While you massage your toes and soften cuticles with the cream, use the opportunity to connect body and mind by reaffirming your top goals and beliefs like a mantra.
Forget your summer body. You winter body is buffed and glowing.
Hot baths and showers may be tempting in the cold weather, but they strip your skin from its precious, natural oils and leave you with dull, parched skin. Instead, use a cactus bristle body brush to boost your blood circulation, stimulate your lymphatic flow, and warm up. Starting at the soles of your feet, brush your body moving upward toward your heart in a small, circular motion to get rid of dead skin cells and leave your skin silky soft. Once you feel warmer, do three Pilates standing roll downs, focusing on your breathing, to relieve back tension, stretch your legs, and prepare yourself for the day ahead.
Repeat every day and enjoy giving back to your body. Create a more important ritual and add self-love affirmations to your moves. With an improved circulation and smooth skin, you will love your new, winter glow and go through winter without feeling lethargic.
Let perfume become your seduction weapon.
As Coco Chanel once said, "No elegance is possible without perfume. It is the unseen, unforgettable, ultimate accessory." The good news is that fragrance tends to hold longer in the winter. It is a fantastic opportunity to experiment with stronger scents you love but never dare to try. The winter gives you a free pass to be bolder and wear heavier notes that you would normally shy away from. It is an easy way to feel sensual, especially when you feel trapped in a few layers of clothing. It makes you feel instantly more womanly and seductive.
Spray an organic scent like Strange Invisible Perfumes to the hottest points of your body (your pulse points) and lightly pat dry only if necessary—a fragrance is made of layers of ingredients, and by rubbing it in, you will break it down faster.
Winter is for bold lipstick, not chapped lips.
Your lips don't have the same protection as the rest of your body. They have neither hair nor sweat glands, which means they dry quickly when moisture levels drop and need extra TLC. Dab a little coconut butter onto your lips. Next, use a very gentle toothbrush to slough off dead skin cells. Then find a colored lip balm like Burt's Bees Strawberry Lip Shimmer, and use it as a base before applying a creamy, hydrating lipstick. As you reapply, you keep on moisturizing your lips, avoid excessive dryness, and look groomed.