Introducing: Renew You 2017, A Month Of Mindfulness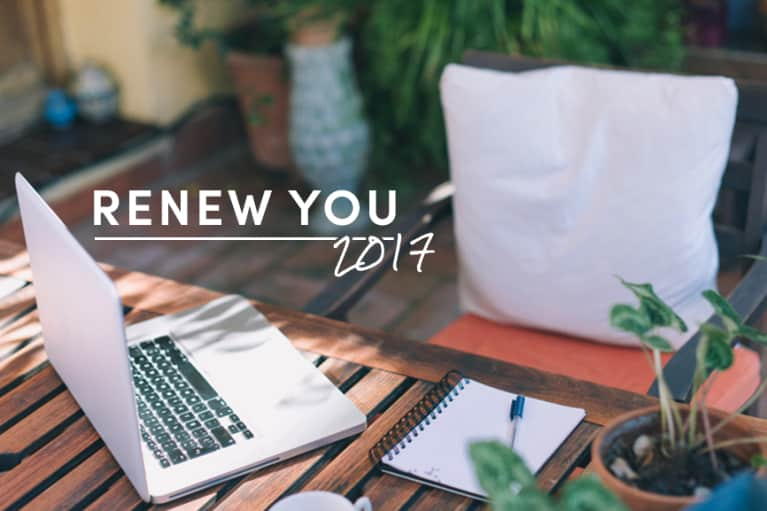 Almost a decade ago, our Founder & CEO Jason Wachob started mindbodygreen because the internet didn't have a home for well-researched, open-minded, and accessible content about health, conscious living, and well-being. Flash forward to 2016: Wellness has become a huge trend, and we're thrilled that more people than ever before feel empowered to take their health into their own hands using mbg as a trusted resource. So many of you live have made wellness a part of your lifestyle, it's no wonder resolutions aren't as popular as they used to be. We're already living it, and they're often too harsh and unrealistic (did you know that 81 percent of resolutions fail?) to achieve. And yet, there's something so seductive about putting a full stop on 2016 and setting goals for the year ahead.
Our mission in 2017 is to help you to manifest change that's firmly rooted in an enhanced understanding of yourself: your propensities, potential, past, future, and most important, present. Instead of setting a resolution that sets you up to fail, we're suggesting a new approach: A month of deeply considered mindfulness before setting any intentions for the year ahead.
Other programs will entice you to change your body. This month, we're inviting you to change your mind first, so that you stick to your goals, whether they're to lose weight or find purpose or nail that dream job. No goal is too small or too big when you start from within.
Welcome to Renew You: 2017. Starting with a week of guided introspection, we'll look at your habits and start to build awareness about how you got where you are today. Then we'll help you find your vision for the new year. For the full month of January we'll be supporting you with content that explores what intentional living looks like, in our diets, in our relationships, in our movement, and beyond. Our goal is to help you build a foundation of self-knowledge from which you can go on to become one of the few who resolves without regret to achieve great things this year.
With gratitude,
the editors