An Aromatherapist's Guide To Treating Dandruff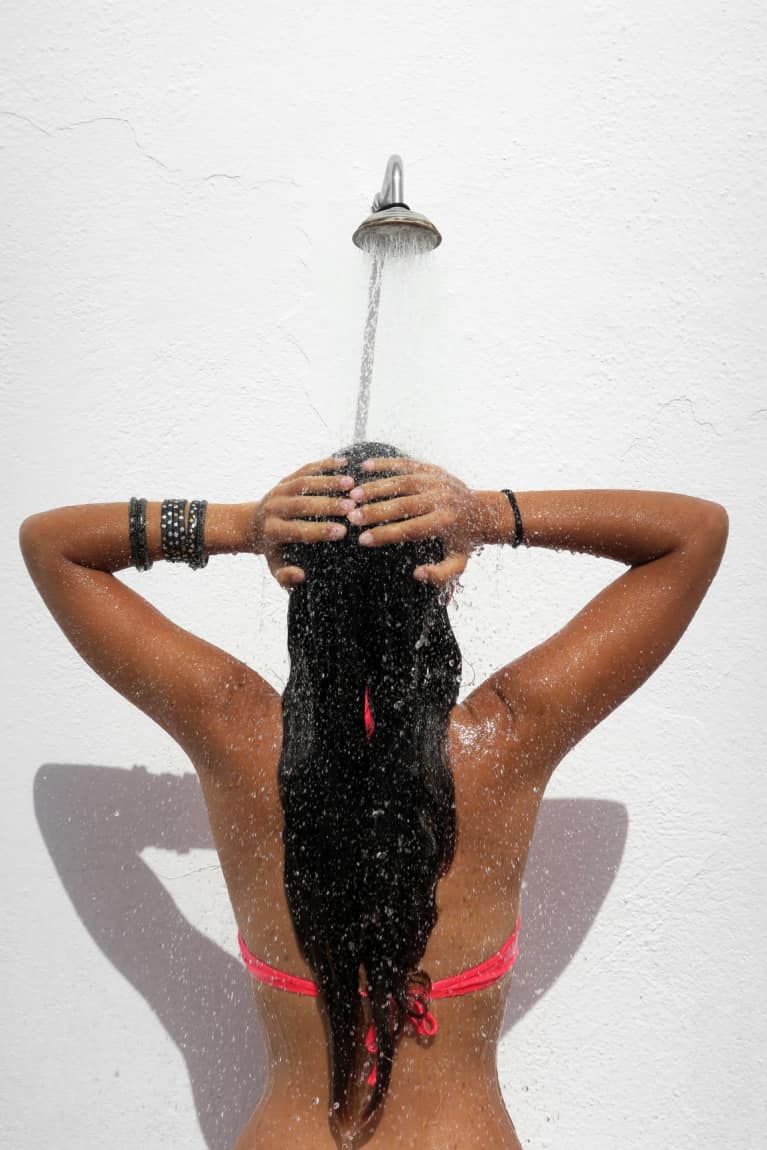 Dandruff is normal. Shedding the scalp's skin cells is healthy, but chronic flaking, itchiness, and dryness can persist despite every effort. While some are embarrassed by dandruff, it's really common—approximately half of the world's population is pestered by it. While the condition affects many, the root causes are ambiguous. Some doctors posit that it's fungal or hormonal. Others believe it to be an inflammatory response, like psoriasis. Some think it's exacerbated by food intolerances. But many experts agree that for a seemingly simple condition, it's multifactorial.
Skin conditions are complex. Often, they are more than a direct result from external influence. The skin acts like a lightning rod— grounding the body's dis-ease and manifesting it on the surface. Dandruff can arise from internal disharmony. Perhaps unsurprisingly, common skin disorders have been found to cause low self-esteem, social isolation, anxiety, depression, and decreased confidence. Sound familiar? Stress can aggravate dandruff.
With no known cure, dandruff requires a holistic four-step treatment approach. First, identify the root cause. Ask yourself whether the dandruff is acute or chronic. Is it environmental? Related to stress? Second, remember you are treating the sensitive scalp, which is the seat of consciousness. Use extra TLC and blend only 1 to 2 percent essential oil dilutions. Third, consider emotions and how they give us physical signs. Use essential oils and their aromas to do more than treat the physical condition. And last, ask yourself what's no longer serving you in your hair care routine and experiment with different treatments.
Here are six effective essential oils and botanical recipes to naturally tackle dandruff:
One of my favorite essential oils, the smell is softer than traditional rosemary, which is the cineole-rich chemotype. Because it's gentle, rosemary verbenone is the go-to oil for skin and hair care. Rosemary verbenone is known for its cellular regenerative abilities and is recommended for treating an itchy scalp and dandruff. Emotionally, it clears the mind and restores psychological balance. Chemically, verbenone is a mild ketone and should be avoided with children and during pregnancy.
How-to: Add rosemary verbenone to your shampoo at a 2 percent dilution. Continue normal use for a month. For even better results, swap out your shampoo for one that does not contain popular drying ingredients sodium lauryl sulfate (SLS) and sodium laureth sulfate (SLES).
Atlas cedarwood may be a familiar scent as the wood is popular for furniture and trinkets. Traditionally, it was used as temple incense. Its sweet, balsamic aroma helps diffuse melancholy and feelings of emptiness. The warm scent also builds confidence, which makes it a must-include oil when emotionally blending for dandruff. It's a powerful antifungal and astringent that works wonders for oily skin, seborrhea of the scalp, moist eczema, hair loss, and dandruff.
How-to: Add 5 drops to 1 oz. of argan oil. Massage thoroughly on the scalp when having excess dandruff. Let the oil soak for at least 30 minutes before rinsing out.
Not to be confused with the aforementioned atlas cedarwood of the pinacae family, Virginian cedar is actually a member of the juniper genus. The fresh, "pencil-like" scent has made it popular in perfumery and soapmaking. Astringent and antiseptic, Virginia cedarwood is ideal for those with a very dry scalp since its sedating properties subdue inflammation from scratching. Also reach for this mellow oil to relieve nervous tension and stress.
How-to: Add a few drops (no more than 1 to 2 percent dilution) into a light conditioner. Use daily or as needed.
Who wouldn't want to include this highly aromatic sweet and floral essential oil in a blend? A native grass of Southeast Asia, palmarosa is valued for its roselike scent and high geraniol content. Among the most effective antibacterial and antifungal oils, it also has a healing affinity for the skin. Plus, it blends well with rosemary verbenone and lavender.
How-to: Energetically cooling, palmarosa is a great addition to a moisturizing hair mist. Add 8 drops to a 1-ounce spray bottle of lavender or tea tree hydrosol. Shake well and use after washing.
Another powerhouse that's gentle enough for sensitive skin, frankincense is a spiritual oil with a clean and fresh aroma that makes hair smell divine. Rich in esters, it can help heal the root cause of dandruff. Frankincense is useful for inflamed scalp conditions and can soothe dry, mature eczema. Historically, it's been used to support reflection and healing of the spirit and mind.
How-to: Make a meditative head massage oil by adding 5 drops to 1 ounce of avocado or sesame oil. Feel free to add other essential oils high in esters, like geranium and palmarosa. Make it a weekly self-care ritual!
While many dandruff blends call for tea tree, it can be too drying. In my opinion, patchouli is often a better alternative for scalp conditions. The earthy, musty aroma not only grounds and centers but also blends well with other essential oils, like frankincense. It's a triple-threat acting as a potent antidepressant, antifungal, and anti-inflammatory.
How-to: If your dandruff is very inflamed or the result of fungus, add 4 drops to calendula oil with 2 drops helichrysum and massage into the scalp after washing and before sleep. Let it steep overnight and wash out in the morning.