Step 1: Add This Ingredient To Your Holiday Cookies. Step 2: Let The Compliments Roll In.
Contributing Food Editor
By Liz Moody
Contributing Food Editor
Liz Moody is a food editor, recipe developer and green smoothie enthusiast. She received her creative writing and psychology degree from The University of California, Berkeley. Moody is the author of two cookbooks: Healthier Together and Glow Pops and the host of the Healthier Together podcast.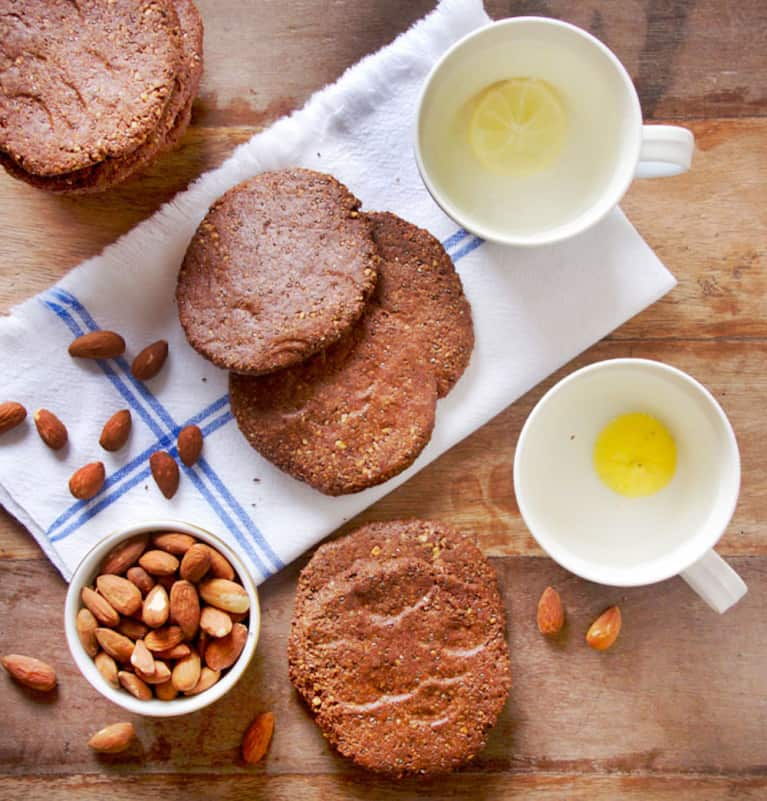 We're celebrating the season with tips and tricks from the world's best chefs and cookbook authors on how to make amazing holiday cookies you won't feel bad about eating a whole tin of. Today, we're sharing a recipe from best-selling cookbook author and blogger phenomenon Ella Woodward, otherwise known as the woman behind Deliciously Ella. Her holiday cookies (or biscuits, as they say in England) rely on chia seeds for a vegan-friendly binder (no eggs necessary!) and an awesome crunch. They're chocolatey flavor will delight any co-workers or party guests, and the fact that they come together in less than 20 minutes, well—that's just a winter miracle.
Like holiday cookies and healthy baking tips? Be sure to check back in, as we'll be sharing more recipes and secrets from food world celebs all month long!
Vegan Chocolate Chia Cookies
Makes 10 cookies
Ingredients
1 cup almonds
1 cup hazelnuts
1 cup quinoa or buckwheat flour
⅓ cup of pure maple syrup
5 medjool dates, pitted
¼ cup water
3 heaping tablespoons raw cacao powder
3 tablespoons chia seeds
2 tablespoons coconut oil
Simply place the nuts into a food processor and blend for a minute or two until a flour forms, then add all of the remaining ingredients and blend again until a sticky cookie dough forms.
Scoop about a tablespoon into your hands, roll it into a ball, and then flatten it using a spatula onto the baking tray so that they are nice and thin. Keep doing this until all the cookies are on the tray.
Bake for about 20 minutes at 350°F, until the cookies are firm and starting to slightly brown. Then leave them to cool for a few minutes before enjoying!