What 13 Healthy Foodies Actually Drink All Day (Because Water Gets Kinda Boring)
Contributing Food Editor
By Liz Moody
Contributing Food Editor
Liz Moody is a food editor, recipe developer and green smoothie enthusiast. She received her creative writing and psychology degree from The University of California, Berkeley. Moody is the author of two cookbooks: Healthier Together and Glow Pops and the host of the Healthier Together podcast.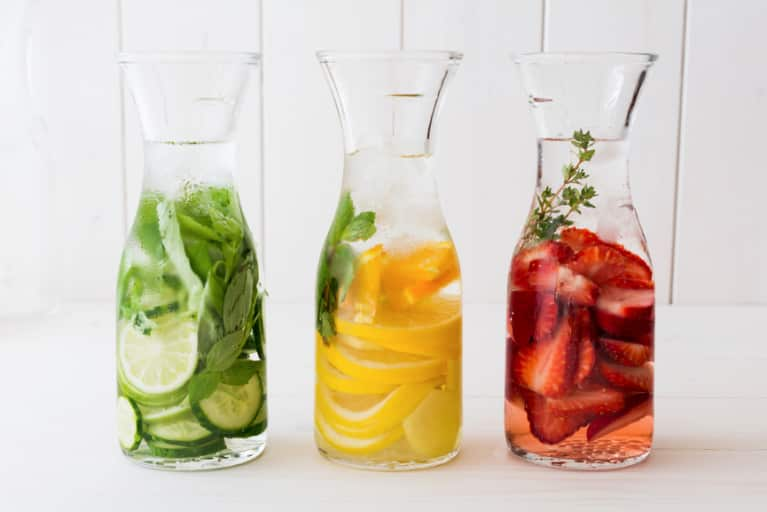 Our editors have independently chosen the products listed on this page. If you purchase something mentioned in this article, we may
earn a small commission
.
One of the most important things to do on your health journey is swap out the bad foods and drinks you consume daily. That doughnut you indulge in once a month? Probably not going to hurt you. The soda you sip on daily? Well, that's another story. We all know the major health benefits of drinking loads of water, but frankly, it's kind of boring. We reached out to our favorite foodies to find out what they drink to stay hydrated all day long.
Phoebe Lapine, author and blogger at Feed Me Phoebe
Kombucha! It's got some bubbles going on and a mild sweetness without being high in sugar. It's even gotten my boyfriend permanently off soda. Once my addiction reached new heights, I decided to start making my own kombucha at home. The project requires some counter space, but is fairly easy and hands off. Plus, I love scaring dinner party guests with my mounting jars of SCOBY.
Madeleine Shaw, author and founder of Get the Glow
I used to be addicted to Diet Coke—I would drink four in a day! Now, I try to drink as much water as I can. To make it more interesting, I infuse it with lemon, mint, cucumber, and even rosemary!
I also love my herbal teas. My absolute favorites are Pukka Peppermint and Licorice. The licorice is great for satisfying sweet cravings, and the peppermint eases your stomach, and they're so yummy.
Lindsay Freedman, blogger at the Toasted Pinenut
I love sipping on infused water! Maybe it's my inner foodie, but I get so excited about the different flavor combinations I can come up with! My favorite is mint and cucumber. It makes me feel so hydrated and de-stressed! With my two boys running around, every sip of my infused water is like a little moment for myself to recharge. And, of course, coffee, too, because #momlife.
Lee Tilghman, blogger at Lee From America
I sip tea all day long, about six bags a day. I love herbal tea for every occasion. I start out with dandy-nut blend in the morning with ashwagandha, then have Yogi Detox Tea midmorning. In the afternoon, I switch to ginger and fennel blends. After dinner, I have peppermint, licorice, or lavender tea.
Christina Valenziano, blogger at the Blissful Balance
I know everyone has heard this a million times, but I just try to drink water all day. I used to be an avid soda drinker when I was younger and into my freshman year of college. The truth is, I felt like crap every time I drank it, and my skin hated me for it. Drinking water all day has done wonders for my skin, and my digestive system (I suffer from IBS). If you're trying to get in the habit of drinking more water, try adding periodic reminders to your smartphone that will alert you to drink up.
Jordan Younger, author and blogger at the Balanced Blonde
I sip on sparkling water with lime pretty much religiously! When I am in the mood for a sweet "treat," I go for an Arnold Palmer (half lemonade, half iced tea). I say "treat" because you never know how much sugar is in restaurant-made lemonade! But I try not to stress too much about that because we've gotta bend the rules once in a while! As far as my sparkling water with lime go-to, it's the best because there is no better way to stay hydrated than by sipping on sparkling water all day. Hydration is amazing for our skin, digestion, metabolism, sleep, hair, nails, and so much more. Plus, sparkling water with lime is my go-to at bars (people don't even realize I'm not drinking alcohol)!
Miranda Hammer, blogger at the Crunchy Radish
Adequate water consumption is essential for your body to function properly, to achieve glowing skin, improve bowel function, and to genuinely feel good. During the winter months, we're surrounded by dry heat, which can lead to dehydration. You may not feel as thirsty as you do in the warmer months, but staying properly hydrated is just as important. If I'm chilly, I'll sip on warm water with sliced ginger and lemon or green or mint tea. I am also a fan of sparkling water—it just feels a little more exciting than flat. I usually will drink it with fresh lemon or lime juice or, if I'm feeling fancy, some mint or basil leaves.
Alanna Taylor-Tobin, author and blogger at the Bojon Gourmet
I'm hooked on Health-Ade Ginger Kombucha cut with sparkling water. It's minimally sweet, super gingery, and full of probiotics that aid digestion.
McKel Hill, author and founder of Nutrition Stripped
I love drinking sparkling water with a fresh-squeezed lime and grapefruit juice or a kombucha for a treat! It tastes amazing, satisfies any craving for pop, and keeps your digestion happy—especially with the probiotics from the kombucha.
Ali Maffucci, author and founder of Inspiralized
I keep my reusable water bottle with me at all times and I'm constantly refilling it, so I drink a lot of water. During the day (like with lunch or in the afternoon for a pick-me-up), I love GT's Kombucha (Gingerade flavor is my fav!) to help keep my body naturally detoxing, and I also love peppermint tea with a bit of steamed almond milk for sweetness. The peppermint tea helps boost my immune system, aid digestion, relieve stress, and as a bonus, is a cure for bad breath! Also, I recently traveled to Bali and they drink these club soda drinks with crushed mint, ginger, and freshly squeezed lime juice, so I make that if I need an extra boost—ginger is pretty much THE panacea, and lime helps keep my skin clear and the mint again helps with digestion. I gave up soda when I was 24 and haven't had a sip since. It was one of the best decisions I made for my health!
Laura Wright, blogger at the First Mess
I make up a delicious and golden home-brew called switchel or "switchy," which is a mix of fresh ginger, fresh turmeric, lemon juice, sweetener of choice (I like maple syrup), and water. There are tons of recipes and methods online. I let the mixture steep in the refrigerator overnight and strain it in the morning. Whenever I need a little fizz, I mix equal parts switchel and sparkling mineral water. It's refreshing with just the right amount of sweetness, plus you get all the anti-inflammatory benefits of the ginger and turmeric.
Jessie Snyder, blogger at Faring Well
I turn to water first. I try to keep a tally of my glasses in order to motivate me to reach all 10 (my end goal). It makes it a bit more fun. I also love quality coffee brewed in my Chemex with a little homemade cashew creamer and always have a jar in the fridge filled with water and a peppermint green tea bag. This cold brew method makes it so I always have a serving on hand to pull out when I need an afternoon pick-me-up with some flavor. In the winter I'm almost always sipping on homemade hot cocoa at night to curb my sweets craving. Usually balanced with raw cacao, coconut sugar, and cinnamon in hot water with a splash of cashew creamer (or hazelnut milk). A little dose of sweet goes a long way, and with added health benefits I can't help but sip on these all day long!
Jessica Murnane, author of One Part Plant and host of One Part Podcast
My favorite drink is water with giant frozen strawberries as "ice cubes" and a tablespoon of chia. I throw it all in a giant water bottle, shake it up, and sip on it throughout the day. The chia boosts my energy, and I swear it makes me a little more regular, if you know what I mean.