How Experiencing An Indian Cremation Ceremony Changed My Life Forever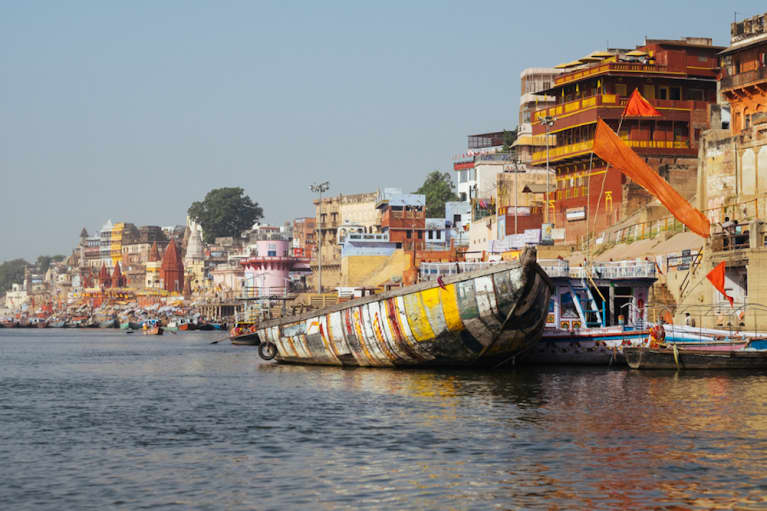 Have you ever traveled somewhere that opens your senses in a way you can't quite find words to describe?
I'm in one of the oldest cities on earth, Varanasi. Also known as India's Holy City, on day 15 of a 20-day trip through India. I landed in the north, traveled through the south, and then returned to the north by plane, bus, train, tuk tuk, rickshaw, stayed overnight on a houseboat—you name it.
Transformation is in India's very essence. It's greater than anything I could have prepared myself for. I'm constantly flooded with sensory stimulation, and as I lean into the discomfort of what is different, I feel my heart awakening.
Continuously exploring what the Buddhists refer to as Bodhichitta—"a spontaneous wish to attain enlightenment motivated by great compassion for all sentient beings, accompanied by a falling away of the attachment to the illusion of an inherently existing self." Learning, accepting, listening to how I can learn and grow from the challenging, complex emotions I find myself bumping up against in a place like India.
My stomach is still a bit wonky from the food poisoning I had a few nights ago, but even that falls away as I ground myself in each moment. I'm ready to absorb all that this country is offering. I'm on a group yoga retreat with an unbelievable tribe that includes my boyfriend, Erik, and yet I have had countless independent experiences that have heightened my experience and made it even more special.
Now I'm on a bus that follows a van carrying a dead body wrapped in gold foil and trimmed with colorful accents. Suddenly, a sense of holiness hits me. I say a quiet prayer for the deceased and drift into curiosity. The sound of our guide's voice fades back in, and I listen intently. Mayank explains that the body we see is being transported to the Ganges River for a cremation ceremony, like the one we will attend later.
The Hindus believe Varanasi is the most sacred place to die and that it is where a soul breaks the cycle of life and death and achieves nirvana (moksha). Families save their entire lives to be able to cremate relatives here. And, although not all make it to Varanasi, cremation is believed to be the way the soul is released.
He explains that only men ride with the body and are allowed at the ceremony. Women, he says, usually cry and get emotional, which makes it harder for the souls to leave peacefully.
This fascinates me on many levels. I'm touched by the idea of a soul being released in peace. I'm burdened by the thought of a young boy burying his father and not being allowed to shed tears. I ask myself: Are men not to cry then? And if they do, how are they made to feel?
We check in to our hotel and after a revitalizing afternoon yoga practice, we jump on rickshaws and head to the riverbanks to see the burning of the bodies and observe Arati, a daily sunset celebration of life. Cows and bulls roam the streets amid piles of garbage, food stands, shops, people, tuk tuk, and motorcycles.
I'm overwhelmed by emotion as we walk up to the Ghats. It's like nothing I've ever seen. There are stone stairs lined with men, women, and children—some begging and some offering prayers and blessings. We see disabled people, babies being dunked in the river to bathe, people cleansing themselves and doing laundry. I'm dodging piles of cow dung, taking in these sights that most of us privileged Westerners would perceive as distressing.
Yet there is a sense of joy and serenity in each moment. Bells chime, people chant, prayers broadcasted over a loudspeaker vibrate in my bones. It's dusk. The air is thick; the sun is setting. Pinks, blues, and yellows fill the sky. There's so much to absorb. The powerful setting provokes intense emotion. Tears pour from my eyes.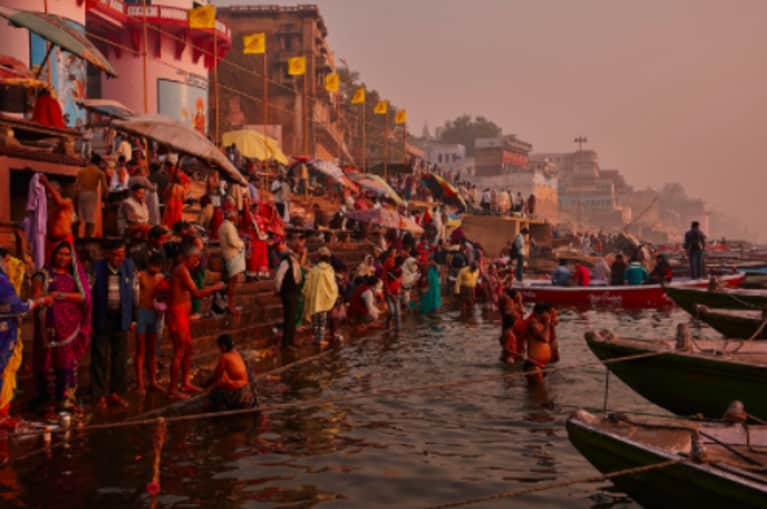 A joyous little boy hands us a basket of flowers with candles to light. We send them into the water as we witness souls being released. The flames burn high from bodies, smoke surrounds the lights, creating a haze of color. Boats crowd around the banks. It is majestic—something out of a fantasy novel—and solemn. Could this be the type of life-changing shift we all hope for, when perspective clarifies our priorities and unravels our confusion about life and death?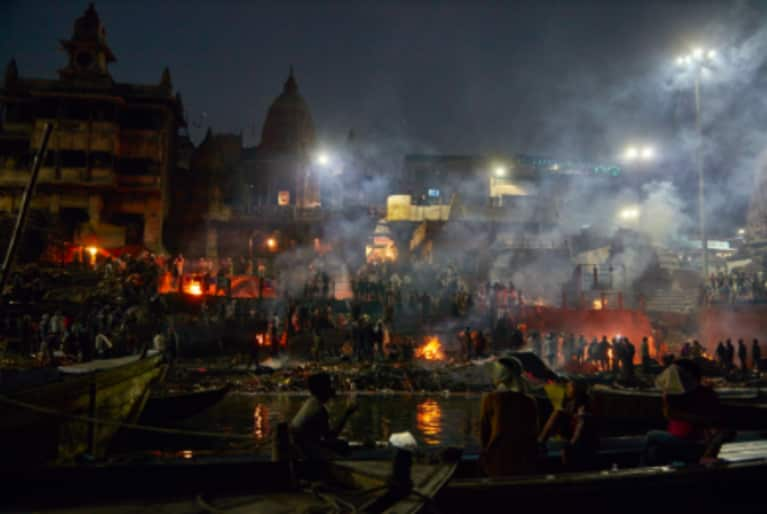 Waking up well before sunrise the next morning, Erik and I head to the Ghats with a guide. An ash-colored Sadhu with a white beard and thick brown topknot is sitting on the steps. Sadhus are also often referred to as Baba, meaning "father." And, real fathers or not, the ones I crossed paths with had a mysterious energy and bottomless eyes that drew me in.
As the sun starts to rise, I watch this Baba Sadhu turn himself toward it, bow, and begin a tea and smoke ritual. Our guide helps us communicate, and the Sadhu invites me in, offers me a smoke (which I politely decline). I fold my feet on top of my thighs into lotus pose. Without saying a word, he folds his feet similarly and we both press our body weight up into a floating lotus as Erik captures the moment on film. He puts his hand on my head and blesses me.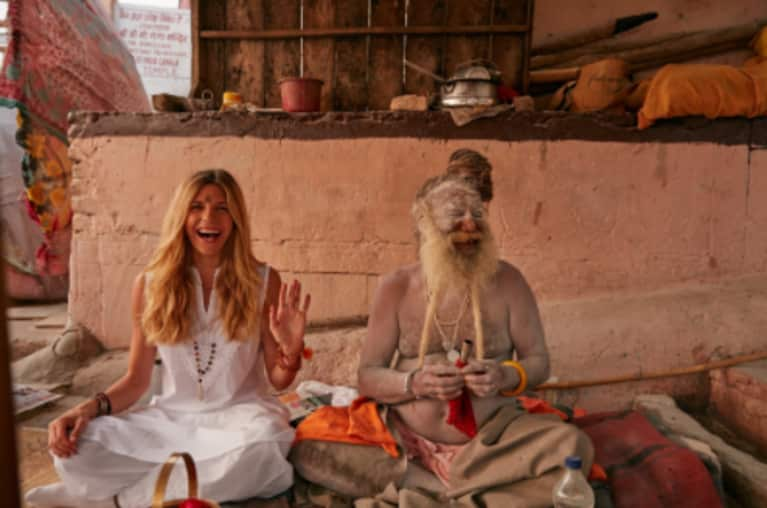 Oh, my Bodhichitta. India, you have awakened my heart and I am eternally grateful to have met you.