The Secret Sweetener This Dessert Queen Uses In Her (Vegan!) Holiday Cookies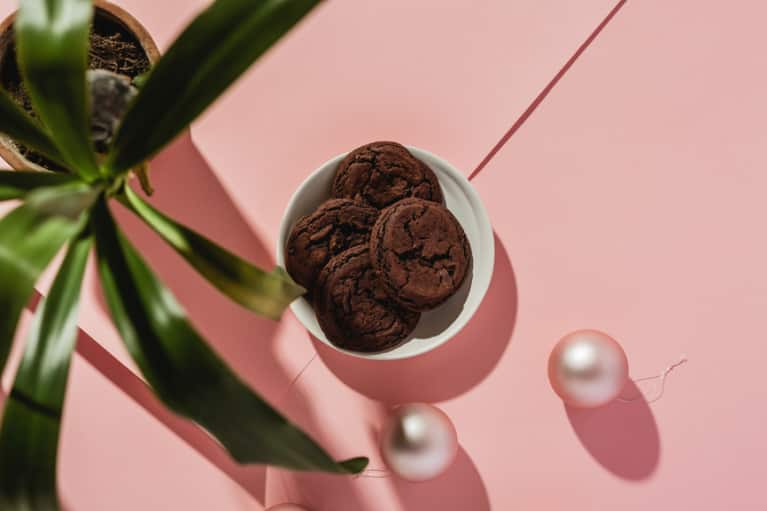 We're celebrating the season with tips and tricks from the world's best chefs and cookbook authors on how to make amazing holiday cookies you won't feel bad about eating a whole tin of. Today, we're sharing a recipe from two-time James Beard award winner Christina Tosi of Milk Bar fame (she's the one who invented the aptly named Crack Pie and the addictive Birthday Cake Truffles). "The Best Freaking Cookie is filled with coconut puree, and sweetened with pineapple juice instead of a traditional sweetener, so it leaves you feeling great (no sugar crash!) long after you eat it," says Christina. "It packs a chocolate punch and is wheat- and dairy-free!"
For more healthy holiday cookies, check out Deliciously Ella's vegan cookies that utilize a protein-packed secret ingredient. And be sure to check back in later—we'll be sharing more healthy baking secrets from food-world celebs all month long!
Christina Tosi's BFC (Best Freaking Cookie) Recipe
1¾ cups cocoa powder
1½ cups almond flour
¾ teaspoon baking powder
2¼ teaspoons cornstarch
1½ teaspoons kosher salt
1¾ cup + 2 tablespoons coconut puree
½ cup pineapple juice
¼ cup water
2¾ cups dark chocolate chips
Preparation
1. Heat the oven to 275°F.
2. Measure all the dry ingredients into a mixing bowl and stir them together until homogeneous; reserve the chocolate chips for a last-minute fold-in. (Note: This can be done in a stand mixer or in a big bowl with a spoon. Up to you.)
3. Add the wet ingredients starting with the coconut puree. Pour it in slowly while you mix in one direction at a steady pace. Follow with the pineapple juice and water. Continue mixing until it comes together—remember there isn't any real flour in this dough so you can't overmix it. After all the liquids are in, fold in the chocolate chips until they are evenly distributed.
4. Use an ice cream scooper to scoop the dough out onto parchment- or Silpat-lined sheet pans. The cookies will spread as they bake; leave 2 inches between dough balls.
5. Slide the sheet trays into the oven and bake for 10 to 15 minutes, until the edges of the cookies are lightly crisp. Let cookies cool completely on tray—they're very delicate when warm. Store the cookies in an airtight container in the fridge or freezer. At Milk Bar we love to eat them right out of the fridge!