The Crystal Rituals That Will Amplify Your Astrological Potential This January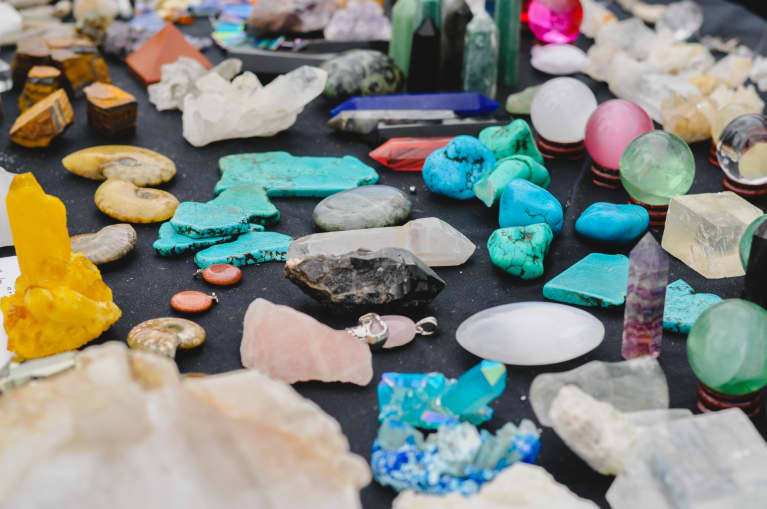 Our editors have independently chosen the products listed on this page. If you purchase something mentioned in this article, we may
earn a small commission
.
In this new series, Heather Askinosie, the holistic healer behind Energy Muse, will share her advice on how to harness the power of crystals to fulfill your astrological destiny. She'll work off monthly forecasts from the AstroTwins, forming one heck of a spiritual duo. Get ready to cleanse that celestite and hold tight to that tourmaline because you're about to see crystals in a whole new way.
An invigorating wind of change has swept in with 2017. And for most of us, the fresh air couldn't have come soon enough. Last year's turbulent periods of tension and loss left us feeling exasperated, but now it's time to find stability once again.
Instead of being constantly tested and knocked down, there will be solid ground on which to make progress. As we catch our breath in this transitory time, it is comforting to know that we are leaving the shifts and quakes of last year in the rearview mirror. Ahead on the horizon is a destiny that we have yet to manifest. Driving forward, we can breathe easy, seeing that the road to our goals is finally clear.
As the AstroTwins told us, this January begins with the sun in Capricorn and Neptune in Pisces. Celestite, a tranquil blue stone, will help to ignite your inner sparkle during this time. With a rejuvenated sense of confidence and vigor, you'll begin again, this time soaring to new heights. Celestite allows you to not only dream of new aspirations but manifest them into reality.
Mercury retrograde ends (January 8)
As kids, we were taught to think before we speak. That rings especially true as we round out of Mercury retrograde on January 8, reversing through Capricorn before heading into Sagittarius. Just like crystals, words carry energy and power. Once they have been spoken, they are exceedingly hard to take back. If someone angers or frustrates you over the next few days, stop. Take a breath. Think about the words you are about to speak and ask yourself if they will linger. Implore the superpower of blue lace agate to keep you calm and collected and help you speak your truth in a compassionate way.
January full moon (January 12)
The first full moon of the month will cross paths with the sun, Uranus, and Jupiter, causing some extra buildup and chaos. Keep yourself from being pulled in a million different directions with a K2 stone for grounding. It serves as a gentle reminder that you can be connected to your personal, practical goals while still shooting for the biggest peaks and mountains (similar to the K2 mountain after which it is named). With so many opportunities and potential for growth, it is better to stay in a state of balance. Remember that you can have everything you want, but that it will come in due time.
Aquarius season (January 19)
When the season of the Aquarius begins on January 19, the AstroTwins predict that we will see a wave of community and people coming together over mutual interests. Raising the collective voice will become a reoccurring theme, and carnelian can give us the strength and confidence to speak up. Voices of fear and criticism polluted the air with a toxic energy last year. Holding carnelian will harness the positivity of the color orange to brighten your perspective and heighten the outlook of others while you're at it.
Chrysocolla will support you as you ride the waves of change in the perpetual ebb and flow of life. It encourages you to stay true to your masterplan, not just in these beginning months but for the long haul. Remember that it's easy to start strong, but the people who maintain their vision and momentum to end strong are the ones who will be victorious in the year ahead.