An Ayurvedic Beauty Guide To Swear By This Winter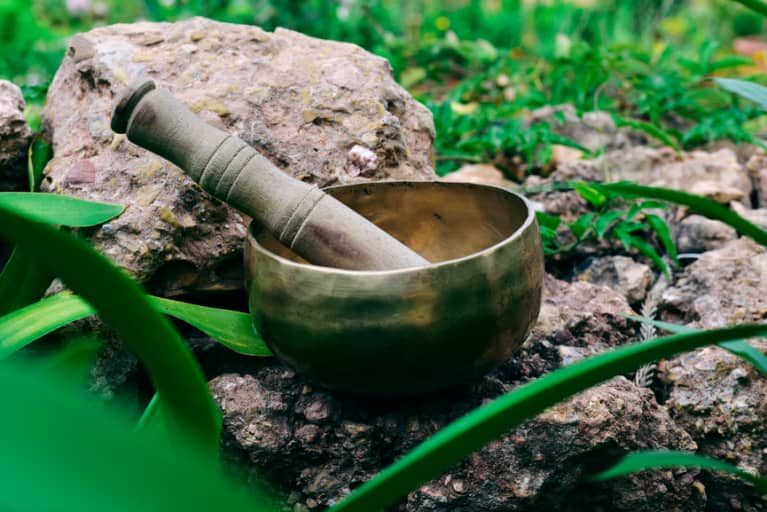 Ayurveda draws on a system of scientific and practical knowledge, which is rooted in the ancient belief systems about the constitution of the human body and its close relationship with environment in which it exists. Therefore our environment—seasons in particular—can wield a strong influence on the body's constitution and physiological processes, ranging from metabolism to the secretion of hormones.
Winter is predominantly a season of kapha—and much Ayurvedic guidance on lifestyle and eating is centered around keeping one's kapha in balance during the winter months. Whenever people ask me how to start incorporating Ayurveda into their lives, my answer is to keep it simple. The beauty of Ayurveda is that small tweaks can make a big difference.
Here's how:
Early birds may want to consider sleeping in a little longer, and taking a pause from constantly rushing (holiday shopping and year-end deadlines notwithstanding!) is more important in this season than any other, because adequate rest and overall steadiness are important to keep your kapha in check and your body temperature maintained optimally. Interestingly (and expectedly), Ayurveda recommends surrounding yourself with people and loved ones in winter months to abate depression and loneliness—intrinsically kapha qualities.
Tip: Doing sesame oil rubs all over your body prior to a hot shower in the AM and to your scalp and the soles of your feet at bed time will also pacify kapha and keep your circulation strong.
Starting your day with sun salutations can give your circulation the necessary boost it needs in the winter months. Also helpful are poses that help open up the chest cavity and give your windpipe a gentle stretch so you can stay congestion free all winter—try locust, boat, lion, fish and camel. Advanced practitioners can add in shoulder and head stands.
Breathing meditation can be a powerful addition to your practice. With the right nostril breathing (exactly as it sounds) hold your left nostril closed with your thumb and inhale/exhale deeply from your right nostril ten times; repeat up to three times. More advanced practitioners can try the breath of fire (great for alleviating respiratory issues and allergies). Inhaling normally through the nose, exhale in short bursts and with a gentle force, exhaling about 15-25 times before resting briefly. Repeat 3-5 times. This breathing meditation improves absorption of oxygen into your bloodstream and warms the body from within.
Herbal teas—especially those made from ginger, cinnamon and clove—are great for the season. Another holiday drink that features those very ingredients? You guessed, mulled wine (in moderation!) also helps improve digestion and circulation during the winter months.
In Ayurveda, digestion is the key to good health, and cooking food makes it easier to digest. Eating warm, cooked food fuels our agni instead of cooling it down—a sign of our overall well-being.
Warming Vegetable Ragout (Serves 2)
1 large onion, cut into wedges
1 medium turnip
2 medium carrots
1 medium beetroot
½ cup vegetable stock
1 tsp. curry powder
parsley leaves and lemon zest (for garnish)
ghee (clarified butter), mustard oil and unsalted butter
salt and pepper
Pre-heat oven to 425 degrees
Peel and chop turnip, carrots and beetroot into ½-inch cubes and toss with half a teaspoon each of ghee and mustard oil. Place on a baking sheet and roast for about 20 minutes, until the vegetables are tender
Heat ghee in a large skillet and cook the onions until golden brown
Add the roasted vegetables into the skillet, adding vegetable stock, curry powder and salt and pepper to taste. Simmer for 3-4 minutes until vegetables are thoroughly coated.
Garnish with parsley and lemon zest
Carrot Probiotic Drink (8 servings)
5-6 medium carrots
2 medium beetroots
8 cups filtered water
chili powder
mustard powder
black salt
Thoroughly rinse and peel the carrots and beetroot
Sliver the carrots and beetroot into 1-inch long pieces
Mix all the ingredients together in a glass or ceramic jar, and cover with a lid or muslin cloth
Leave the jar in the sun for 3-4 days, stirring every day with a clean wooden spoon and covering it back up after stirring
The fermentation should lend a sour taste to the mix which should be ready to drink in 3-4 days
Consume within 1-2 days of making for a great digestive boost and kapha-pacifying goodness!