5 Crystals To Help You Manifest Your Best Year Yet
mbg Contributor
By Emma Mildon
mbg Contributor
Emma Mildon is a millennial activist, co-host of 11:11 podcast, and best-selling author of Evolution of Goddess and The Soul Searcher's Handbook.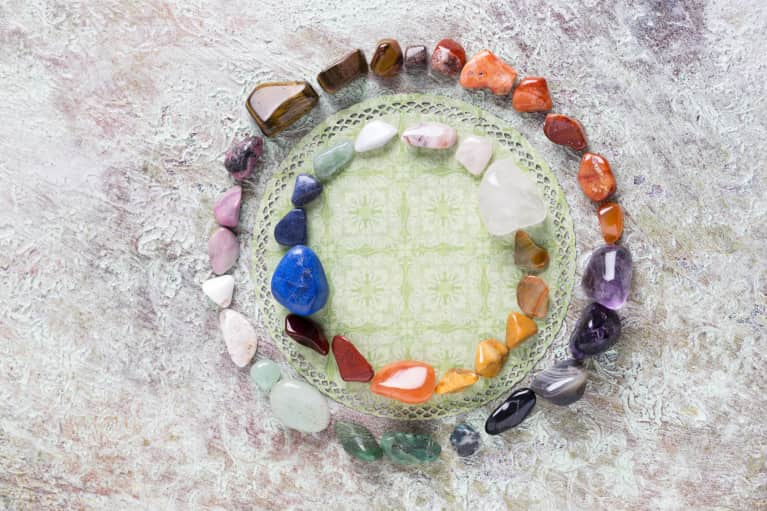 Our editors have independently chosen the products listed on this page. If you purchase something mentioned in this article, we may
earn a small commission
.
If you were under a rock in 2016, you may have missed the return of crystals as a modern mystic's tool for everything from cool, to calm, to collected.
While gemstones and crystals have been a source for healing for centuries, New Age hipsters and wellness junkies alike have been incorporating crystals in their jewelry, their wellness routine, meditation practice, and even as décor in their home, adding the ancient art of incorporating good vibes of the crystal variety into their day and life. And more importantly, using crystals to combat everything from sugar addictions to being a worrywart!
Carnelian for the fitness junkie
Have a motivation issue? We've all been there! The ultimate crystal to help get you amped for a sweat session and kicking procrastination's ass is carnelian. This fiery orange stone boosts action and drive, helping to release fears stopping you from moving forward and is the ultimate goal gemstone! Bloodstone is also a great stone to help get your blood pumping and get your energy on the up-and-up.
Smoky quartz for ditching your addictions
Whatever your vice—sugar, cocktails, boys!—smoky quartz is your go-to gemstone to help you kick bad habits for 2017. I personally like to put a smoky quartz in my water bottle and sip away with crystal-infused alkalized water in the afternoon when I am most likely to be hit with the omg-I-could-totally-make-M&M-chocolate-angels-right-now.
Tiger-eye for the career go-getter
If #girlboss is on the agenda for 2017 then you need the boss of gemstones with you. Tiger-eye is a great crystal to support you becoming the CEO of 2017; it brings focus and insight to help you home in on those goals of yours. Citrine also supports concentration and is known as a successor's stone, supporting abundance.
Rose quartz for the soul-mate seeker
Need a crystal to help you get over your ex #solastyear. So manifest your next lover. You need a rose quartz as your heart rock. This little gem is all about healing, heart opening, and attracting all things love into your year. Wear it as a necklace to keep it close to your chest, or follow my woo-woo lead and tuck one into your bra each morning.
Clear quartz for a "stress less" mantra
Ah, yes! We can all do with a "stress less" stone from time to time. If your mission is to worry less, then the clear quartz is always a good crystal to keep nearby. Add one onto your keychain, at your work desk, or wear it as jewelry to allow the stone to cleanse any bad vibes, stressful thoughts, or negativity away from you. This is the crystal that cleans your consciousness, so to speak.
Keep reading: