Is This Mexican Hot Spot Your New Favorite Wellness Paradise?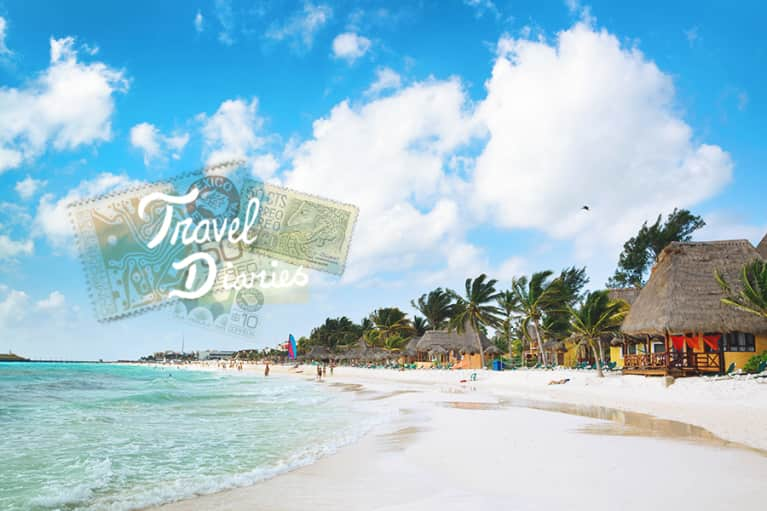 Just because the warm weather has faded doesn't mean your wanderlust needs to. To celebrate the winter season, our Travel Diaries series is highlighting the healthy destinations our contributors are escaping to for some R&R. This week, we're tagging along with jet-setting yogi Sara Quiriconi on her trip to Playa Del Carmen.
There's something so magical about the Riviera Maya and Playa del Carmen in particular. Just south of Cancun and the crazy Spring Break scene, Playa offers a mix of excitement and relaxation. It's perfect for those of us looking to disconnect and unplug from the world but also provides the busy-bee opportunity to explore and have adventure.
I recently held a private yoga and wellness retreat here and absolutely fell in love. Here are some highlights from my latest trip to the warm-weather paradise.
Spanish for "The Fifth" (a nod to its location on Fifth Avenue), La Quinta is the main strip of Playa del Carmen, stretching for about 4 miles. Lined with street vendors, restaurants, and tons of shopping, it's buzzing at all hours of the day. I love to go for a stroll in the early(ish!) morning when it's peaceful and fairly quiet, and later in the evening when it's packed and draws quite a crowd.
2. Take a ferry ride to Cozumel.
Two sunny destinations in one trip? Yes, please! Hop over to the saline and sun-filled island, just a quick 30- to 45-minute ferry ride from the Playa port. With opportunities to snorkel, scuba dive, explore the ruins, or ride an ATV, Cozumel has an activity for everyone.
The area surrounding Playa is rich in breathtaking Mayan culture, including the cliffside Tulum Ruins with their breathtaking views of the turquoise waters down below. Fun fact: Tulum is the only Mayan city built on the coast.
Cenotes, natural sinkholes that arise from the collapse of limestone bedrock, are gorgeous natural wonders worth exploring during your trip to the ruins. If you're an ocean lover like me, you'll adore swimming beneath their peaks. Check out Cenote Dos Ojos or Gran Cenote for a breathtaking scuba dive or snorkel.
1. Grand Hyatt Playa del Carmen
Right in the middle of the action, the Grand Hyatt Playa is a modern, luxury respite for busy travelers. It features direct beach access, modern rooms, beautiful decor, plenty of walking space, a new full-service fitness center and studio, and five-star restaurants—all within walking distance of downtown. Catch the sunrise over a morning beach meditation and yoga practice then head to the Cenote Spa for an evening flow and meditation. Oh, and get a restorative treatment or two while you're at it.
Also located in the center of Playa, the Mahekal Beach Resort has cute bungalows on gorgeous grounds, right on the ocean. Relaxed, friendly, and low-key, it delivers a more authentic feel of Mexico.
A beachfront, all-inclusive resort, Hacienda Tres Rios is actually a 326-acre nature park. Pairing the amenities of modern luxury with ancient Mayan and Mexican traditions, this resort is fantastic for hosting groups, families, retreats, or events. South of Cancun but north of the downtown Playa del Carmen area, it's tucked away from the business of both bustling areas. Rent out a kayak and paddle through the mangrove trees, open-water coves and surrounding waters, or take in some sun poolside. The Mexican government has also recognized Hacienda for its environmental stewardship, so you can feel good about your stay.
Insider Tip: Even if you're not a guest, you can purchase a Hacienda day pass, which includes meals, snacks, on-site activities, and natural park tours.
La Cueva del Chango, or "Monkey's Cave" in Spanish, is a cheeky space that serves breakfast, lunch, and dinner outdoors alongside lush vegetation. Lit with string lights, it's the perfect restaurant to stargaze next to a fresh, traditional Mexican meal. Just outside of the touristic zone in the center of Playa del Carmen, it's also local favorite for breakfast thanks to its fresh-squeezed juice and fruit bar.
100% Natural became my go-to for its lovely salads and tasty, fresh fish dishes. It features healthy options for vegans, vegetarians, and carnivores alike, along with some decadent postres, or desserts.
Both a restaurant and shop, BIO-Natural sells organic food and natural soaps and beauty products. With a lengthy menu of vegan and vegetarian options, it's just steps away from the touristy La Quinta path. Be sure to check out their organic wines and artisanal beers, too. After all, you're on vacation!
For more travel inspo, check out the rest of mbg's Travel Diaries.